If you are planning to get hitched any time soon, deciding on the wedding ring is one of the biggest concerns. But, what if you ditch the wedding ring? Sounds crazy? Well, believe it or not, wedding ring tattoos for men are becoming more and more popular, as more men are ditching the traditional ring for a ring tattoo. Like the idea? No matter how out of tradition it may be, there are some really cool reasons for ditching the ring for a ring tattoo. So, here's why you should totally go for a wedding ring tattoo instead of a wedding ring!
Wedding Ring Tattoos Last Forever
Rings can be lost, returned or pawned, but a tattoo is forever. What better way of letting your wife know that you are there for her till death do you part? Getting a wedding ring tattoo can be really romantic as you are literally pledging your love for her till death. That tattoo is going to last forever, as will your love!
Wedding Ring Tattoos for Guys are Versatile
When you are getting a traditional wedding ring, you have got a limited amount of options. But with a wedding ring tattoo you can let your imagination run free. While you can go for a simple wedding band tattoo, going for something little extravagant in design is also great. Many couples go for each others initials, while many go for King and Queen of Hearts and so on. The greatest thing about getting a wedding ring tattoo is you can simply go wild with your imagination.
Wedding Ring Tattoo Designs are Convenient
There are many people who cannot have their wedding ring on all the time because of their profession and many other reasons. Getting a wedding ring tattoo can be the best solution for them. This way you can avoid wearing jewelry, but can still showcase your love for your better half to the world.
They are Cost efficient
Well, weddings are costly! And when you are just starting the journey of your life, shelling out money for a lavish wedding and wedding ring may not be always feasible for you. A wedding ring tattoo is the best alternative that you have. It's romantic, it shows your commitment and it comes at a fraction of the cost of a wedding ring. Plus, it cannot be stolen or get lost!
Wedding Ring Tattoos are Fun
Getting a tattoo instead of a ring may not be traditional, but it's super fun for sure. If you are one of those couples who hate to do things in the ordinary way, then getting a wedding ring tattoo can be the most fun thing for you.
Now, that you know all the reasons for growing popularity of wedding ring tattoos for men, and considering going for a ring tattoo yourself, here are some handy tips for you.
Remember a tattoo is for life; so if you are not absolutely sure about the relationship, a wedding ring tattoo can be a bad idea. Having said that, if you love your other half and really intend to spend the rest of your lives together, going for a wedding ring tattoo can be the sweetest thing to do. Take your time to decide on the design. There are thousands of beautiful wedding ring tattoo designs available. Take your time to go through them and decide on a design that both of you love. If you and your partner is sure about it, getting a wedding ring tattoo is the most romantic and loving expression. So, if you are up for it, get in touch with you nearest tattoo designer now!
Check out the best wedding ring tattoos for men
This distinctive wedding ring tattoo design provides a good reminder of the eternal matrimonial union you agreed upon on your wedding day. The simple design in this tattoo for a married couple acts as an indelible mark for a relationship that is set to last until death do the partners part.
A well-crafted tattoo design of musical notes encircling the ring finger is not only heartwarming on the first look but also sends a strong message about your dedication to your life partner. The tattoo provides a permanent of showing commitment to your spouse.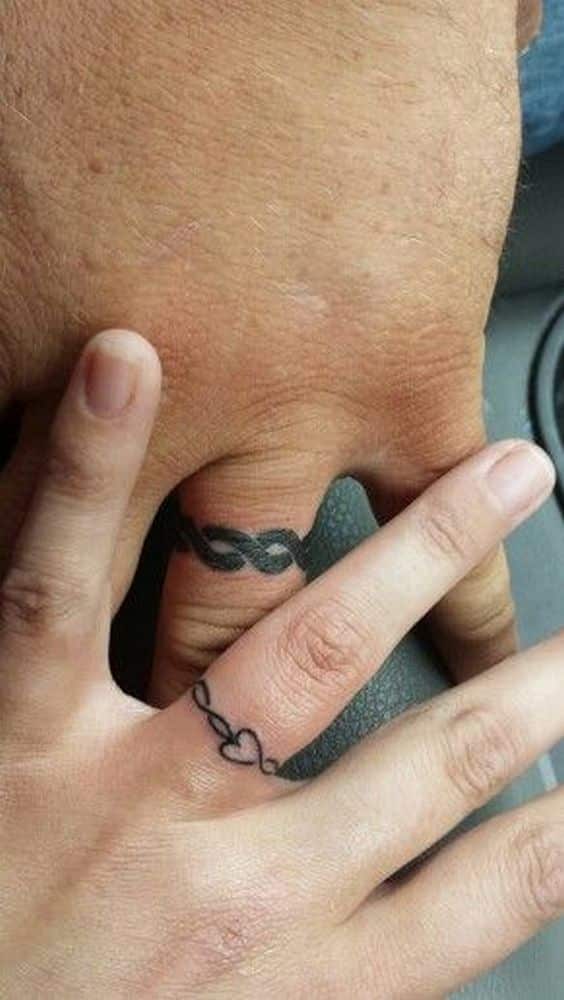 This wedding ring tattoo idea is uniquely designed with a masculine touch for the husband's ring finger and another distinctive feminine touch for the wife's ring finger. This contrasting artistic impression shows that although you are bonded as one after wedding, each one of you has distinct responsibilities to keep your marriage long-lived.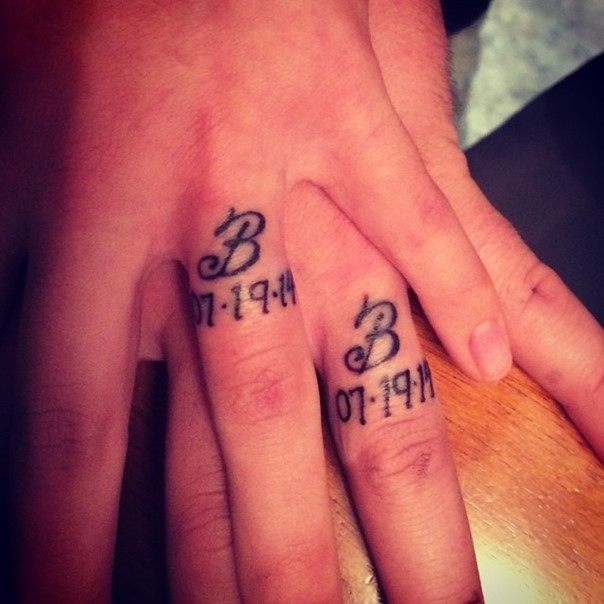 Inscribing the date of your wedding day on your ring finger and that of your partner is another decorative way of showing love and remembering the big day when you walked down the aisle. The two identical designs for each ring finger show that the two of you are highly compatible.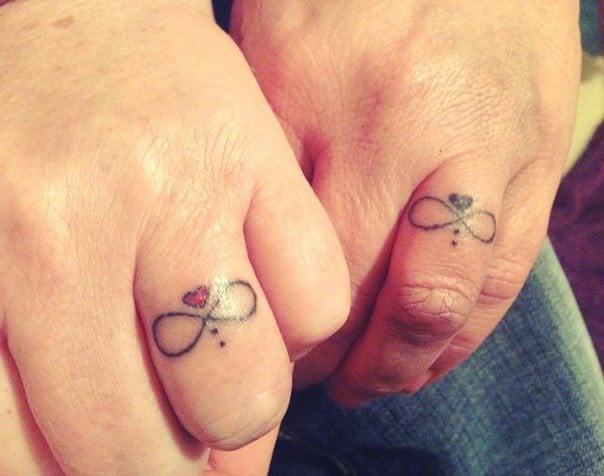 This simple tattoo design with a colored heart as a symbol of love and tied knot to symbolize togetherness is a perfect representation of two lovebirds who decided to marry and become one. It is a show of a love-filled relationship.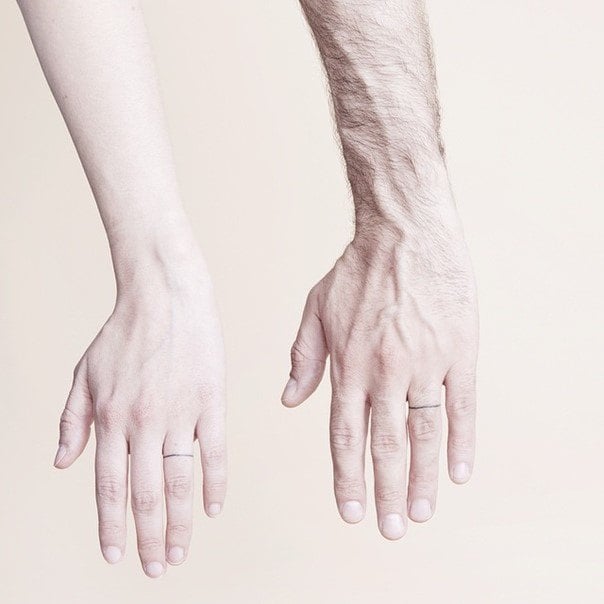 A slightly pale decoration of a wedding ring that is perhaps intended to show that the wearer is overindulged with silver rings, this tattoo provides a lifelong mark of togetherness. The pale decoration might be misinterpreted to mean a fading relationship, but the tattoo wearers can overcome this by showing openly affection to each other.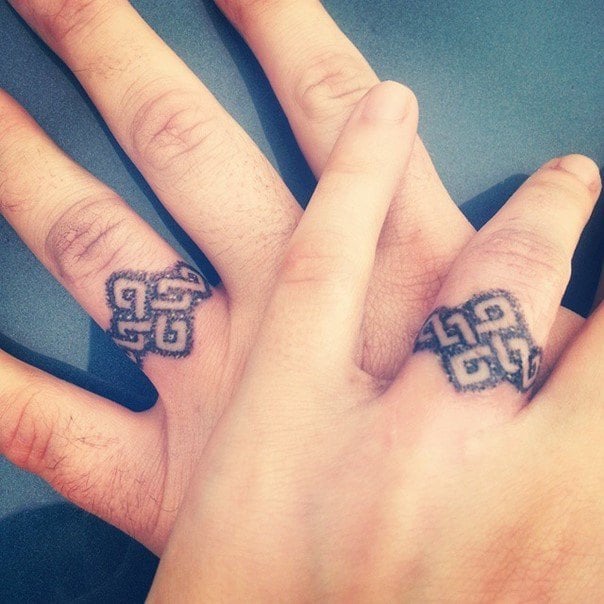 This wedding ring tattoos idea of interlocked grids moving all-around the ring finger is a perfect representation of how your life and that of your partner will be now intertwined with ups and downs that you must overcome for the relationship to last.
Although this tattoo design looks masculine and can easily be described as wedding ring tattoos for men, the clearly noticeable curves and shouting color make it an attractive design for both sexes. The curves moving inwards and bulging outwards every now and then portray the life challenges awaiting the newlywed couple.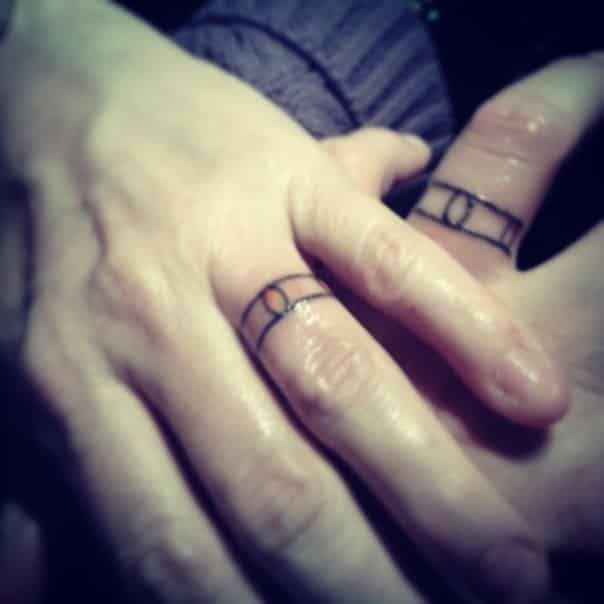 A simple tattoo idea of the wedding ring fixed close up on the ring finger with one of the most uncomplicated tattoo decorations. This design shows that love is simple and uncomplicated and should be kept that way even after getting married.
This high-quality idea for wedding ring tattoos involves imprinting your husband's name on your ring finger and having your name decoratively imprinted on his ring finger. This shows an unrivaled love and affection towards each other.
More wedding ring tattoos for men on the next page…