The simplest definition of faith is the belief in things not seen. It is a complete trust in God or even doctrines of a particular religion. One does not need to have proof of the existence of a spiritual being in order to have faith. A lot of guys like to lean towards some form of religion or doctrine because it gives them hope in the afterlife. Faith tattoos for men are highly popular because they are used to portray beliefs of individuals in spiritual beings. Such tattoo designs can also represent personal aspirations and past events that have had serious impacts in people's lives. Here are some examples of faith tattoos and what they represent.
The anchor: This is a very common and popular faith tattoo design among guys. Aside from the fact that it is very masculine, it also represents steadfastness. It was used as a primary Christian symbol up until around the year 400 A.D. Many Christians use this design for faith tattoos because it has great meaning in their religion. There is a bible passage which says "This hope we have as an anchor of the soul, both steadfast and sure". Guys who profess Christianity use this tattoo to symbolize their faith in Jesus. In ancient Greek, the anchor symbol was used as a wordplay and it meant "in the Lord". This design can also mean enlightenment, salvation, and protection.
The star of David: This design is used to symbolize the shield of King David. It is used by a lot of Jews to represent their faith. It is believed that the star represents God, because according to biblical stories, He was his protector. Many people, especially in North Africa and the Middle East, also believe that this star brings good luck.
The Cross: It's simple yet holds great meaning and symbolism. There are different types of crosses such as the Latin Cross, Fleuree Cross, and the Celtic Cross. Circle motifs found in Celtic Crosses symbolize eternal life. This is the belief that life actually does continue after a person's time on earth is done. The cross is another popular tattoo design among guys that represents faith.
Ichthus: Early Christians mostly used Greek to communicate. They relied a lot on symbolism because that's how they evaded persecution. When you say "Jesus Christ, Son of God, savior" in Greek, the first letters of these words read Ichthus, which means fish in that language. Early Christians used the symbol of the fish to identify themselves. It's a common faith tattoo idea for men.
Angel Wings: Many faith tattoos for men include angel wings. They can be drawn on a person's back, exactly where wings would be if they did have them. Angel wings are used to symbolize faith in supreme spiritual beings. They can also mean a desire to do good. There are those who get tattoos of their loved ones who have passed on and have them given angel wings. This simply means that they hope that they are resting with the angels. It's hope in things not seen, and that is the foundation of faith.
Check out the best faith tattoos for men
Simple but symbolic, a lifeline in dripping bright red ink traces its way forward to form and connect with the word 'Faith.' Belief in divine power provides much needed strength during time of crisis, and this tattoo is one beautiful reminder.
A ribbon of Faith wraps around a fiery red heart which kindles a small fire right above. The plump heart appears full of warmth and life, just like how faith can keep a person going amidst great adversities and challenges.
Beautiful would be an understatement for one of the most aesthetic faith tattoos for men. Three full bloom dainty roses in different colors flourish amidst green leaves. The flowers are stacked on top of each other as a ribbon of Faith, Hope, and Love wrap around them.
Laden on the wrist where blood-pumping veins lie is a striking lifeline tattoo inked in black. It starts with a small heart then connects to the word 'faith' which seamlessly flows into the medical heartbeat symbol with an unknown end.
Faith often relates to belief such as that on God or other divine power, and a tattoo is one explicit way to express one's conviction. In this image, faith is established by flying birds lining the forearm, with each animal illustrated in lovely detail.
Faith, being a philosophy of living life or representation of a person's religious belief, can mean a lot of things. It makes for the most meaningful and unique tattoos ideas, just like this design featuring elegant writing scribbled atop a quill.
Faith tattoos are typically displayed by the actual word itself. This image makes a distinction in the way it articulates Christian faith by means of inking T within the word as a symbolic cross surrounded in graceful curves.
Personal beliefs arrive bold and strong and almost invincible in this realistic looking design that stands out among faith tattoos. Solid rock appears to have been carved in great depths to form the word FAITH all in capital letters covering the inner arm.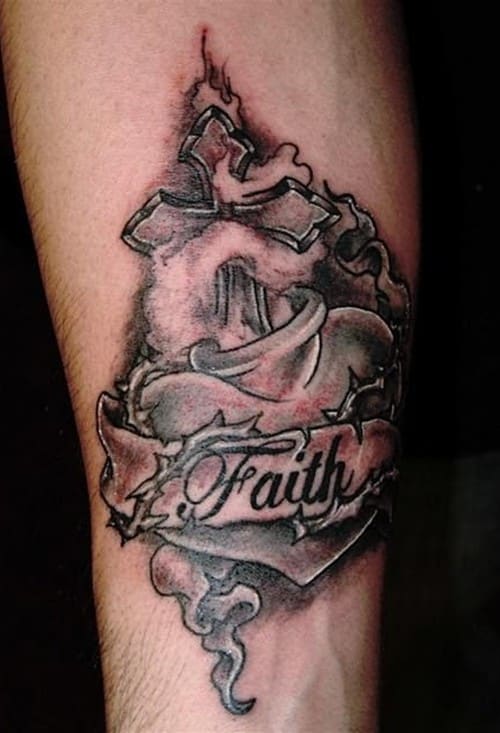 A plump heart bears a ribbon of Faith entwined in a thorny vine. Set on top of the valve is a cross symbolizing Christianity. The tattoo image seems to cut through the skin and is surrounded in mist for added effects.
Found on the side of the body is a half cross faith tattoo design. The cross gives off an image of great strength with a rock solid outline surrounding its stony form, then enhanced with the letters FAITH inked downwards in script writing.
More faith tattoos for men on the next page…