When it comes to tattoos, choosing the design is probably the most mind-boggling part. However, if you want something simple that reflects your personality then an arrow tattoo is your best pick. Perhaps the biggest plus for this tattoo design is its simplicity that makes it a good choice for both tattoo enthusiasts and first timers as well. Plus, designing arrow tattoos for men is relatively cheaper and less painful. And although this tattoo design is considered simple, it doesn't mean that they are plain or unattractive, in fact, arrow tattoos can be done in both big and small sizes and look sexy on any location of the body. To top it all off, arrow tattoos exude a symbolic meaning that further adds to its appeal.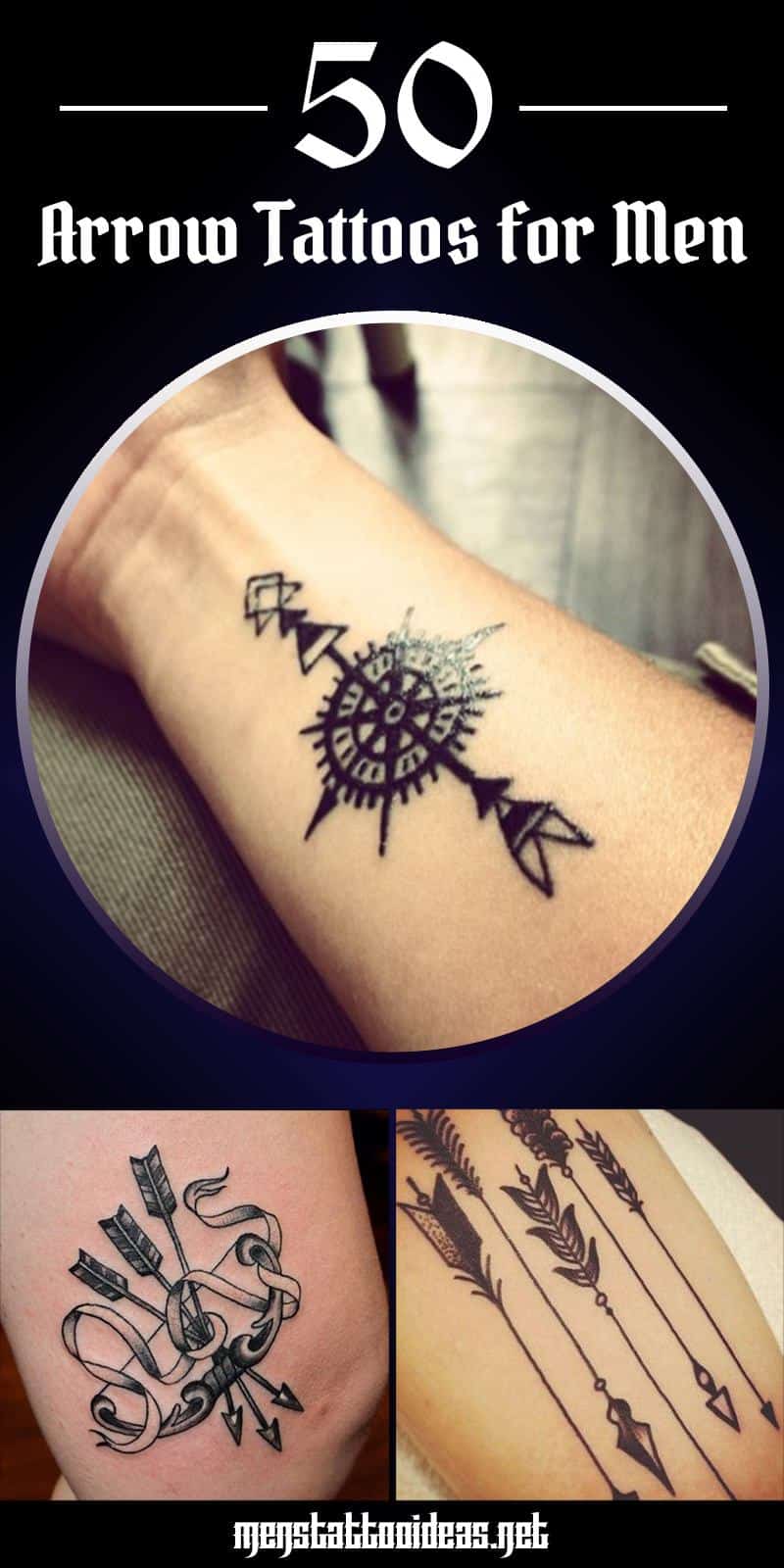 The Symbolic Meaning of Arrow Tattoos For Men
Like other popular tattoos, the arrow tattoo has a rich history which needs to be understood before one chooses this design. Although this tattoo design may have more than a single meaning stemming from its long history, the basic concept remains the same; the idea that an arrow has to be pulled back in order to spring forward. This concept can apply in your life in the sense that every time you encounter a hard time you are just preparing for better things to come. The arrow tattoo can thus be said to symbolize positivity. However, among the Native Americans, the arrow tattoo has a more detailed legacy behind it. Not only were arrows used for hunting and fighting, they also passed on traditions and messages from one generation to the next depending on how they were drawn.
Different Arrow Tattoos For Guys And Their Meaning
1. Single Arrow- This is one of the most commonly used design when it comes to arrow tattoos, it serves as protection against evil forces.
2. Double arrows- two arrows that cross each other are a symbol of friendship. However, if the arrows point against each other, it means war.
3. Bundle of arrows- This is used to symbolize the strength in unity- it is easier to break a single arrow than a bundle.
4. Broken Arrow- This tattoo design was used to depict peace.
5. An arrow passing through a diamond –This design represents courage as one moves forward.
Placement of Arrow Tattoos
According to most tattoo artists, the most popular places on the body to place arrow tattoos include the wrist, fingers, the side of the rib cage and the spine as well. However, the placement heavily depends on the size of the tattoo. For instance, of you want a small design tattoo, then the wrist, fingers and ankle provide the best location. If you are going for a medium to big sized design on the other hand, your back, the side of your leg, shoulder, thigh or chest will work best.
Simple, elegant and meaningful, arrow tattoos for men are a unique way to portray your positive vibes and courage through life, furthermore, they don't take much space and can easily be concealed meaning you can always show them off only when you want to.
Check out the Best Arrow Tattoos for Men
This simplistic arrow tattoo can speak volumes about your personality. Done in black ink, the two small arrows pointing in the same direction depict determination and focus towards achieving your goal. Moreover, the minimalist design on the wrist ensures a classy appearance as well.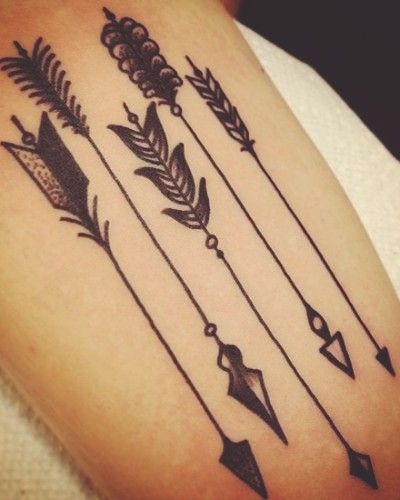 This is yet another great tattoo idea for men as the five black arrows make a wonderful design for the arm. Each is differently styled for maximum aesthetic appeal, whereas a bundle of five also depicts strength. So this simple design is a symbol of raw masculine might.
While one arrow can be easily broken, five cannot. This cluster of five arrows on the upper arm depicts strength and toughness. So if you've been thinking about a great arrow tattoo for men, there could be nothing better! The minimalist black ink design coupled with its simple elegance makes for an ideal upper arm tattoo.
If you're looking for a reflection of your personality, this tattoo might just be it. The simple small black arrow on the side of the foot represents determination and focus – two vital elements of success. It also symbolizes defense from harm, propelling your forward into a glorious future!
These two tattoos are extremely popular. While the cluster of three black arrows represent strength and power, the two black arrows pointing away from each other depict war, or rather, common disagreements. So if you are someone who would want your ink to speak volumes about yourself, selecting one of these might be great idea!
This gorgeous arrow design is one of the best tattoo ideas out there. Incorporating a compass in the middle of it's body, it depicts direction and determination. The black ink stands out in stark contrast against the skin, making it a wonderful symbol of your personality.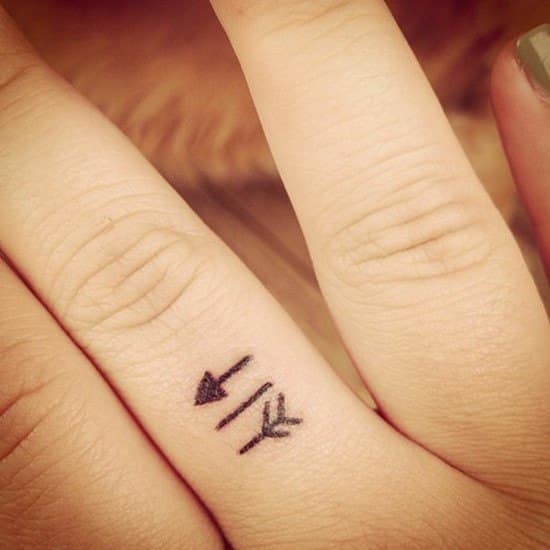 If you're looking for an attractive yet unique arrow tattoo, this might just be it. The simple black ink design makes it perfect on the finger, and depicts the focus and determination required for success in any endeavor.
These two tattoos symbolize two very important necessities in life. While the minimalist black arrow depicts determination to achieve your goals, the black anchor keeps you rooted to your beginnings. After all, it does not do to be blown away by success and forget where it all started!
One of the best arrow tattoos for guys, here you can see the arrow molded into 'Infinity'. The simple black ink tattoo is what gives it all the charm and elegance it deserves, whereas the design itself depicts an undying determination and loyalty to your goals.
If you're looking for something a little more elaborate than most of the minimalist arrow tattoos, then this is it! The single arrow is brought to life with a balanced combination of blue, brown, and gray. The intricate design as well as shading withing adds to its aesthetic appeal.
More arrow tattoos for men on the next page…