If a poll was conducted among men on which tattoo they would like to get, a good percentage would choose a Polynesian tattoo even if they didn't know what exactly it meant. That is what we are going to do today. We will list out some of the great aspects about these tattoos and also their significance and that will only make these tattoos a lot more appealing.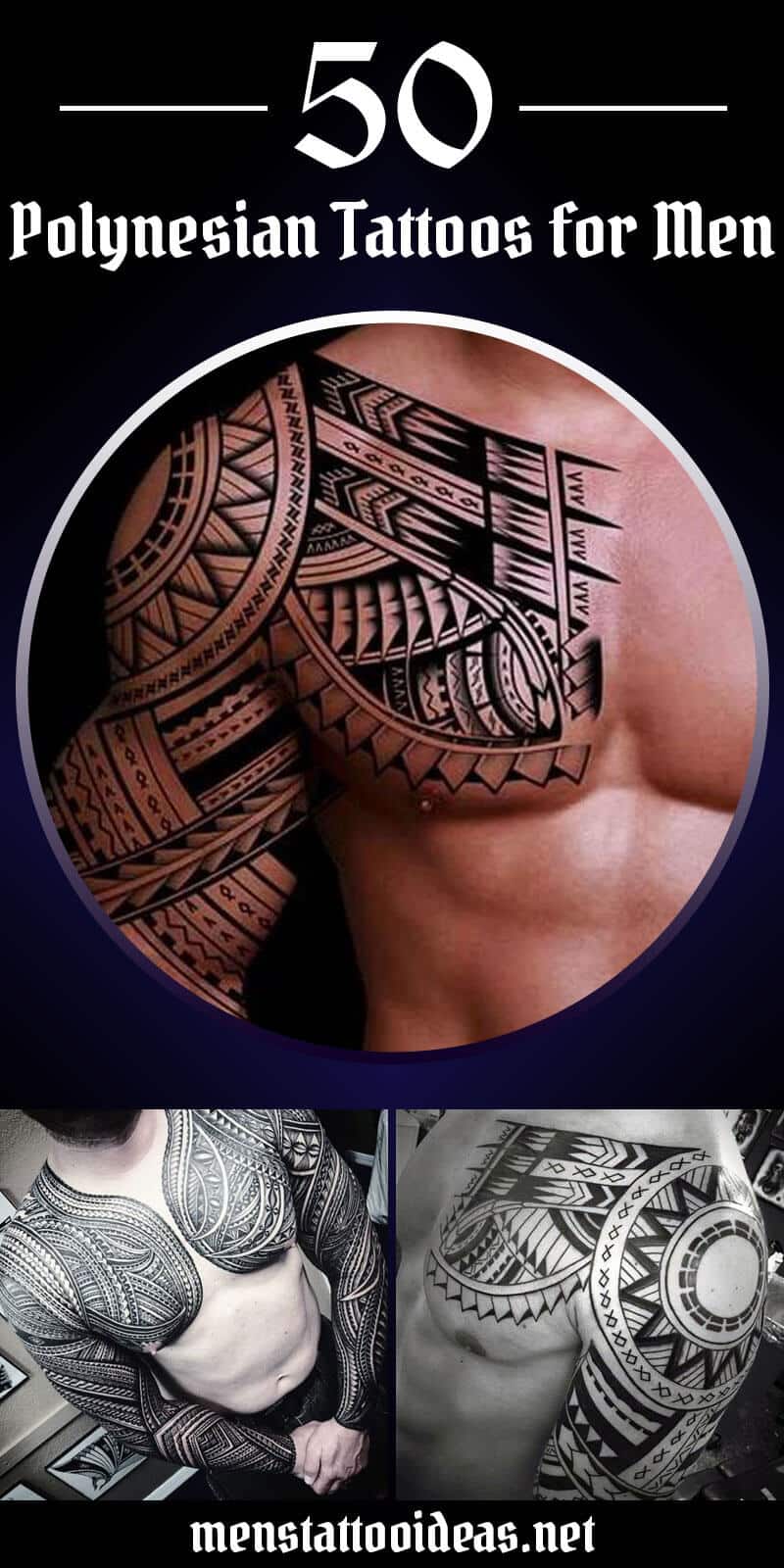 Origin of Polynesian Tattoos
The region known as Polynesia covers over a 1000 islands in the Pacific Ocean. These islands are home to some of the most unique and culturally rich tribes on earth and the include Marquesans, Samoans, Niueans, Tongans, Cook Islanders, Hawaiians, Tahitians, and Maori.
These tribes have one thing in common and that is their tattoos. For them, tattoos were not simply ornamental. Each line and curve that made up a tattoo had a very profound meaning behind it and every tattoo told a story in a very artistic manner.
Why Polynesian Tattoos for Men are so Popular
The obvious reason is that they are aesthetically pleasing. While glancing through tattoo designs, men generally end up choosing one of these tattoos even if they do not know the cultural significance or meaning behind it. The tattoos are all about the balance and harmony in nature and the fight between the light and the dark and that is something that is present in everyone and to have a tattoo that signifies the same seems special.
Another big reason is that many well-known and macho men sport these tattoos. Dwayne 'The Rock' Johnson and Jason Momoa are just a couple that comes to mind, So the mentality is simple. If these very masculine men are sporting these tattoos, there is the tag of masculinity attached to it and that is also a major driving force behind getting these tattoos.
The Meanings Behind Polynesian Tattoos
Coming to their meanings and symbolisms, the Polynesians all have this general view that there is an eternal harmony in nature, a nature that man is also part of. Their tattoos depict this balance, this bond that is shared between all living things and the elements such as the earth and the sea.
A big influence in these cultures is the ocean as geographically these people live on islands and the ocean is a major part of their lives. The ebbing and flowing nature of the ocean, its immense energy and the constant fluctuations between calmness and restlessness are all inspirations behind these tattoos.
They use a combination of intricate patterns, a symmetrical layout and a continuous flowing style that makes them aesthetically pleasing while also enhancing and beautifying the male form. Many of these tattoos tell stories about the various legends and mythology that exist in these cultures and a good reference for this is the movie Moana.
Conclusion
Do Polynesian tattoos for men deserve all this popularity and attention? They certainly do. While being great to look at and making a man look bigger and muscular, they serve a higher purpose and that is the cultural impact it has. It is these tattoos that have put the tiny islands of Polynesia on the map and through these tattoos, their wonderful culture, art, and legend live on.
Check Out These Impressive Examples of Polynesian Tattoos for Men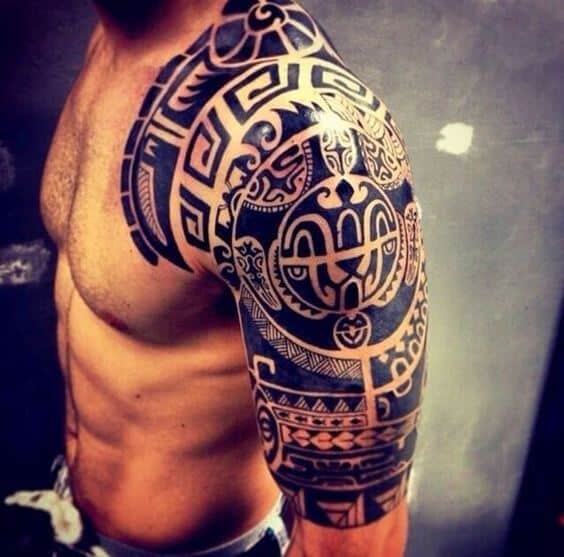 Placed on the upper arm and shoulder for strength and bravery, this design has a stylized turtle at the heart. Surrounded by the wide ocean, concentric wave patterns sit above the central image. Below him are the sharks teeth and spears that protect him.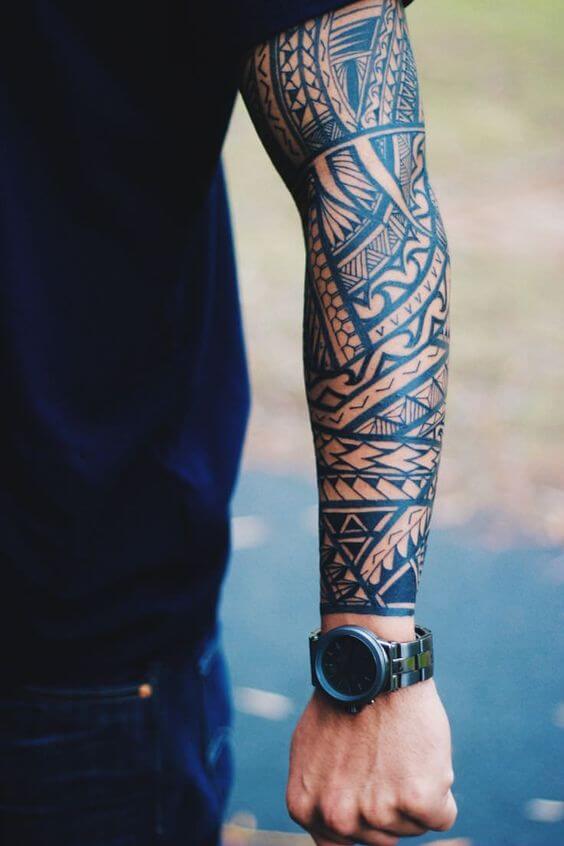 On the lower arm for the creative people, layers of waves and sharks teeth interweave and overlap to form the complex patterns which are so much a part of Polynesian designs. Tapered to the wrist, this pattern reinforces the impression of strength in your arm.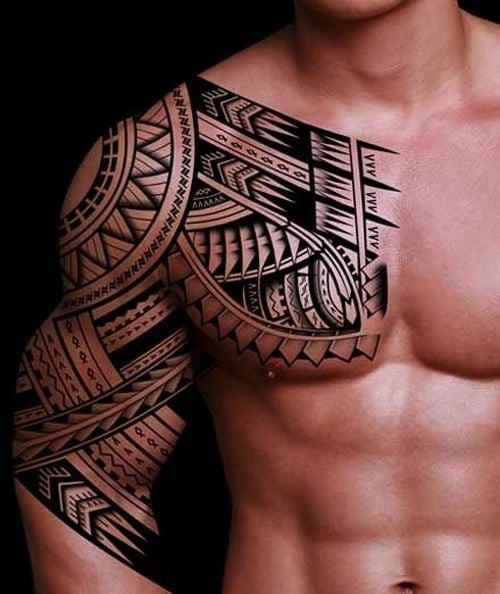 Emphasize your inner strength and bravery with this design linking your upper body and upper arm. The wide open sun on your shoulder is surrounded by shields and waves, linking earth and sky to bring you the power of both. Classic tattoo ideas for men.
This design for your upper arm and upper body is all about the people. The family that makes us all underpins the designs and gives it you strength to face the oceans and all the challenges they bring. Notice how the chest and arm circle are connected via your own power center.
This example shows some of the Polynesian tattoo designs for guys which are used to show off the strength and power in your legs. We use a mixture of totem poles, warriors, masks and sharks teeth to present your unique profile.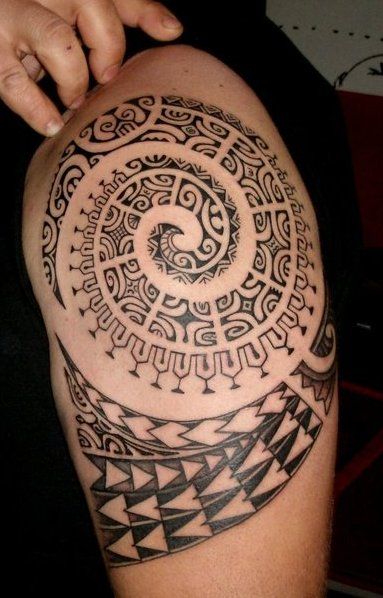 Placed on your upper arm, this sleeve is a concentric spiral of energy. Spearheads and warriors protect and surround your strength showing you are ready to engage when the need arises. It is a gentle, subtle reminder of your roots. Don't let them be forgotten.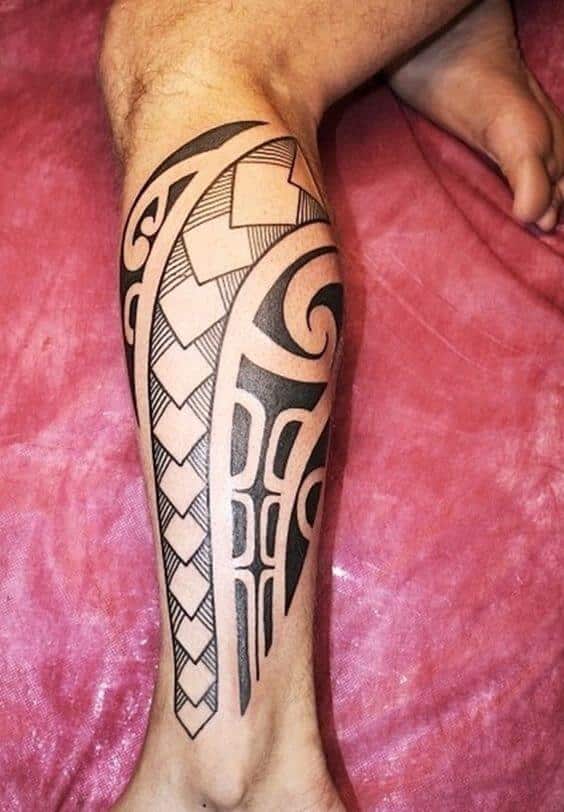 Highlighting the power of your lower leg, this line of spear symbols follows the power-line of your calf muscle with a strong straight heart, surrounded and supported by the natural flow of curving arcs. All pulled together in to a shield of protection.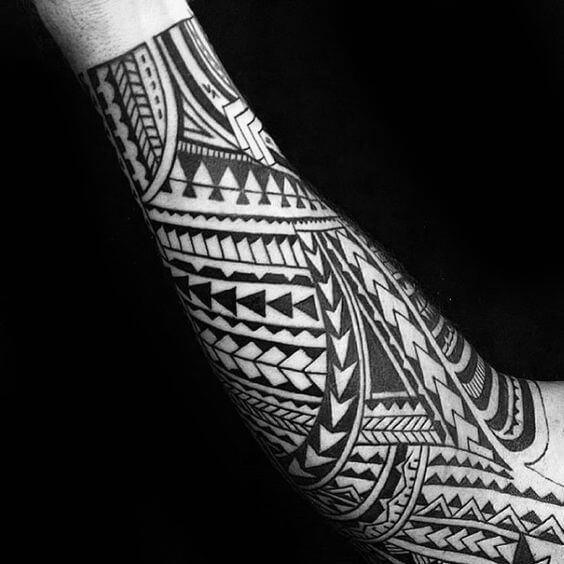 Stress the power of your upper arm, with dynamic lines of shark teeth illustrating the strength and ferocity of your will. The placement along your arm shows how well your muscles are suited to adapting to combat any foe. One of the best Polynesian tattoos for men.
Shielded by the sun, surrounded by nature, supported by the ocean. This design brings together the classic elements of Polynesian tattoo ideas into a simple, focused design located on the outside of your upper arm. Subtle yet powerful. One of the best Polynesian tattoos ideas for men out there.
Designed to show the shape, strength and length of your leg, this combination of solid geometric shapes weaves around your musculature. It feels like you're encased in a powerful, protective line of spears, teeth and totems.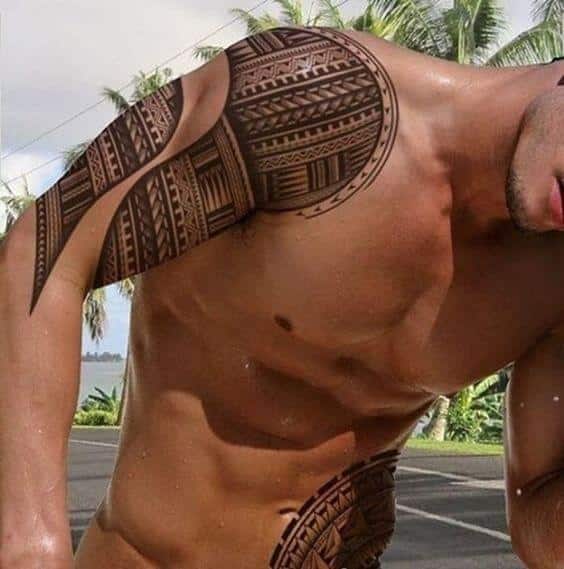 A classic Polynesian tattoos idea, this warrior shield is designed to illustrate the power in your upper arm. Its lines sculpt and highlight your biceps, joining to the shoulder to re-inforce the connection between spirit and strength.
Joining ocean to sky and presenting the sun in its majesty, all the traditional elements of a Polynesian tattoo design are present here. Placed at the tip of the shoulder to emphasize height and solidity. Wear with pride, show your heritage.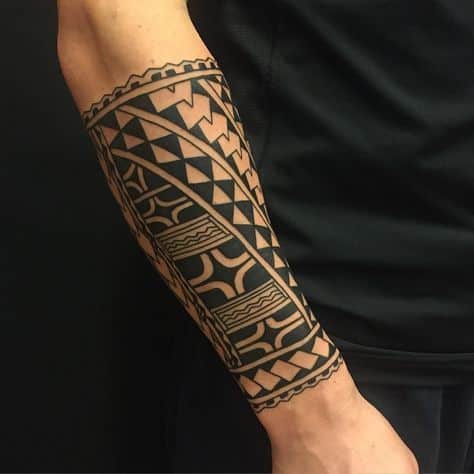 A short sleeve on your lower arm, from elbow to wrist, traditionally denotes a creative craftsman with precise skills. Our pattern subtly underpins the tapering focus needed for precise definition: crosses and squares weaving through the ocean. Beauty and simplicity.
Cover both arms below the elbow and blend into the back of your hands. Traditionally, Polynesian tattoos blur the distinction between arm and hand. Subtly different on left and right, feel the power that this pattern brings. Consistent, coherent strength.
Ocean waves are the stand-out feature of this lower arm sleeve. Show your connection to the ocean with wave upon gentle wave washing above and around your wrist. The ocean is calm and benign today. But it is not always so.
Harness the power of the warrior who will guard your back and protect you. Use his strength to support your own, you'll feel the mask of the fighter powering you on. Each design is customized to your own power source.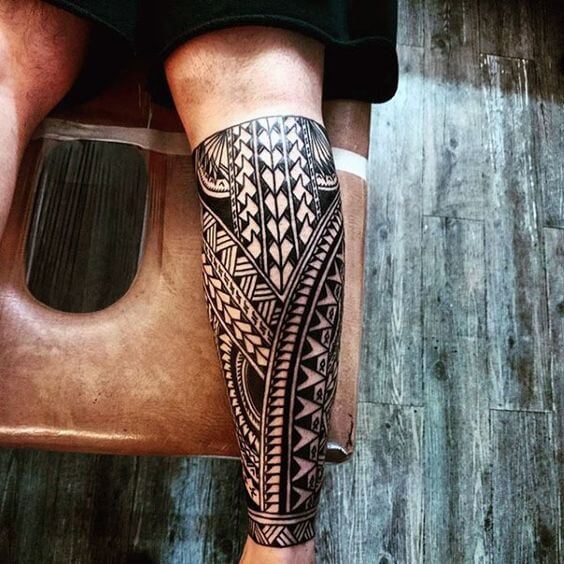 Designed to show your solidity and strength in a display of connection and continuity, a unique placement from above the knee right down to the ankle delivers a soothing spectacular and special vision. Vertical totems and spears emphasize height and slimness.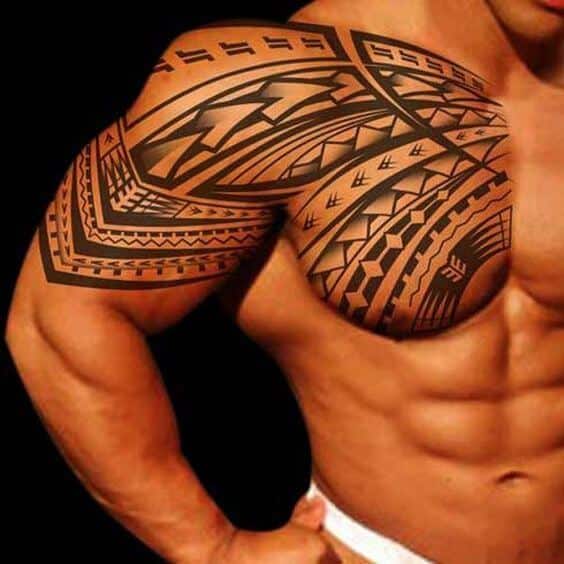 A design which looks best on a well-honed torso with strong upper arm definition, you'll feel like you have warrior wings fueling your power. A combination of mountains and sky designed to show potential and dominance. Not for the weak!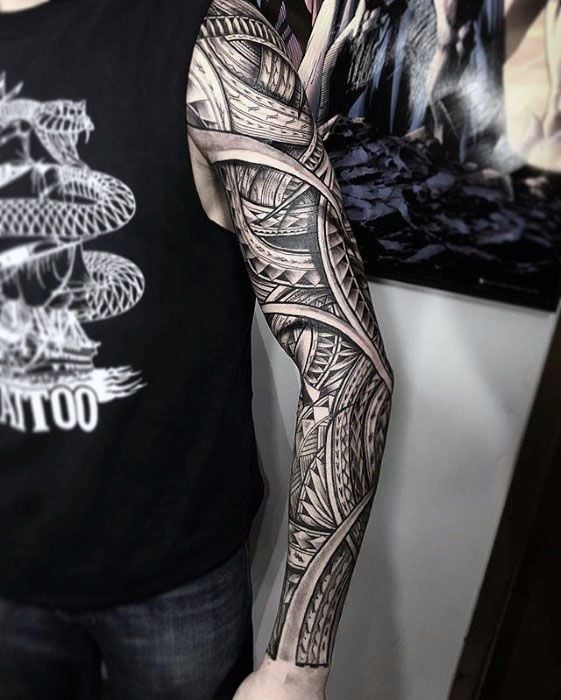 Designed to look as if your arm is powered by one high-precision human machine, you get the impression of muscles and sinews interconnecting and flowing smoothly together – interlocking for strength and fluidity. Tradition and modernity run hand in tattooed hand.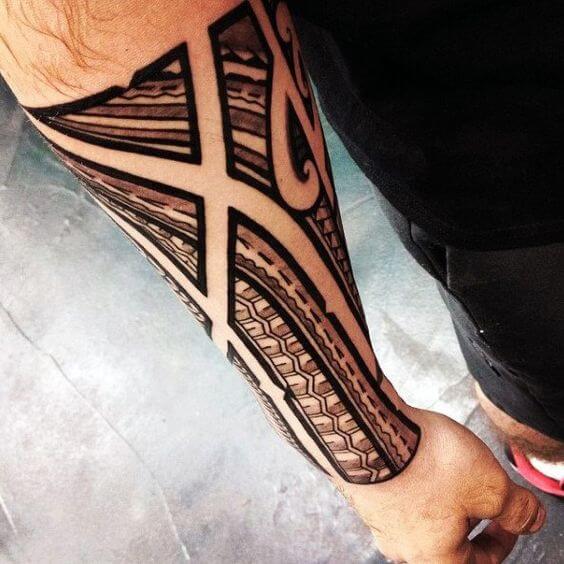 Add some unusual and subtle coloration to your lower arm sleeve by adding definition to each facet of your muscles. The unique separations of the pattern will be custom-drawn for you to highlight the hidden, inner strength of the pattern.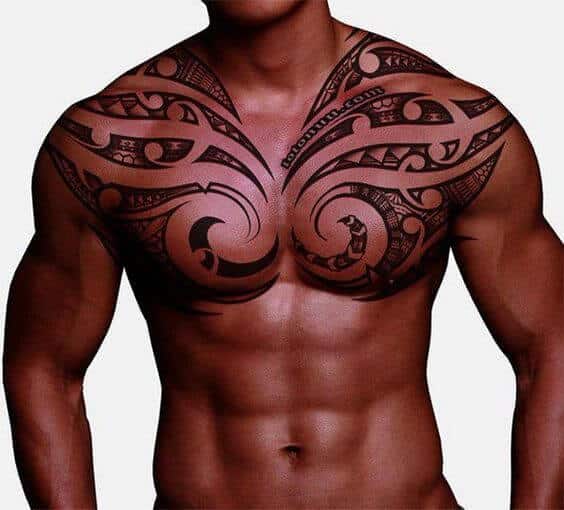 A powerful statement of harmony and balance underpins this statement of sincerity and honor. Feel the power of the ocean give you wings as it wraps your upper torso in a tight, subtle and controlled pattern where absence brings solidity.
A warrior pattern for only the most powerful of physiques! Tame the ocean with this combination of traditional and modern design elements. Bring together the power of the body with the dexterity of potent, authoritative arm strength. Humanity and nature in tandem.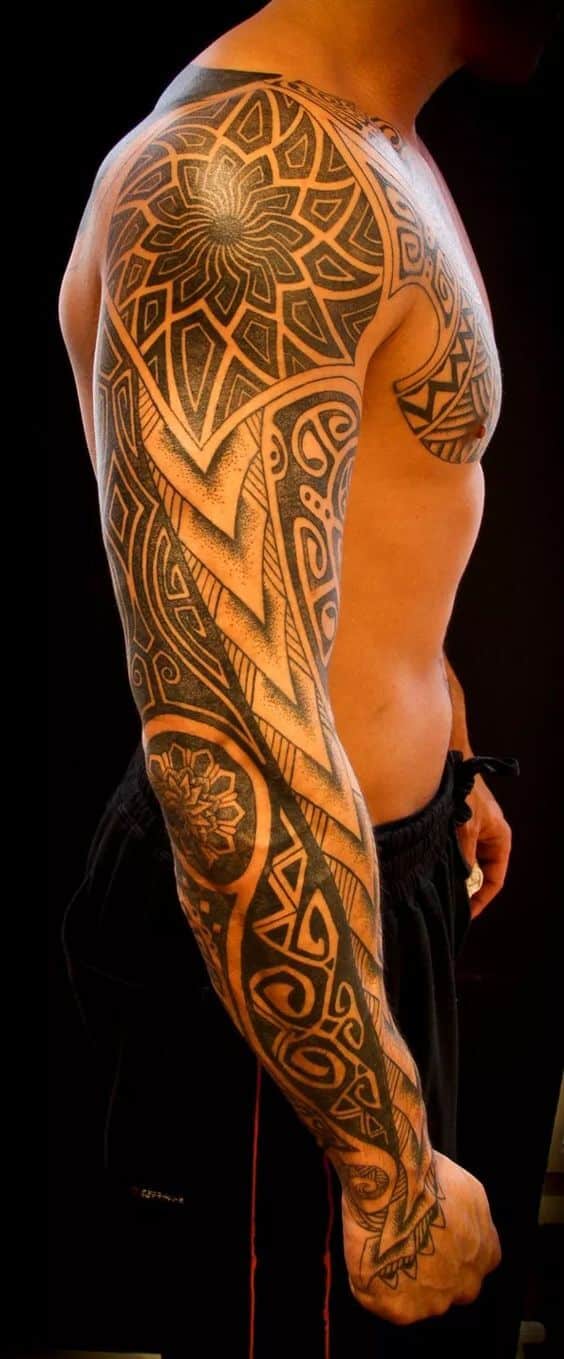 Pull together torso, shoulder, back, biceps and triceps – all the muscle groups that deliver your power are presented in harmonious connection. One unique human machine harnessing the strength of Polynesian tattoos for guys who want to make a statement.
Our beautiful, modern interpretation of the traditional turtle symbolizes health, fertility, longevity in life, foundation, peace and rest. It also act to bring together families and represents the idea of unity. A classic symbol expressing the essence of Polynesian tattoos.
From shoulder to wrist, a pattern which speaks of strength. Blending the Tiki warrior with his powerful spears to ward off evil. Who can stand against the wings of the warrior? Each pattern unique to the individual. Your own personal statement.
This Polynesian tattoo features traditional design elements of the Samoan and Maori art. The attention to detail and complex imagery on this sleeve gives it a strong and layered character. This will suit anyone with a personality that has many dimensions and would like to show that through their tattoo.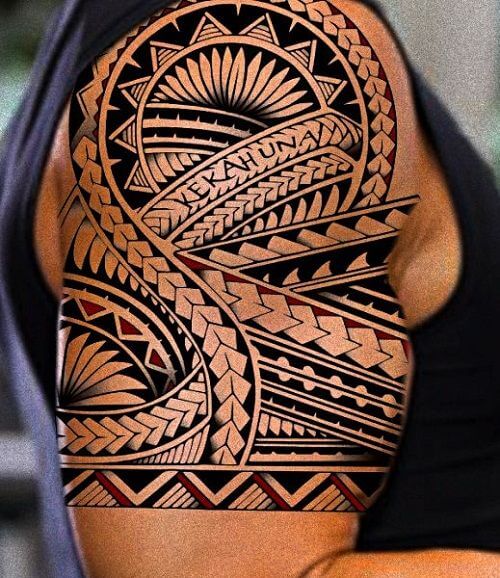 Polynesian tattoos are among the most sought after and popular types of tattoos and this is one of the classic styles sported by many men around the world. It features a dichromatic palette of black and red and features the inscription of the highly positive Hawaiian word 'Kekahuna'.
This tattoo is a combination of intricate interwoven patterns and Maori themes to represent a combination of strength and heritage, The monochromatic color scheme and sharp flowing contours give it a very striking yet dignified look.
For lovers of Hawaiian art forms, this tattoo will be a great treat. The concentric patterns that appear to meet at a focal point are its unique selling point. It also tends to make the arm look larger. Perfect for anyone willing to flaunt their masculinity.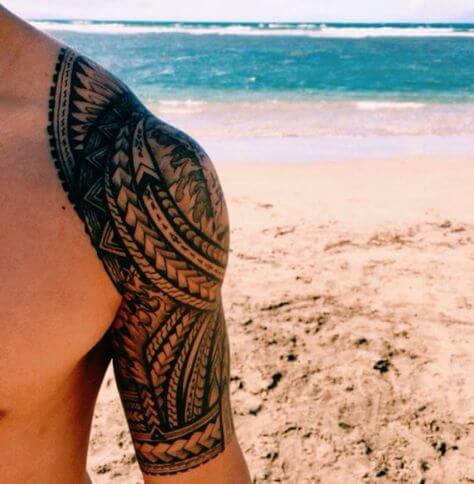 If you are on the lookout for Polynesian tattoo ideas but do not want to get a full set of sleeves than this minimalistic approach will suit you well. It still has that strong Polynesian characteristic and is inspired by tattoos traditionally worn by the Tongans.
Another minimalistic Polynesian tattoos idea that is meant for someone with a lean body and wants to exude an air of toughness and meanness. The repeating shapes and sharp line complement each other perfectly making it great to look at while speaking volumes about the person sporting it.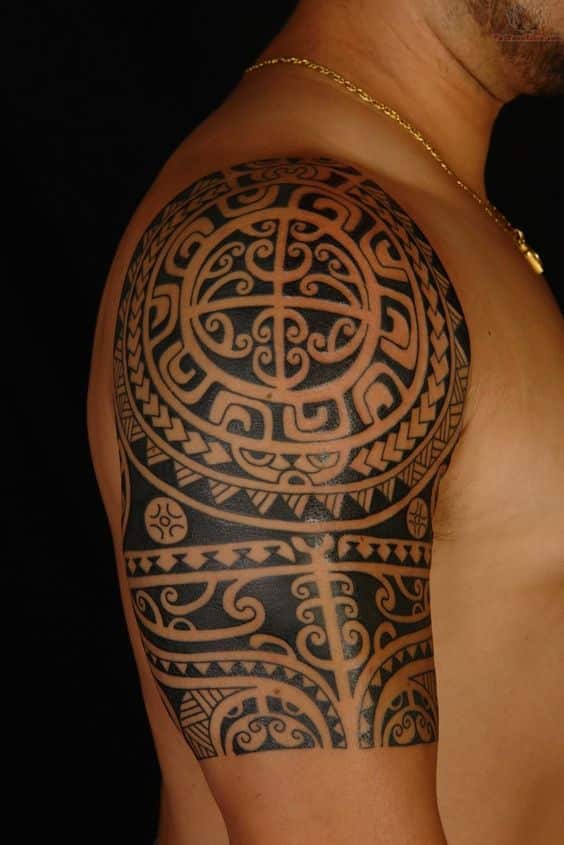 A great showcase of the Polynesian tattoo design, this Maori art influenced design uses the circular shape and free flowing lines to great effect which results in a tattoo that looks neat and classy without cutting any corners as far as its roots are concerned.
Fans of Dwayne 'The Rock' Johnson will recognize this tattoo. Comprising of a similar motif, it covers the upper arms and one-half of the pectoral muscles. This is one of the best Polynesian tattoos for guys as it showcases the male strength and the word 'Fire' adds more of a zing to the tattoo.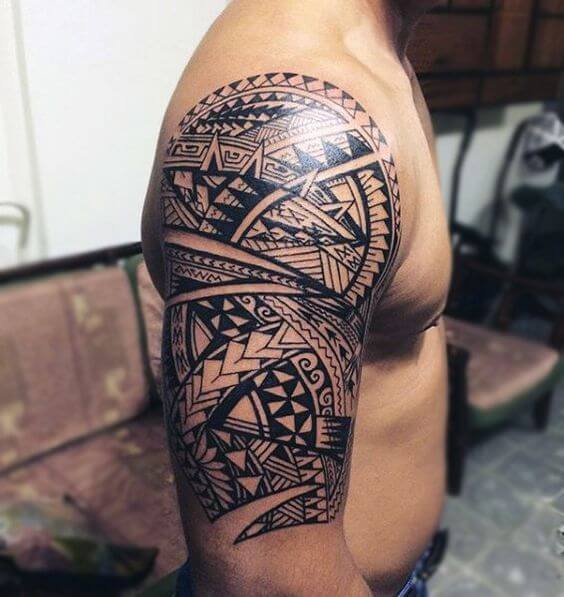 Those who love sharp lines and contrasting contours will immediately fall in love with this tattoo. Its inherent pattern gives it a more refined and mature look and is a great Polynesian tattoo for men who want to appear sharp yet trendy.
If you want the beholder of your tattoo to get lost in its intricate form then this is a wonderful option for you. The arm portion of the tattoo features a maze like structuring inspired by tattoos traditionally found on the Cook Islands. The rest of the tattoo highlight the deltoids and gives you an air of notoriety.
For the bold out there who would like to stand out from the crowd of tattoo wearers out there, then this is perhaps one of the better tattoo ideas for men. It has a bold, symmetrical layout and covers the entire arm and parts of the upper torso and will give its wearer a unique definition.
Not everyone is the same and some like to display a tattoo that is 'in your face' sort of obvious. Of the myriad of tattoos ideas out there, this particular one is meant for such men. The Niuean inspired patterning is intricate, bold and refined in equal measures.
Men with bulky shoulders will find out that this tattoo bodes well with their physique. The flowing lines and layered composition of the different shapes that make this tattoo highlight the shoulders and upper back and makes them look larger and more powerful.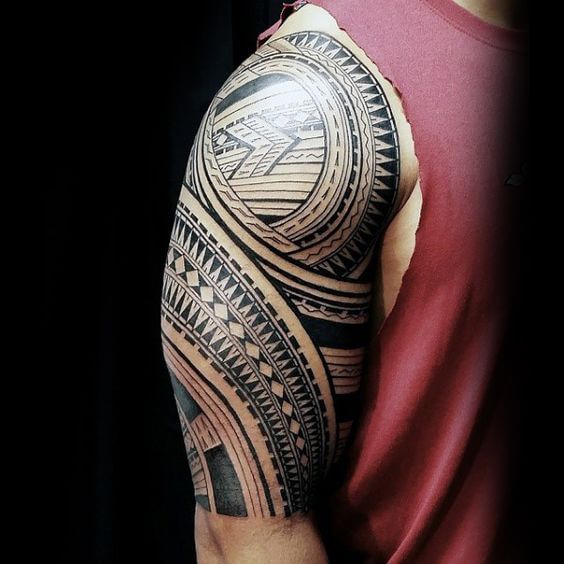 If you are the kind of man who enjoys the finer things in life and you expect people to understand what you want to say without actually saying it then this is a superb tattoo for you. It is subtly eye-catching and will anyone making a cursory glance to look again.
Looking more like a battle armor than a tattoo, this one is meant for men of action. The kind who do not like to boast but always get the work done. The main highlight here is on the triceps and is delineated using sharp edges and multiple focal points.
A great tattoo for those who are wanting to get the maximum amount of ink possible on their sleeves without looking tacky. It is a breathtaking combination of Maori and Marquesan elements of art and perfect for those who like to go shirtless often.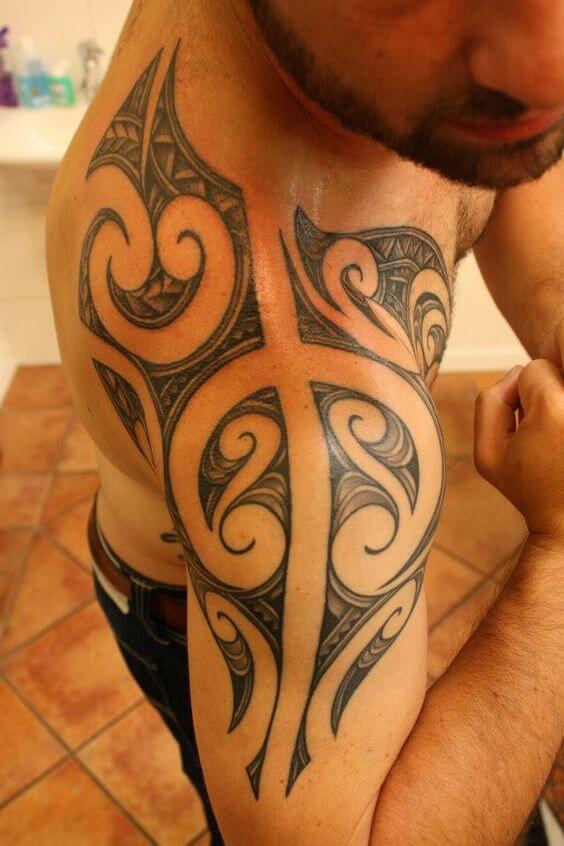 This symmetrical design inspirited by traditional Tahitian art forms, it is a great option for anyone who believes in the concept of less is more. There is lesser ink used here than other tattoos of this genre and yet it appears just as moving and powerful.
Octopus is considered one of the most cunning and intelligent animals on earth. Be it this quality or its dexterity you like, this octopus, when viewed from a closer angle, reveals that it is a combination of shapes common to the Samoans type of art and is meant for both the intelligent and the lovers of marine life forms.
If just a set of sleeves is not good enough for you and you want to go full blown then this tattoo which will cover both your arms and the entire back is a perfect choice. It uses design cues originating from almost all of the Polynesian Islands and is a brilliant showcase of the fact that mankind is all one entity.
This one will perfectly accentuate anyone with a strong set of well-defined abs. Even if you don't have any, this tattoo will highlight the midriff and give you a more masculine look. The closely spaced symmetrical plan of this tattoo matches anyone with a highly complicated yet innocent character.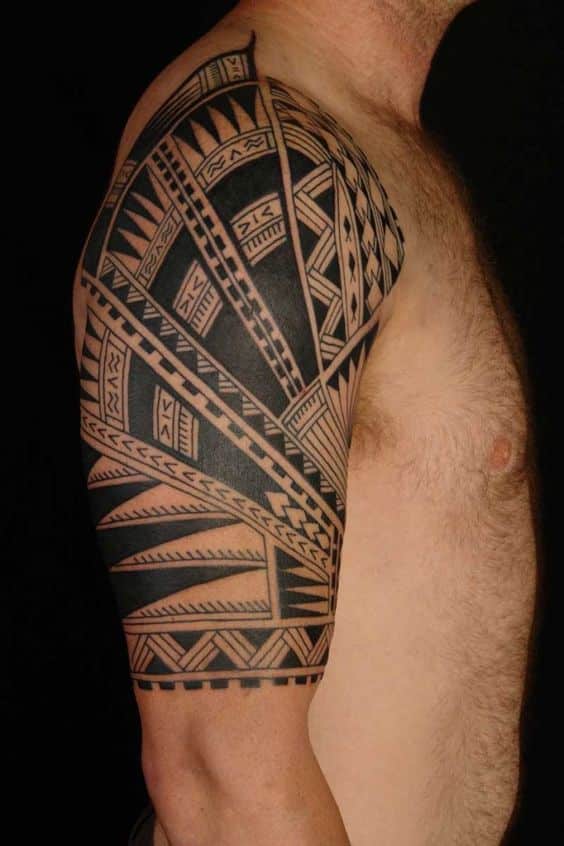 Featuring alternating shapes that are diametrically opposite to each other, this tattoo will perfectly suit anyone who swings between both the extremes of the spectrum of human emotions. The Niuean design is easy on the eyes and yet manages to convey a lot of nuances.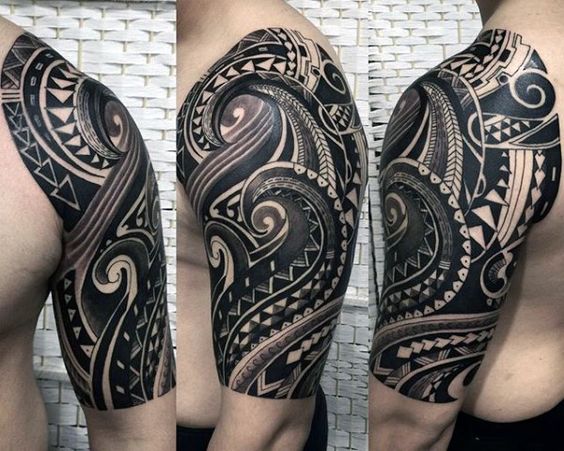 This tattoo offers incredible depth and appears to be growing in and out as the arm is moved. The thick, heavy lines are well rounded off with the rest of the tattoo and make the person look regal and powerful without covering their entire body in ink.
If you want to go for the bare basic version of one of these tattoos then this is it. Featuring a classical Polynesian design, it is a depiction of growth and the mentality to stand tall in the midst of adversity and the lean and tall structure implies the ability to hold one's head high no matter what the situation.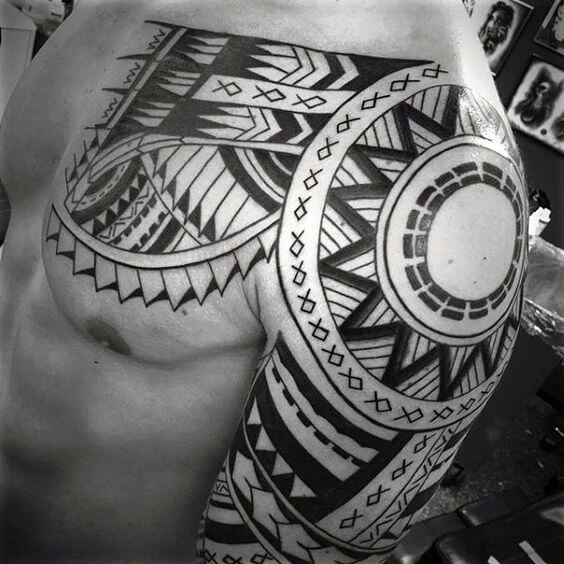 The sun was the major focal point of all the major civilizations on earth. This tattoo hearkens to those beliefs and circular arrangement surrounded by sharp lines depicting the rays of light is perfect for anyone who wishes to be a source of positive energy.
While a lot of these tattoos look good on muscular men, this particular version will look good on anyone. The clean, yet highly detailed, Maori inspired tattoo is a show of power, true manliness, and courage and the fact that it is the inner strength that really matters.