Getting hand tattoos for men is nice, but making the right choice of an artwork is even better. You can have a tattoo anywhere on your body, but if you are looking to make a statement you have to make it visible. For men, hand tattoos might make the best choice for some reasons for example when you are looking to create some center of attention and more. Tattoos are good at creating impressions and are best placed where someone you are targeting to impress can see it. However, there are those who still think getting a tattoo isn't a good idea. The best news for tattoo lovers is that these opinions are baseless.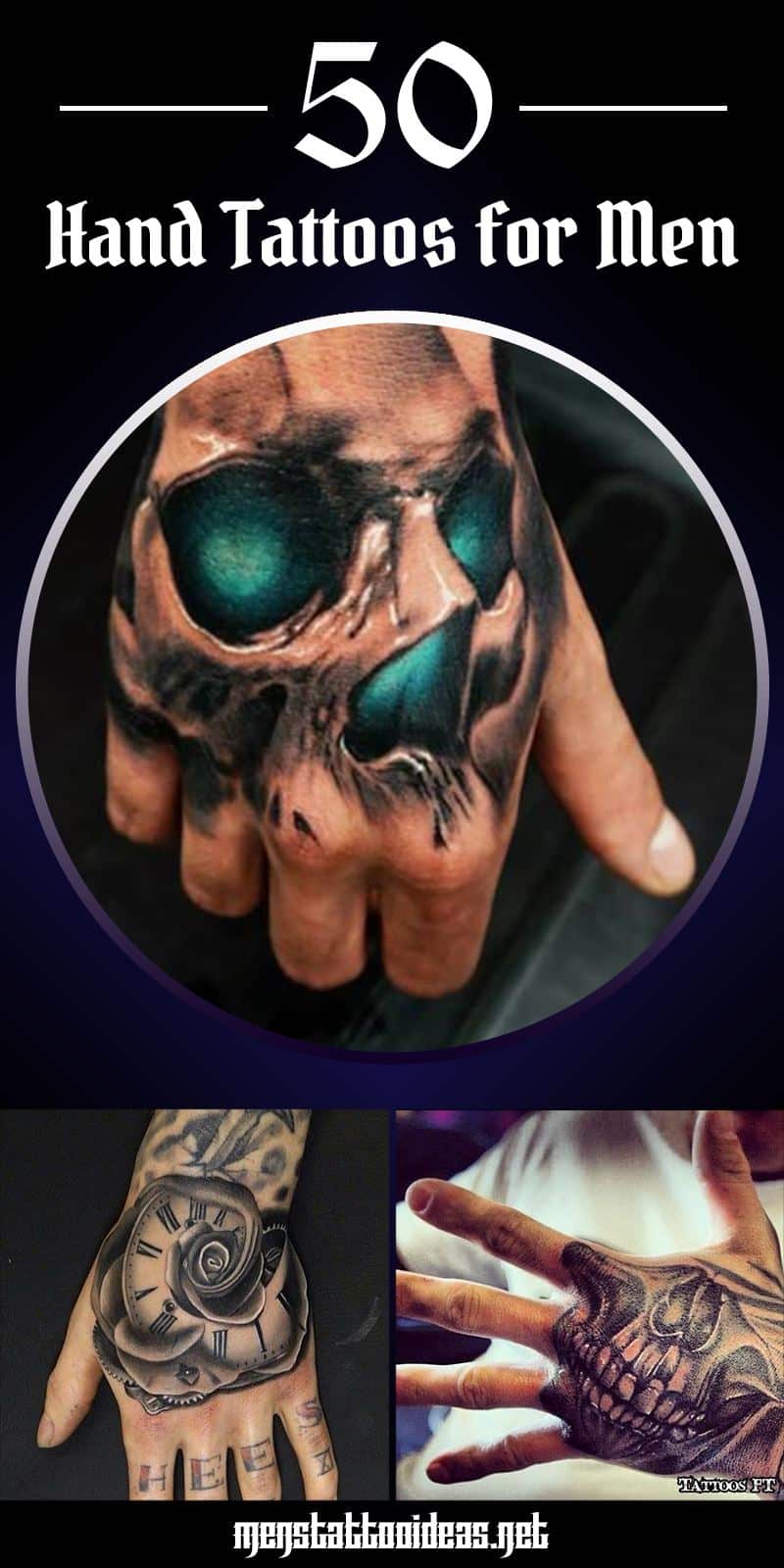 There is no doubt you will find a lot of misconceptions and myths surrounding getting a tattoo, but if you haven't got one, they shouldn't make any impact, why? People have different opinions about tattoos. What you mustn't forget is that tattoo comes in various designs. What does this mean? You might decide to get a tattoo that remind you of a worst memory or to have one that will work well with your memory. The truth is that, with the right artwork your hand tattoo might be one of the things you might not want to let go of.
Understanding Hand Tattoos
Since tattoos involve a lot of artistic creativity, the tattoo artist is always full of ideas on what to change in a drawing. The other thing is that you can easily link tattoos to bad people when you are watching a movie. What you mustn't forget is that these actors are artists and having a tattoo is just part of their creativity. The question is, do you think a tattoo has a negative impact on how you reason? Of course not. They are just permanent drawings on your skin. To understand what I am saying, let us first do away with some of the misconceptions that surround getting a tattoo.
Popular misconceptions and myths about tattoos explained
* TATTOOS ARE LINKED TO YOUR INTELLIGENCE
Unless you are tattooing your brain, this is just an opinion from a tattoo hater. There are some cases you might encounter those who think tattoos are related to those with low intelligence but don't you think that reasoning is too low? Well, it is. Just like any other cloth you are wearing, tattoos are just some artistic creations you can put on your skin. There is nowhere they are attached to the nerves going to your brains.
* TATTOOS ARE FOR CRIMINALS, PIRATES OR BIKERS
First of all criminals, pirates or bikers didn't invent tattoos; they just like them. The other thing is that an artistic mind invented the tattoo, and it wasn't targeting criminals or pirates. Lastly, tattoo involves lots of artwork, and if you can find a person claiming to be the bad-ass having a loli pop tattoo, you might have confused a clown with a pirate or a criminal. What does this mean? You can choose an artwork you like.
* YOU'LL REGRET IT IN FUTURE
I won't get a tattoo of an ugly looking creature, or that reminds me of a bad memory. Having a permanent tattoo requires you to make the right choice of artwork you want to keep with you for the rest of your life. If you have a tattoo that represents good memories, I doubt if it will haunt you in any way.
We can conclude that any of these misconceptions is not scientifically proven. They originate from baseless beliefs and are mostly fueled by those who are not into tattoos. Why not look at the facts? Why not look at the brighter side? Having that in mind, let us take a look at some of the reasons why you should go for hand tattoos.,
Benefits of getting hand tattoos for men
* BONDING EXPERIENCE
Experience with best friends, your siblings, parents or your kids aren't meant to last forever in an average human brain. You might even forget it ever happened, but with a tattoo as a reminder this experience is supposed to last forever, why? Permanent hand tattoos are there to stay forever. You will be able to see the tattoo whenever you raise your arm or just put it on the table and as a result it will be hard to let go of the memory.
* SELF EXPRESSION
If you think you are a tiger on the inside, no one will be able to notice that unless you do something about it. Without speaking a word in most cases, a hand tattoo will take the lead in defining who you are; your character, what you do and more, why? Most of the time people will judge you with what you have on your body and tattoo on your arms is no exceptional. You might be a potential star and to avoid missing out on opportunities a guitar or a piano tattoo might just grab the attention of the person interested in what you can do.
* THE ARTISTIC PART
One of the reasons hand tattoos are the best is because most of the time your hand is always not covered. As a result, people will be able to see it and appreciate it. What does this mean? You have to be creative, and that requires an imagination. Tattoos involve lots of artwork. There are different creations depending on what you like or what the tattoo artist can do. In summary, these artworks act as a display of either the artistic mind of the tattoo artist or yourself.
* COVER UNDESIRABLE MARKS OF HAND
Anyone would like to let go of any ugly marks on the hand, why? Hands are always not covered and having a mark you don't like, might live will torment you since everyone will be able to see it. It might not be pleasant, and you might be tempted to go for the worst options so that you can get rid of it. Why go for a surgery to remove the mark when you can turn the ugly mark into something beautiful? Tattoos are the best shortcuts to take when you are looking to do away with ugly marks on your arm. They will cover the tattoo and the best options compared to going for surgeries and more. They are also safe and inexpensive, and the best part is that they are the fastest methods to get rid of any mark.
In summary, hand tattoos are good for impressions, decorating memory and lastly defining who you are on the inside. If you are a man, there is no best way you can do this apart from making a choice to have one. Misconceptions are based on preferences, religious beliefs and more. The good news is that hand tattoos don't have any side effects. You can find more information on the reasons why hand tattoos for guys are worth going for in the following links.
Check out some great hand tattoos for men
If you're looking for some great tattoo ideas for men, this black ink one might be it. It gives you high coverage for the entire hand. With a bouquet of roses in the center, it extends into small inked designs on the fingers. The black and gray shading give it a more 3 dimensional effect as well.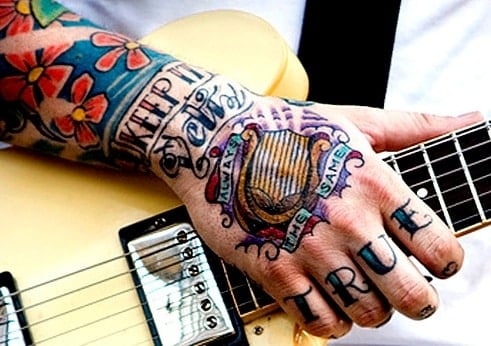 Not all men love the somber look of black and gray shades. So this is a great tattoo design for those guys who love their colors. It is the perfect one for any artist, whether you are a musician or a painter. With a golden harp on the back of the palm, it states 'Always the Same' in block letters. Moreover, the colorful flowers extending to the arm depict the creativity within.
This hand tattoo is for every comic book lover out there. Featuring Magneto at his worst, you can see his signature red helmet shielding most of the face even as a lightening bolt appears to emerge out of one eye. The red color creates a stunning visual, along with the life like details added to the super-villain's face.
One of the most creative hand tattoos out there, this features the lower part of the skull on the back of the hand. So the next time you cover your face, someone might just mistake it for the inside of your head! The careful detailing along with the bold lines give the ink a realistic appearance.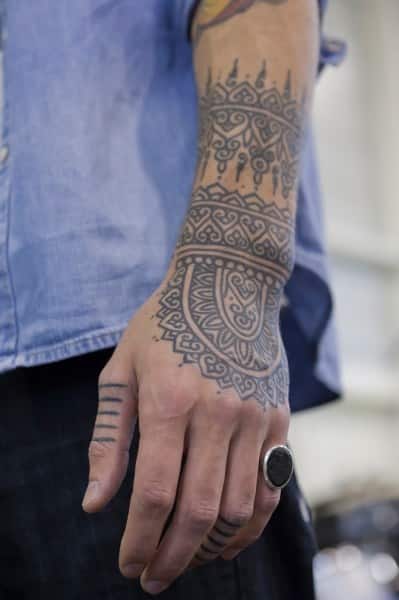 This wonderful hand tattoo for men is done entirely in black ink. Featuring distinct lines, the intricate, tribal design is captivating. Moreover, the delicate layout is sure to turn heads as you walk down the streets. Extending from the hand onto the lower arm, it also includes five lines inked onto the back of the thumb and ring finger.
Whoever said hand tattoos are limited to the back of the palm? This ingenious design depicts a skull inked onto the middle finger. Done in black, the sharp lines and delicate shading give it more character. Additionally, the crossed bones underneath it are a clear sign of danger.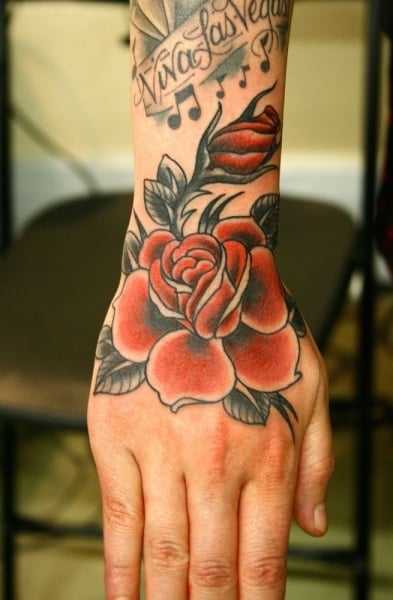 With a gorgeous rose adorning the back of the palm, the tattoo stretches onto the arm with the words 'Viva Las Vegas' inscribed in fancy black letters. With delicate music notes lining it at the bottom, it is a must have for all the true Elvis fans out there. This design also brings about a beautiful contrast between the red rose and black background.
This awesome design features the comical head of a demon on the back of the palm. However, done entirely in black, it is the fingers that steal the show. Here, the tattoo looks as though it was done in spray paint, thereby making it looks absolutely wonderful!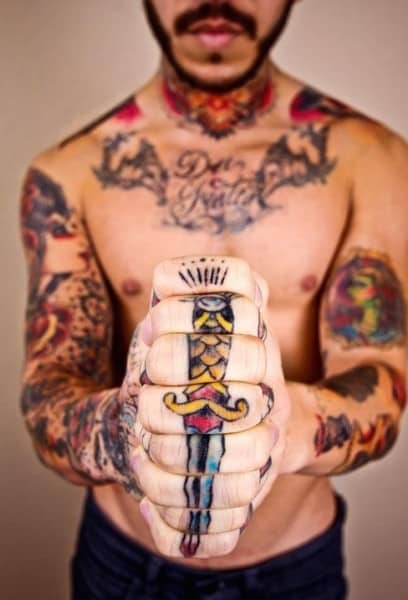 This cool tattoo isn't inked onto the back of the hand, but rather on the side of the fingers. As they part to show you all of them at the same time, you can finally read the saying in order. Inked in simple, black letters, it tells you: 'LOST TIME IS NEVER FOUND' – a constant reminder to live each moment to the fullest!
One of the best hand tattoos for guys, this one gets top scores for creativity. While the bright colors make it attractive, it is only when you put those fingers in order that the onlookers will know what it truly is. The stunning dagger becomes more evident as your hands come together.
More hand tattoos for men on the next page…