This hand tattoos idea gets straight to the point. Done completely in blank ink, each finger has a unique image drawn from the base of the finger to the knuckle (thumb not shown): Barber pole, scissors, comb, and clipper.
This is one of the most powerful hand tattoos for guys that I've ever seen. Covers the entire front of the hand, the wrist, and features a graphic design on each finger. Color palette is extremely strong—shades of green, red, white, and black.
This is a strong hand tattoo for men. One striking design covering the front of the hand. Powerful red, black, and gold tones. Graphic black Spirograph design surrounded by rope trim. Shades get lighter and lighter as you move to the center.
This design showcases a variety of tattoo ideas for men. Each side of the body (hand, wrist, and arm) is totally different from the other. Countless colors are used. Some of the designs displayed are a beautiful woman, hearts, stars, and "Fate Always Wins."
Of all the tattoos ideas I've seen lately, this one takes the prize for sickest and craziest. When the hand turns over it looks like the palm of the guy's hand and his fingers just went through a plate glass window.
This small, geometric tattoo features three interlocking triangles. Drawn completely in black ink. The triangles form a walknut, which is the symbol of the god Odin in Norse mythology.
This artistic design stretches from the mid-forearm up to the lower portion of the palm of the hand. It shows a tree, completely in black, from the roots to the trunk to the bare branches.
The photography is black and white, so I can't be certain whether the design was done completely in various shades of black and gray. The design juxtaposes a simple skull against a blooming rose bud.
This tattoo is drawn on one side of each hand. When the hands come together in prayer position, the two halves of the design join to reveal a monarch butterfly. Mostly black with shades of burnt orange and green.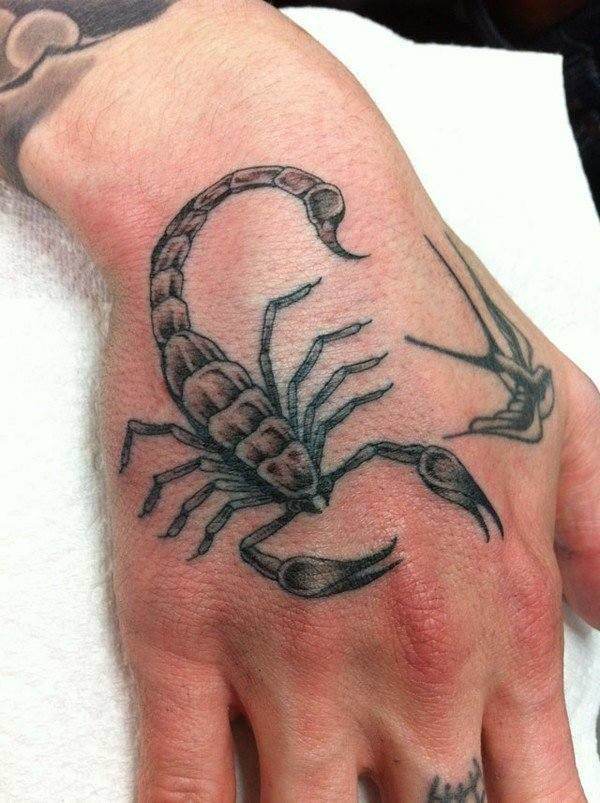 There are two images on one hand. The larger image is a black scorpion. The detail that the artist used is pretty amazing. The smaller image is about 1/3 the size of the scorpion and appears to be a black hummingbird that's drawn in a similar style.
More hand tattoos for guys on the next page…