If you are planning to get a tattoo, there are numerous factors that you must consider to ensure that you get a design you won't regret later on. One of the most important of these factors is the meaning of the design.
You should take the time to think about the design, the color combinations, and how these relate to something you care about. Always keep in mind that a tattoo is something that will be with you for the rest of your life. This is why you should be 100% sure about the design before you decide to have it inked on your skin.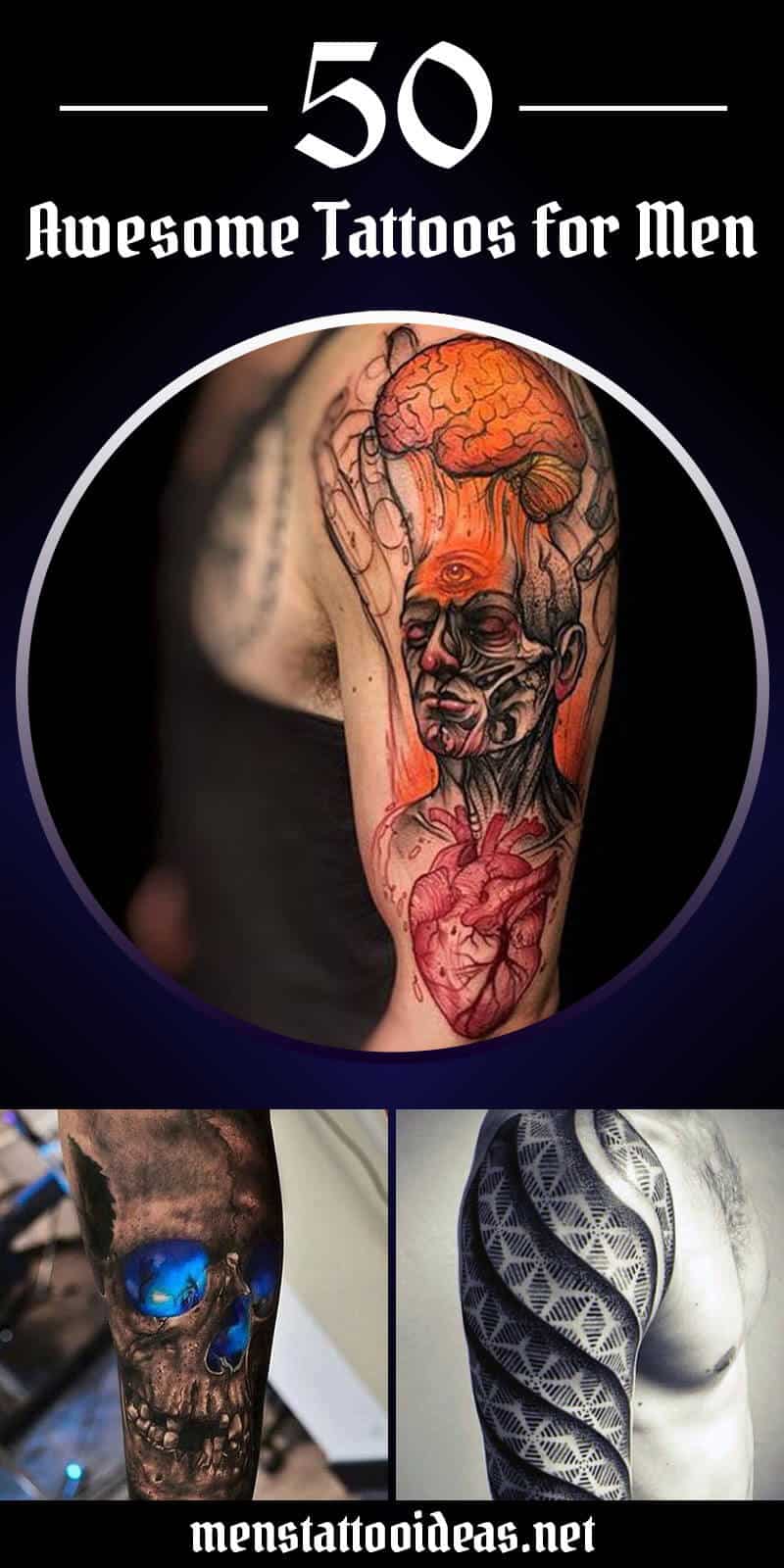 Popular Awesome Tattoos for Men
If it's your first time to get a tattoo and you don't have any clue on what design to get, the following awesome tattoos for men should help you come up with great ideas.
Lion
Designs featuring the face or outline of a lion has always been popular for several reasons. First of all, it's the ultimate symbol of maleness. The lion conveys courage, pride, strength, and royalty. It can also allude to being a great and indomitable leader. What's great about lion tattoos is that they look awesome no matter what part of the body they're inked into.
Wings
Getting inked with wing designs especially in the back of the body is very popular among men because of what the wings symbolize. For the most part, wings are associated with spiritual or inspirational symbolism. It means you are independent and free. Nothing can stop you from soaring to heights you dream of.
Spartan
If you're looking for a tattoo design that speaks of masculinity, then the Spartan is something you should seriously consider getting. The ancient Spartans have always been considered as among the greatest warriors to ever walk the earth. The designs would look great on anybody.
Tribal
Tribal tattoos have always been popular because of their cultural history and relevance. These are rooted in traditions and cultures. Their designs never go out of style. The designs and interlocking patterns grab attention. Tribal tattoos look best when inked on the arms, chest, or back.
Science-related themes
Designs inspired by science are among the most awesome tattoo ideas for men. There's just so much material you can choose from the fields of geometry, biology, zoology, and even geology. Science-inspired tattoos also imbue intelligence, reasoning, and comprehension. They can be great conversation pieces. They are unique so they stand out from all-too-common tattoo designs.
Deciding on the Best Awesome Tattoo for Yourself
Getting a tattoo is a decision that will stay with you for the rest of your life. With that said, it's very important that you mull over the design before you have it inked on your body. The awesome tattoos for men discussed above should only serve as an inspiration. You can always tell your tattoo artist to modify the design based on your personal preferences.
Imaginative Examples of Awesome Tattoos for Men
This anatomy tattoo covering the left side of the man's upper arm shows a full face with line drawings of eyes, nose, mouth, and chin. The brain is plucked out upwards by a pair of hands. Below the neck, the heart is perched, just touching the elbow bend.
In this 'infinity' type tattoo, a snake is putting its tail into its own mouth. The infinity sign, formed by the dark and white cross stitches of the scaly skin, looks like a spectacle for a pair of eyes, and the design is spectacular.
In the triangular interior of a knight's shield, there is a single eye from which teardrops are falling. It looks as if the knight has inscribed the sad and soulful eye of his lady love, instead of the usual cross.
This scary but awesome tattoo design is a skull-face, with gorged out eye region filled with blue fluid, broken denture and gashing gaps on the skull top. It seems to be imprinted, starting from the outer side of one's thigh continuing down to the calf region.
Printed knee downwards, the eye-catching tattoo is like three-part stockings ending in a zebra face. It is of the geometric type with wavy and mirroring triangular tribal patterns in the top two parts, with a V-cut on top.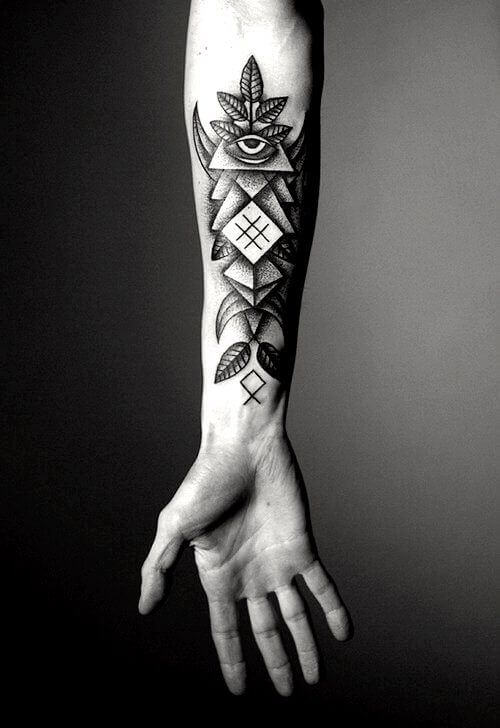 This rune tattoo with leaves and multidimensional geometric patterns, is supposed to have symbolic and mystic meaning. Runes are supposed to be powerful on correct invocation and could bring luck by just being imprinted, even without specifically asking for it!
It is an awesome tattoo idea to go back in time to pick up Edison's gramophone to put on one's own back. One can see the turntable with its playing arm and there are the old vinyl records too.
The colorful combination of globes and mythology based animal-men attired in pharaoh type costumes make awesome tattoos for guys. The long noses are curved on the right leg tattoo while the left leg creature has straight nose and horns.
Is this a tattoo or a curly wrap covering the entire arm, one might wonder. It looks as if a long cloth strip with spider web pattern is spiraled from shoulder downwards, running around the right arm.
While exploring various tattoo ideas for men, why not consider the man exploring space? The astronaut with the space suit complete with the mask on the top left arm is holding three balloons by their strings with a background of the college of colors.
In these awesome tattoos for men, a serene Buddha face cut into small square pieces is imprinted on the upper arm. The meditative visage radiates calmness. The dot on the forehead falling between the eyebrows is the Ajna chakra associated with strong intellect and noble thoughts.
A tepee-shaped tattoo on one's leg, one could see a woman lying on her back, or possibly with her head on the headrest of the furniture, with a puff of smoke sprouting out. Seen from the top, one sweeping lash catch one's eye.
This is a geometric tattoo with a series of circles of different sizes one below the other, ending in a triangular pattern, all inlaid with horizontal lines with multiple nodes. Above the top circle is a collage of circles, boxes, and lines.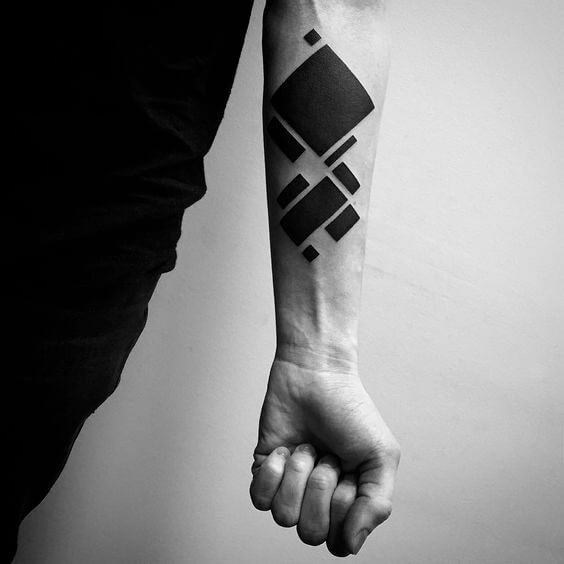 This is a simple yet impressive tattoo with neatly arranged geometric patterns. There are squares, one big and two small. Along with them, one finds six rectangular strips of varying lengths and breadths. The dark tattoo is laid on the left arm with a clenched fist.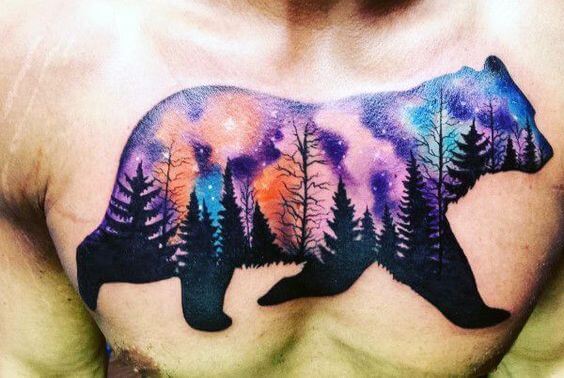 The polar bear is found in arctic forests. One could come up with awesome tattoo ideas, invert the setting and put the forest inside the animal. That is exactly what this tattoo presents with colorful coniferous trees covering the body of the bear.
Good tattoos ideas could be music to the ears of those looking for novel designs. Apart from a big G-Clef, there are two lines of musical notation full of a quarter, eighth, single bar, double bar and flat note symbols, are printed on the top left chest.
A camera is used to take pictures. This awesome tattoo puts the camera in the picture! The bottom layer is a splash of unevenly shaped color splashes. The "adjustable" lens eye projects out on top, with various controls in their locations.
Awesome tattoos could be made based on the catch Native American themes. Here, the hand is printed with exquisitely feathered headgear and the face of the chief, in fact, a lion kin with lush growth of hair and sparkling eyes.
This is the combination of tattoos on left upper side arm close to the shoulder and left elbow side, shining against a set of written lines of the body part. Eye, wired shapes, spheres, lines with English scripts, and other patterns — all are there.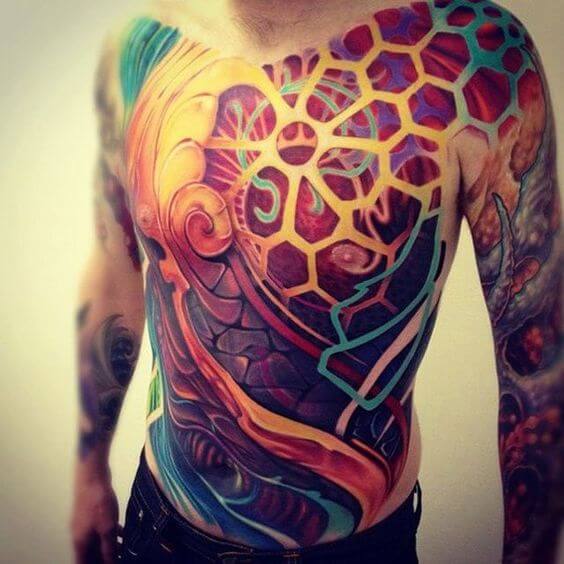 It looks as if one has been draped in custom made full body armor complete with hand guards. The varying geometric patterns and wavy sweeps across the body catch one's eyes with their impressive range of colors.
Belonging to the genre of mechanic tattoos, this magnificent tattoo contains the various component parts like strips, shafts, wrenches, pistons, tubes, and pistons, and even a carburetor. The total design makes one feel as if the back of a robot is open to view.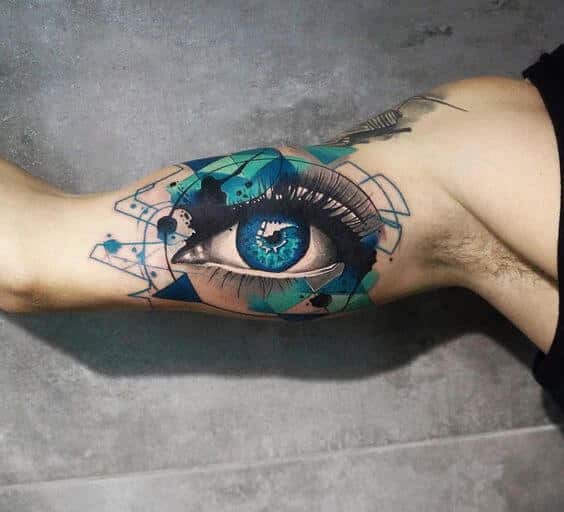 As we look at the tattoo, it is also looking at us. It gives a true-to-life image of a wide open eye with the blue iris while the lashes are sticking out. There are background line shapes surrounding the eye.
The big cat with a marvelous mane and one sharp eye is almost alive. The nose is fulsome and the face is majestic and commanding respect, not unduly terrifying. The details of the different hair patterns are very impressive.
The skeleton is quite involved in its violin playing. One could see the changing facial expressions in the three poses, as the little and ring fingers with protective caps are pressing down and hovering over the two strings.
To appreciate this intricately detailed tattoo, one should have time on one's hand! The mechanical tattoo with the opened up dial showing the inner wheels and plates, also has the animated birds hovering around. The beautiful rose at the bottom is the alive contrast to the machine above.
This simple blue and white angel tattoo is ideal for men who like angel wings. The design is sleek, simple and attractive without being pretentious. It also works well both on the front and on the back; alone or in pairs.
This skull and female silhouette tattoo is a good choice for men who like their tattoos dangerous. Naturally, the tattoo is dark to convey a sense of mystique, but it also works well in conveying a sense of erotic danger.
This colorful tiger tattoo is a nice choice for men who like tattoos of wild animals. The tiger's snarling visage is surrounded by splashing liquid, making it seem unreal despite its realistic portrayal – meant for the torso or the back.
This awesome tattoo portrays a skull image surrounded by intricate designs. You don't see a lot of good tattoos for the back of the neck, but this particular design pulls it off really well. Also, the dark design makes it a good choice for men who enjoy dangerous looking tattoos.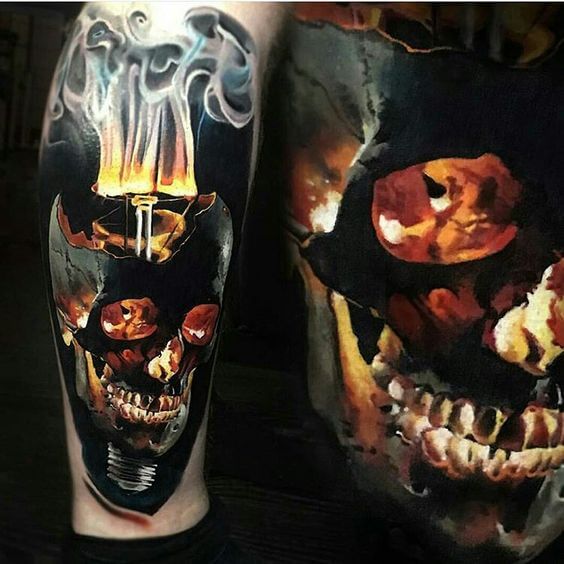 Most awesome tattoos are subtle or suggestive. This particular design is none of those. Portraying a burning skull against a dark background, this is the kind of tattoo men choose when they want to make a strong first impression.
Many awesome tattoo ideas have an artistic side, and this tattoo of an insane young woman certainly conveys that message well. The tattoo's details are intricate, and the image combines beauty and brutality. Overall, this tattoo is a good choice for those who like their tattoos dangerous.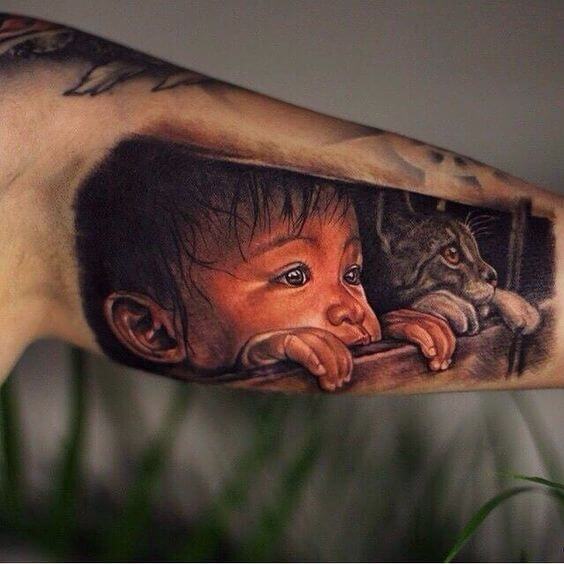 This awesome tattoo design is a good choice for men who want to show off their sensitive side. The tattoo features a young boy, peeking curiously at something in the distance. Despite the tattoo's realism, it conveys a message of innocent and simplicity.
This simple black pattern appears like an ancient Japanese flag. Its scale and floral pattern design is very simple but also very elegant. It's not the most awesome tattoos idea, but if you value simplicity and abstract concepts then it's a good choice.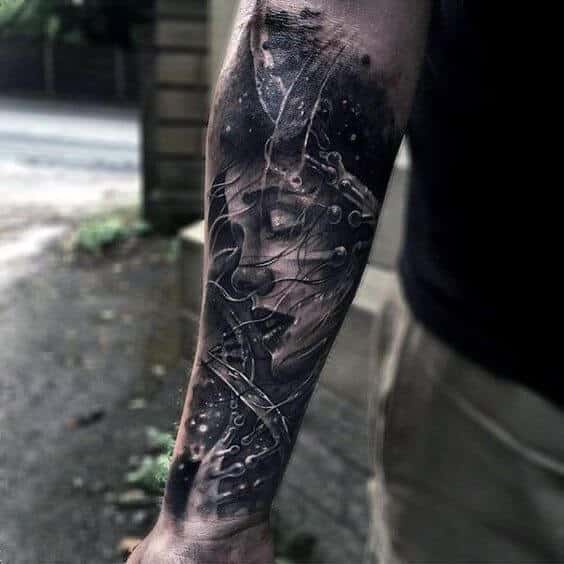 This arm tattoo features a young woman surrounded by water. The woman's face conveys a feeling of calm repose, as though she is at peace. This isn't the toughest looking tattoo out there, but it is both artistic and elegant at the same time.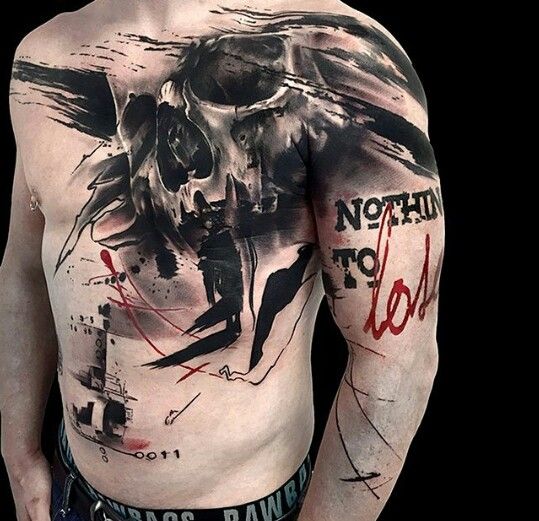 This is one of the most awesome tattoos for guys. With its raging skull design and the words, "Nothing to Lose," this is basically a biker's tattoo. The only drawback is the design's size, which takes up a significant part of the torso.
You don't have to be a fan of Japanese history to appreciate this tattoo. Its gloomy samurai posing serenely against a dark background offers a nice, masculine message that most men appreciate. The only downside is that this tattoo is large and requires a large torso.
This owl tattoo combines aggression, wisdom and mysticism into a single image. The moon image below the swooping bird suggests some occult meaning. The tattoo also has an elegant symmetry that allows it to convey some hidden mystery at first glance.
This awesome tattoos for men features a compass against the backdrop off an ancient map. Although the tattoo doesn't convey any signs of aggression or masculinity, it is beautiful in a calm and informative way. This is ideal for shoulders and upper back.
This tattoo of a man with two katanas against a red and black brushstroke is an interesting design. Not only is the design very masculine, it also conveys a sense of mysterious violence that is associated with many old samurai movies.
This awesome shoulder tattoo design looks like a combination of Japanese and Pacific Islander tattoos. It is simple, elegant and rich with meaning. Although this isn't the most original shoulder tattoo design, it works well at conveying a simple masculinity.
This red and black tattoo arm tattoo will make any arm look more dangerous. The tattoo's deep, intricate patterns look almost satanic, even dangerous from a certain angle. It's also a good tattoo for men who prefer very unique and unconventional tattoos.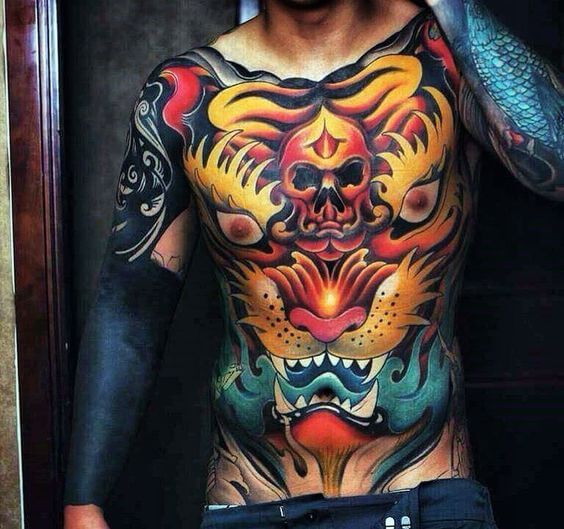 This full torso tattoo of a grinning tiger looks like it was created by the Yakuza. It covers the entire torso, including the arms, so it's also a big commitment. Nevertheless, it's the kind of tattoo that was designed to be impressive at first glance.
This full torso tattoo depicts a mythological bird and its elaborate plumage. The design is certainly very colorful, but is also mysterious and interesting without becoming feminine. Perfect for men who prefer tattoos that mix strong colors with intricate designs.
Compared to most other tattoos ideas, this design seems a bit abstract. The tattoo gives off the impression that you're looking at a chemical formula or a machine. A nice choice if you're looking for a tattoo with a neo-punk, machinist feel.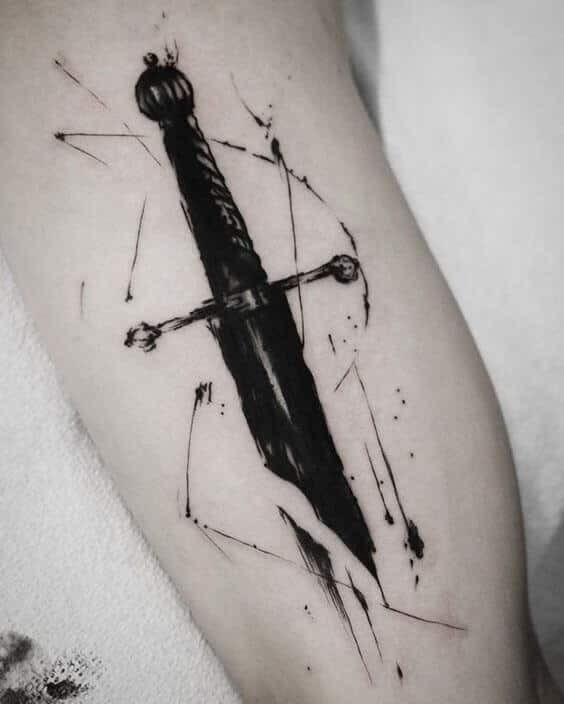 There are some tattoo ideas for men that feature pop culture references, and this is one of them. This tattoo features the broken sword from Lord of the Rings. So if you're a fan of the franchise then go ahead and get this tattoo.
This particular tattoo looks like a mystical symbol. It portrays a growing red plant set on a black jar-like image. Meant for the arms, but looks good on the calves as well. This is ideal for men who prefer more subtle tattoos.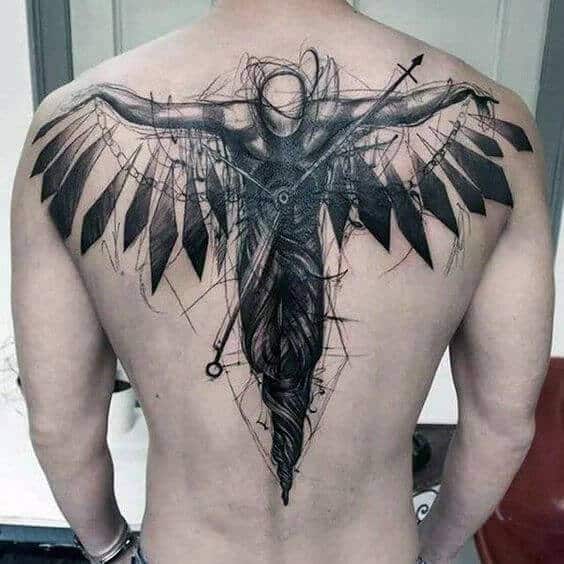 This almost dream-like tattoo off a faceless, angel-like being is a strange twist to angel and angel wing tattoos. The angel creature is both mysterious and scary; a nice choice for men who prefer mythological, horror and dream like tattoos.
This mecha-style tattoo is a good choice for those who want cybernetic body parts. , However, although the tattoo looks great, it also requires a few muscles to make it look impressive, ideal for men who enjoy mecha and robot anime and cartoons.
Wolf tattoos are quite common, but pulls it off without being cliché. The wolf's image looks dangerous even though it's not snarling, and the entire design doesn't have the tacky look that most other wolf tattoos have. A good choice for men who've always wanted a wolf tattoo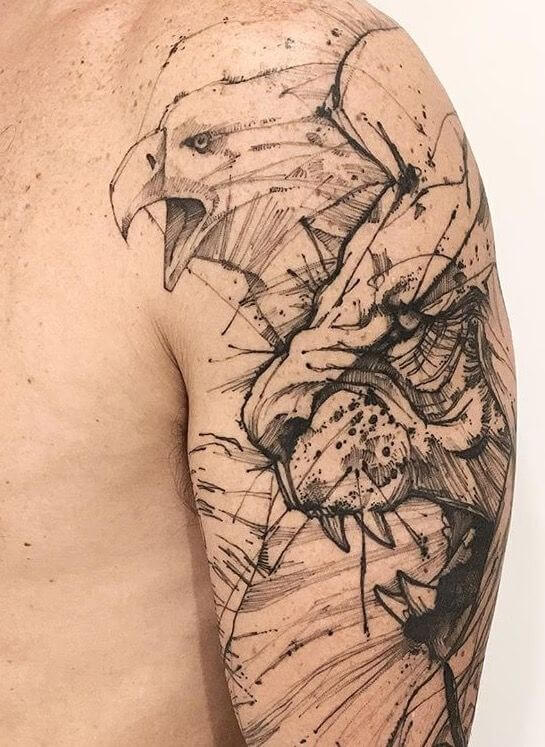 This simple tattoo of a snarling eagle and a cougar is meant to convey wild masculinity. The lack of color helps to keep the entire design subtle, which allows the tattoo to convey its aesthetics without resorting to unnecessary embellishments.