Even though tattoos have been around for centuries, today they have become more popular then they have ever been. They are easily considered one of the greatest forms of nonverbal communication and also one of the most greatest forms of art. No type of tattoo is more defining for a person than rib tattoos. Rib tattoos for men has taken the lead in what is hot today because of their striking beauty and the region of the body in which they are displayed.
A rib tattoo is inked where the name suggest, on the rib cage. The area of the rib cage is the perfect spot for larger, more complex, colorful and intricately detailed tattoos. There is without a doubt that the rib cage is one of the most painful areas to receive a tattoo but the final outcome almost always makes it worthwhile and ultimately falling for the individual.
Countless men have become fascinated with rib tattoos, as it is a great spot to convey either a great message or a beautiful work of art. Below you will learn about a few of the various designs that are not only popular but whose popularity will more than likely last through the ages.
Snake Tattoos
If one thing is for certain, snake tattoos are by far one of the most masculine types of tattoos. Their varied meanings come in the form of both positive and negative but always stand for something for which a man truly believes in. With the ample amount of space that is given, the detail of the snake can truly be captured to a great degree, whether it be a grimacing, edgier snake or a charm-filled, positive snake. The popularity of snake tattoos is ever-increasing and that trend will most likely continue throughout the years.
Celtic Tattoos
Rib tattoos for men would not be the same without celtic style tattoos. The celts in Europe are responsible for these beautiful rendered designs. The designs are known for their knotted quality and for their intricately woven patterns. As mentioned, celtic designs originated in Europe but they are closely related to Christianity and those persons who have received celtic tattoos have sought them out because of their Christian theme.
Dragon Tattoos
Like snake tattoos, Dragon tattoos are largely known for their considerable size and the vibrant colors and designs which are incorporated into them. They truly require a proper canvas like the rib cage region to project them in the best possible way. Dragon tattoos, for a lot of people have their very own meanings and their own type of physical features which so many find profoundly unique and often inspiring. The core meanings behind dragon tattoos are defiance, domination, calculation and strength.
Skull Tattoos
Another fascinating style of rib tattoo that is also quickly growing in favor within the category of rib tattoos for men are skull tattoos. Depending on what beliefs the wearer of the tattoo is instilled with, skull tattoos can either be seen in a positive or negative light. The meanings behind skull tattoos are vast and greatly thought provoking. Meanings like power, death/overcoming death, protection and rising from the ashes of tough times are keen for those individuals who are deep thinking and personally spiritual.
Check out the best rib tattoos for men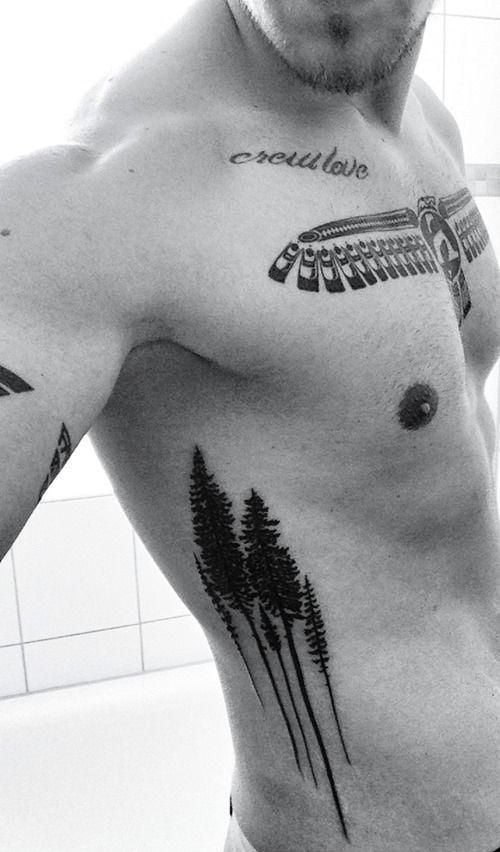 Here we have a unique and minimal tattoo ideas for men, it is a shadowed image of pine five trees which give a nice look with their thin and straight trunks that run along the sides. The level of detail and thin long tree barks gives this piece a serene and pale look which is in trend these days.
This is a tattoo of a designer tribal feather which runs across the entire length of the ribs, the lower end of the tattoo features small independent designs coming together to form this majestic tribal feather with brilliant shadowing. The artist has managed to put a sense of realism into the art by using the shadows to compliment the tattoo.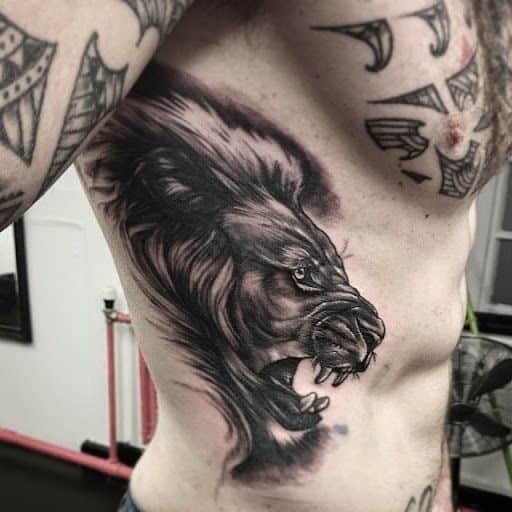 A relatively common idea but never seen with so much detail and emotion, the tattoo is off a roaring lion's face and a partial mane. The artist has gone through different shades of shadows to create a surreal roaring lion rib tattoo that not only looks nice but also stand outs as a unique lion tattoo.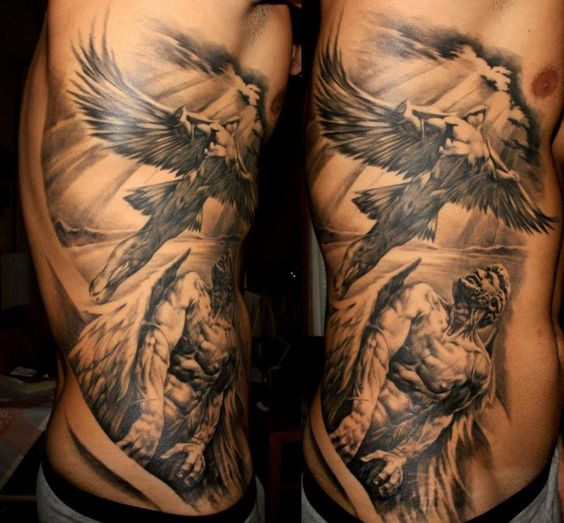 Angels have also been popular with people who want to get tattoos, but this one has taken it to the next level with an inked masterpiece of two angels. One of the angels is down below on the ground while another one is flying over this fallen angel, it make a great concept for a tattoo and looks great.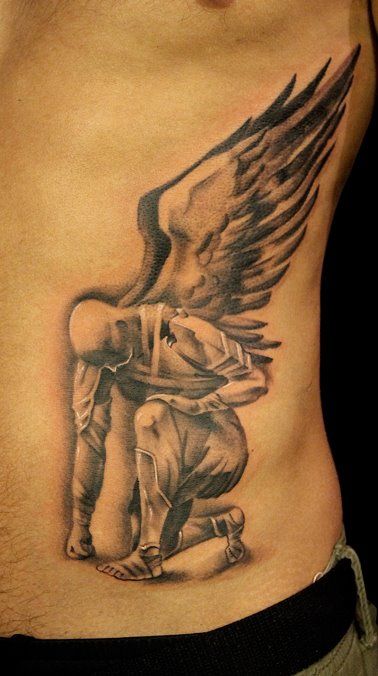 Another tattoo of an angel and this time it is made to look like a knight in armor and is seen taking a knee to bow down, the artwork and details of this piece are quite impressive and the shadow shading is adding to its appeal.
This tattoo is a large artwork that has several smaller meaning full tattoos within it, the inked art is of a praying maiden with a doves flying both above and below here with the word 'Believe' written in a cursive font, it is also complimenting the other tattoos on the chest and shoulders.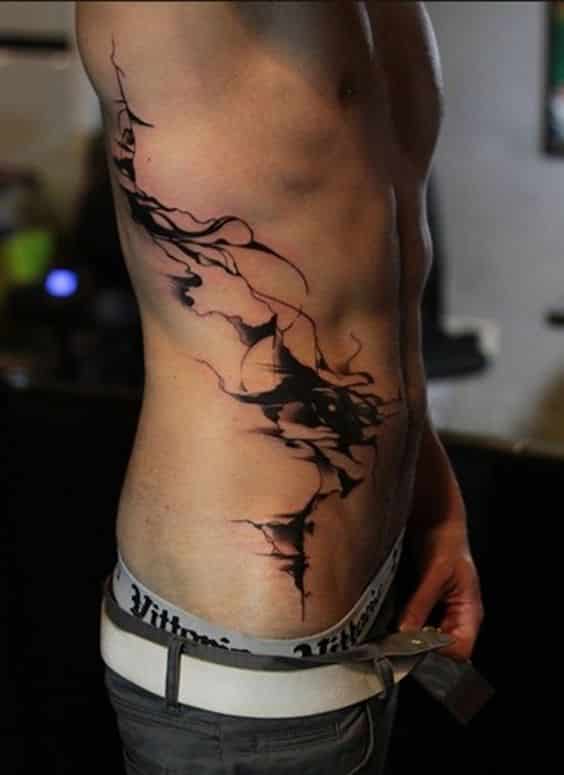 This is an abstract tattoo which has been made to look like a variety of things to keep it interesting and unique, the tattoo seems like an inked image of the cloud or lightning and may even seem like creepers or even smoke.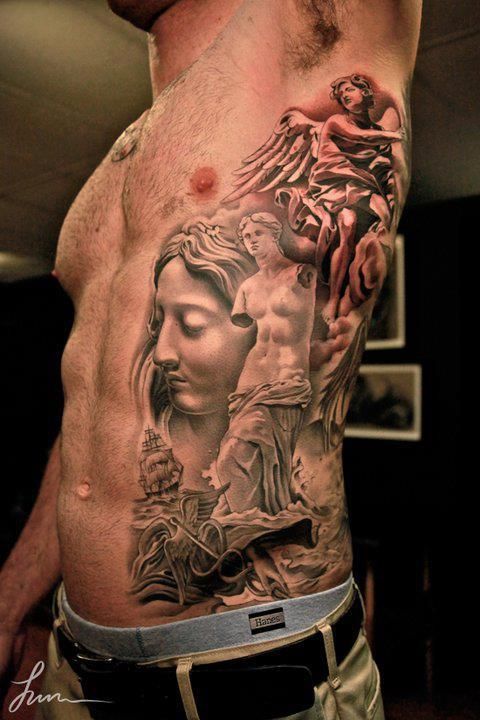 This is a brilliant tattoo design of roman figurines and statues, it look pretty cool and can even mean something special as these figures stand of knowledge, prosperity, science, and politics. It is a great tattoo which can also compliment the other tattoo around the area.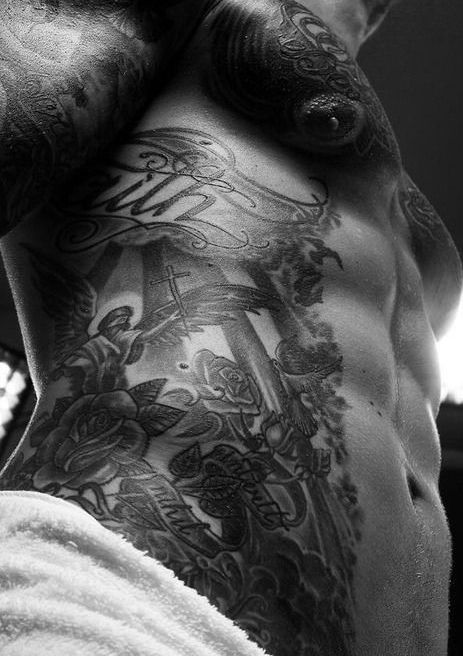 A brilliant artwork made into a tattoo, we see a scenario of a garden where a blindfolded maiden is praying with a crucifix in her hand, there are also some rays of light falling from the sky with the word 'truth' written over it in a cursive font.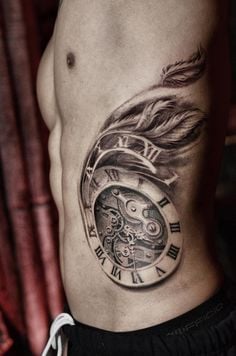 A tattoo of a clock stripped right down to its interiors showing the mechanical parts, just above the clock there are three feathers that seem to be coming out of the fading clock which makes it look like a modified dream catcher
More rib tattoos for men on the next page…