Choosing the right font style for your script tattoo as a man can be quite an uphill task. Whether you want a flashy design or a simple minimalistic look, you will be spoilt for choice with the thousands of options available.
Popular Tattoo Font Ideas for Men
Below are ten of the best tattoo fonts ideas for men and what they represent.
Old English Font
This is without a doubt one of the most popular tattoo fonts of all times. But with the dramatic flare created by the lettering, it is not so hard to see why. It is a great font for men especially with single worded tattoo typography and is the ultimate sign of masculinity.
Barbed wire lettering
This style screams badass from a mile away and is another popular among men. Variations of this style include thorny stem font which is also very popular. It is ideal for single word tattoos especially when the piece is large.
Inverted shading fonts
In this case, the letters are spelt out by shading around a template with the letters being left as clear patches of skin. This is one very artistic style which although painful is worth every cringe. It is a great way for you to express your dark artistic style.
Traditional lettering, runes and symbols
When it comes to tattoo typography for men, you can never go wrong with ancient symbols and runes. This is a great way to capture true meaning of a quote or important phrase using artistic designs. It also creates an air mystery ensuring that only you and those you choose to explain it to know the meaning.
Tattoo shop sign fonts
You know the font on pretty much every tattoo shop welcome sign? That's the font. It is a great idea for men especially if you are a veteran in the trade or you simply want to pay homage and respect to artists in the industry.
Wild west style fonts
What better way to express your inner macho man than by choosing a font inspired by one of the most iconic periods in history. This font style allows you to channel your inner Wild West cowboy whether it is through one power word or a personal phrase.
Sailors script fonts
This is another classic as far as tattoo typography for men is concerned. As with most of the other fonts on this list, it is ideal for large single worded ink pieces. It is the perfect style for men who have or would have liked to live a sailor's life.
Typewriter fonts
This style is the perfect combination of minimalism and artistic beauty. Type writer fonts are ideal for longer phrases. The neat look pretty much makes it look like someone ripped a page off an old book and stuck it onto your body. It is simple without compromising on masculinity.
Gothic alphabet fonts
You may choose to channel your inner rocker with gothic alphabet fonts. These are usually very large, thick and dramatic and are perfect for large statement pieces.
Inked script cursive font
Finally, you can never go wrong with cursive fonts. Most people believe that cursive styles are too feminine. However, with styles like the traditional Inked Script font, masculinity will be literally oozing from every single letter left on you.
The Best Tattoo Font Idea is What Complements Your Tattoo Idea
Whether it is a long script excerpt or one major power word, it is important to ensure you choose a font that complements the tattoo.
One thing for sure is that you can never go wrong with the 10 tattoo fonts ideas above. All you need to do is to figure out the kind of message you want to pass and pretty much what you will be comfortable looking at for the rest of your life.
Artistic Use of Tattoo Fonts Ideas for Men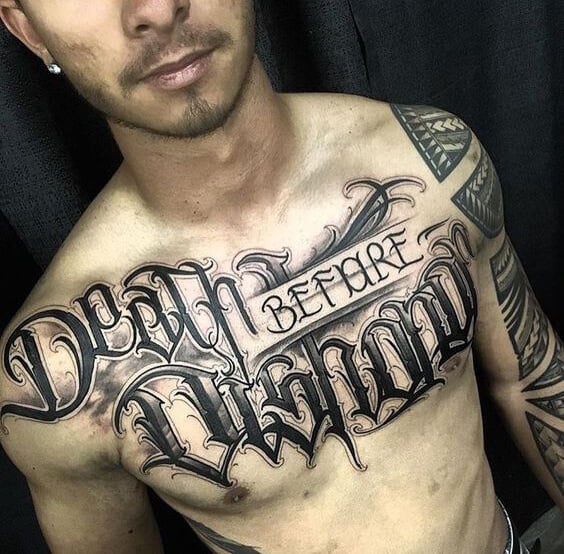 This 'Death before Dishonor' tattoo is a traditional American tattoo set in Gothic or Blackletter fonts. It is a great tattoo font idea for men and is especially favored by men in the American Military. The tattoo is a patriotic symbol and is often worn with a great sense of pride.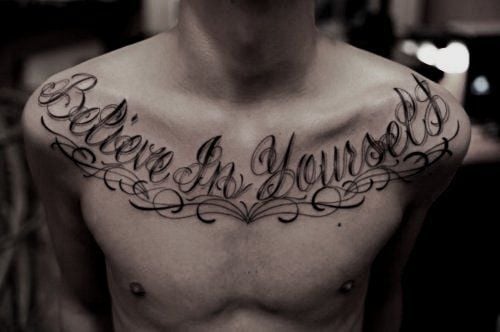 This cursive letterhead scrawl tattoo uses a script font which means it looks like really beautiful handwriting. It is a great option in tattoo fonts design and a common choice with tattoo artists. The words 'Believe in yourself' are decoratively written and set on a bed of flourishing, languid strokes.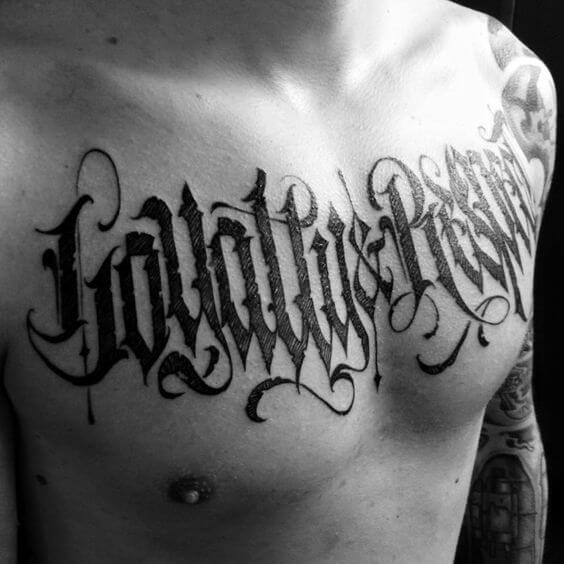 'Loyalty & Respect' are written in bold Blackletter or Gothic lettering on this chest tattoo, adding to our catalogue of popular tattoo fonts ideas for guys. The tattoo design also bears an uncanny resemblance to the Celtic typeface that is the rave today.
This is exceptional among tattoo font designs because it adopts two typefaces. 'RAIDER' is written boldly in Celtic Linotype Textur and 'Nation' is sprawled across it in a black cursive script. It is very fashionable among young people in uncommon social circles.
This tattoo idea works because it is original. The typeface is reminiscent of the Arriba font and is rather unusual but very legible. The words 'for those I love I will sacrifice' are impressively written. The font is a good choice among tattoo font ideas.
A very modern cursive script is used on this tattoo. This motivational quote is etched on the bearer – 'you never know how strong you are, till being strong is the only choice you have'. It is written in a font that looks like ITC Christoph's Quill.
"I can do all things through Christ who strengthens me", this tattoo says. Like the tattoo in the previous description, this tattoo is done in a cursive typeface. However, it is simple and a popular style among tattoo enthusiasts today.
This tattoo pattern is a most unusual and intricate design. The tattoo itself is practically unreadable but its standout layout makes it an impressive work of art. The tattoo was done in a type that looks like an original mix of conflicting patterns.
This huge and unflattering but very masculine tattoo reads 'Saint and Sinner' set in blackletter typefaces surrounded by a fiery background. The tattoo artist implements the image of the cross to add symbolism to the art piece. It is certainly different among tattoo ideas for men.
A fusion of numbers and words, this tattoo style is definitely a trend among men. The numbers '1979' are styled using large gothic lettering and the words 'SPAHIC' are pasted below in big cursive handwriting. It is an intimidating upper back tattoo.
This tattoo reads 'Death leaves a heartache no one can heal. Love leaves a memory no one can steal'. It is truly profound and is written in a very fine, modern cursive script typeface. The words Death, Love and Steal are enlarged to draw focus.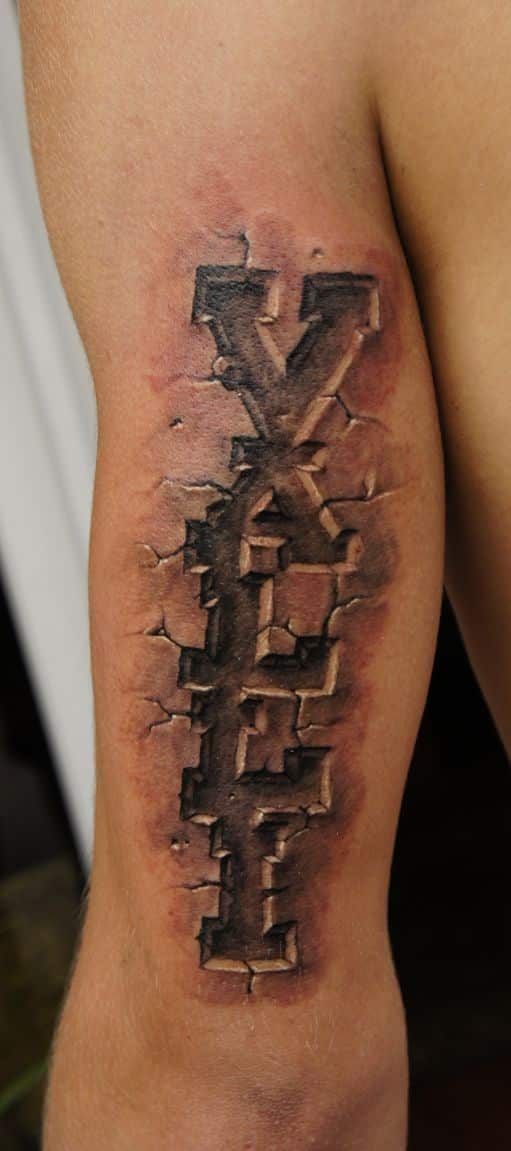 'VALLI' is written in cauterized block form. This font is unusual and brings to mind the image of street graffiti. It is written across the arm with a background that looks like damaged brick. It will doubtless attract a lot of attention.
These twin tattoos say 'Amber' on one arm and 'Aiden' on another. They are represented in large cursive fonts to add formality. The twin tattoos obviously represent a couple and the typeface is common among tattoo fonts ideas.
This tattoo says 'Dum Spiro Spero'. It is written in a foreign language on the forearm and uses a cursive concept. The background is designed with dots to look spray painted. Tattoos written in other languages are a common practice.
This tattoo simply has the popular phrase 'Carpe Diem' written on the forearm in a bold, black script design. Each letter is designed with loops and heavy symbols to impress the viewer. Although it is simple, the design is powerful.
Very illegible but a clearly artistic dribble, this massive chest tattoo extends to the arms in a colorful display. The pattern of writing is gothic and dark. Cursive type is also used for the top word and the only recognizable word is 'UP' written in simple blackletter.
This tattoo on the forearm says 'Eva rose', most likely speaking of a love interest. It is written in a neo-modern cursive typeface that will bring the punk rock genre to mind. It is a pretty and flattering tattoo fonts idea.
Very American and patriotic, this tattoo reads 'South Central' and is definitely top on the list of tattoo fonts ideas for men. It is a massive back tattoo and is written in bold gothic style. The elaborate design will remind you of the fonts used in the Devil May Cry game series.
This tattoo mixes patterns and type styles. It reads 'Blood makes you related and loyalty makes you family'. The words are written in styles ranging from blackletter to cursive. The design is made to fit all those words onto the arm and still does not look cluttered.
This tattoo is freaky and definitely not for the faint at heart. In an unusual font, the words 'Will you die for me to keep me alive' are decorated around a big, mournful, child-like face. The face is crying and its lips seem sealed by threads. It's pretty striking.
'Live your life', this tattoo says. It is a chest tattoo drawn in a scattered, gothic and cursive style. It does not make intuitive sense at first glance because of the pattern used. It is however clearly artistic choice and using two typefaces is common among tattoo ideas.
This beautiful hand tattoo features a rose looking over the word 'California'. The design is elegant and includes some stars. California is written in a delicate cursive font and the thorny rose adds a unique touch to the artwork. It's one of the great tattoos ideas for men.
This tattoo on the forearm just says 'Familia'. It looks pretty cool and dark. It is written in a formal cursive font and is obviously very manly as the word familia is used mostly by Hispanic people. The background makes for a simple contrast with the words.
This tattoo is unusual. It is a wild fusion of colors and patterns that say 'I love you more'. Some of it is illegible at first look but the design concept is appreciated. It is an extensively expressive piece done in large writing and huge strokes.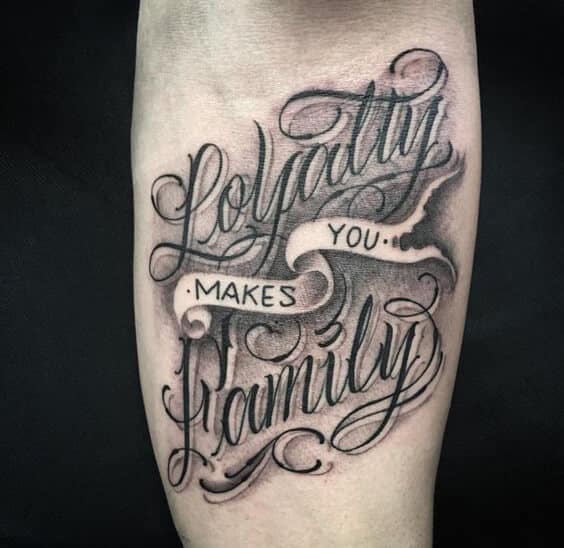 'Loyalty makes you family', is what this tattoo says. It is cursive but the words 'makes you' are written on a sleek banner strip. It makes for an aesthetic layout. It is a small arm tattoo that makes good use of strokes and innovation – a good choice for a first tattoo.
This is a tattoo fonts idea with incredible depth and looks like a very realistic carving. The design is bold and stylish and if that is what you are looking for then you won't be disappointed in getting this tattoo. The top half uses straight lines and sharp edges while the curvy lines in the bottom half nicely complement the top.
This is one of those tattoo fonts ideas that have an edge to it. It uses a bold template with sharp edges to give this tattoo a very edgy look. The design is busy and quite eye-catching and if this is what you are looking for in your tattoo, this one should fit the bill just right.
This tattoo font idea takes a more modern approach. It uses a cool dual color theme and a combination of curves and edges to create a stunning display of tattoo goodness. The subtle uses of thin lines also add a degree of nuance.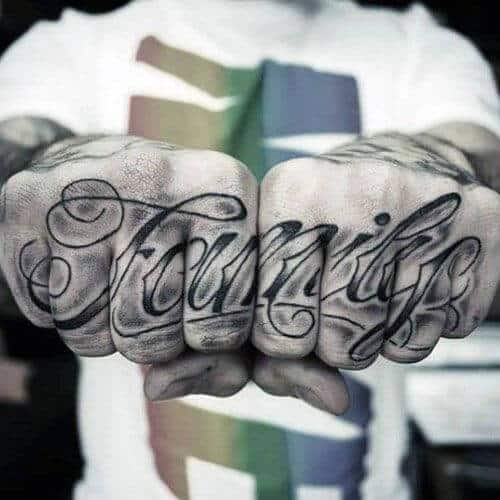 This is one of the great tattoo font ideas out there. It cleverly uses the contours and separations in the fingers to create an unbroken and complete tattoo. This is especially impressive considering the curvy and flowing nature of the font used.
This is a tattoo fonts design that dares to swim against the tide both in design as well as content. The font is unique and catchy and the quote is also a great illustration of finding yourself a bit out of touch with this world.
This is one of those tattoo font designs that are just visually stunning and will garner a lot of attention. It realistically depicts a star-shaped crater in which are mentioned many qualities with love being highlighted in a bright red color.
This is one of the wonderful tattoo fonts ideas for guys that takes quite a visually striking approach. The font is strong and takes inspiration from medieval themes. The use of shading adds even more depth to an already striking tattoo.
This is one of the many tattoo fonts ideas for men that employ an unusual approach. The actual words are spelled out by using background shading instead of ink for the words itself. The font is smooth and elegant.
This one takes inspiration from gothic culture and is one of the most remarkable tattoo ideas for men you will come across. The sharp changes in contours and changes in direction make it look very prominent and attention-grabbing.
Are you looking for tattoos ideas that are just cool and innovative? If yes, then this is a tattoo you should definitely consider. The background is unshapely but the words itself are well proportioned and these contrasting styles make the tattoo possess a unique character.
If this is your first tattoo or if you do not want too much attention towards you then this is the tattoo to get. It is simple and diminutive but there is a graceful elegance and understated beauty to its design.
This tattoo combines many different approaches and fonts and yet manages to look both classy and expressive at the same time. Despite the different elements, there is a symmetry and proportion to the approach taken here.
Using a design technique that has been around and perfected for centuries, this tattoo manages to combine the old and the new very nicely. The combination of lines of varying thickness gives it a very artistic look.
This tattoo puts to good use a clean, free-flowing and striking font to simply but elegantly bring out the beauty of each curve. The tattoo manages to stay light but still has enough depth and character to warrant a second look.
This is a very smart tattoo as it employs the technique of mirroring but with different sets of words. The font is very straightforward and that is the charm of this tattoo. It comes with a sense of intrigue and mystery.
A very visually dazzling tattoo, this one has a sense of ultimate realism to it. The technique of counter-shading is used perfectly and the font used is the icing on the cake as it gives the words a touch of gravitas.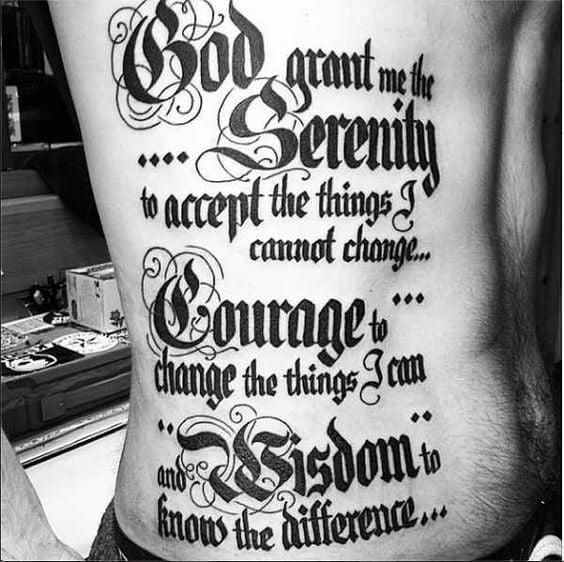 If overstated brilliance is what you are going for then this is the tattoo to get. It is a very much in your face approach to displaying some really calming and soothing words. The use of different font sizes further enhances the look of this tattoo.
This is one of the most colorful tattoos you will come across. It has brilliant shades of blue, green, red, yellow and everything in between and yet it manages to achieve a clean look. It takes its inspiration from graffiti art.
Another very colorful tattoo that has been inspired by graffiti artists, this one employs three different colors in blue, green and grey and a font that is all puffed up to create a modern take on what a tattoo should be like.
This one has been inspired by Chinese artforms and it has a sort of subtlety to it as it is not initially apparent how colorful this tattoo is. It uses a slightly subdued tone of blue and some sharp lines and curves to give this tattoo a look of freshness.
A tattoo that manages to pack quite a bit of punch in a small package, this one uses a simple and unstated elegance to achieve this effect. It is a cool customer amongst tattoos as it makes a lot of impact without expending too much effort.
If realism is all you are looking for then this tattoo will be very difficult to look at. It is the ultimate exhibition of what a talented tattoo artist can achieve and all this is down to the incredible use of depth and shading.
An incredibly busy tattoo, this one uses every iota of space available to pack in a lot of detail. It employs different font sizes to create an amalgamation of tattoo goodness that captures and holds the attention of its beholders.
A tattoo that is simple in concept but impressive and dazzling in execution, it has everything a good work of art usually has – simplicity, elegance, and symmetry. The words are a bit difficult to read but that is the whole point of this tattoo, to hold the gaze of anyone who looks at it.
Looking more like a page out of an old botany textbook, this tattoo is perfect for anyone who is looking for a slightly unusual approach to tattoos that has its own unique place among the plethora of popular tattoos.