Just like songs themselves, music tattoos can be extremely expressive and compelling. A tattoo says something. While tattoos were once a way to show the desire to rebel, now tattoos are considered a true form of art, of expressing one's individuality. Through music tattoos, men can exert their unique identities and create a sense of presence, dynamism, and intelligence.
Finding the Best Music Tattoos for Men
Finding music tattoos for men is something that requires thinking about your favorite music types. If you are fond of music in general, consider simply finding treble clef tattoos or staff lines as a way of expressing your musical identity. If you play a specific instrument, or love one instrument, you might consider a tattoo of it, such as the sax, the guitar, the violin, or the piano.
Logos and Artwork
You can also look for designs for music tattoos for men that are simply word-based, such as the popular "Words Fail, Music Speaks" logo. Or what about a tattoo of a heart with electric music cables wrapped around it? You could opt for a more complex tattoo that wraps around the whole arm, detailing treble and bass clefs, microphones, musical notes, and instruments.
Placement on the Body
Tattoos for men can be elegantly placed all over the body; on the neck, the arm, the back, or the wrist. Pick a spot that best shows off your unique body type and also speaks of your love for music.
Music tattoos for men are especially artistic because they create a sense of flow, of line, of design. They help to create a sense of art — both of the male body and of music itself. When one views a tattoo, one is put in mind of the image itself. Seeing a tattoo on your body of your favorite band, instrument, or design will help to express to other people what your personality is, what your musical tastes are. It will tell the world how you love music — and even inspire the same love in others.
Your Favorite Musical Style
Other forms of popular music tattoos for men include rock, rap, or punk styles — as well as hip hop. Any style of music you happen to life can help to express your love of certain artists. Maybe you really like Eminem, the Rolling Stones, or the band "Disturbed." You can select art from your favorite bands and incorporate it into your design. For example, a flaming guitar for a rock band — or even the band's art itself, the cover or logo design, as part of your tattoo.
Tattoos Are Available to Anyone
While performers were once the only individuals who could prominently display music tattoos for men, now anyone can get a tattoo. Body art is a complex and beautiful way to show your appreciation for music, for art, for life. Simply find the designs you like best and show them to your trusted tattoo designer and get yourself inked. When you see your new tattoo, you will feel the same sense of wonder that only music can bring – or in this case, a unique musical tattoo.
Check out the best music tattoos for men
This drawing reveals a simplistic, minimal, and stylish Media Control Panel. Including the popular buttons for Previous Track, Pause, Play, and Next Track, this design also presents an Infinity Button, suggesting that our inner songs can never truly leave us behind.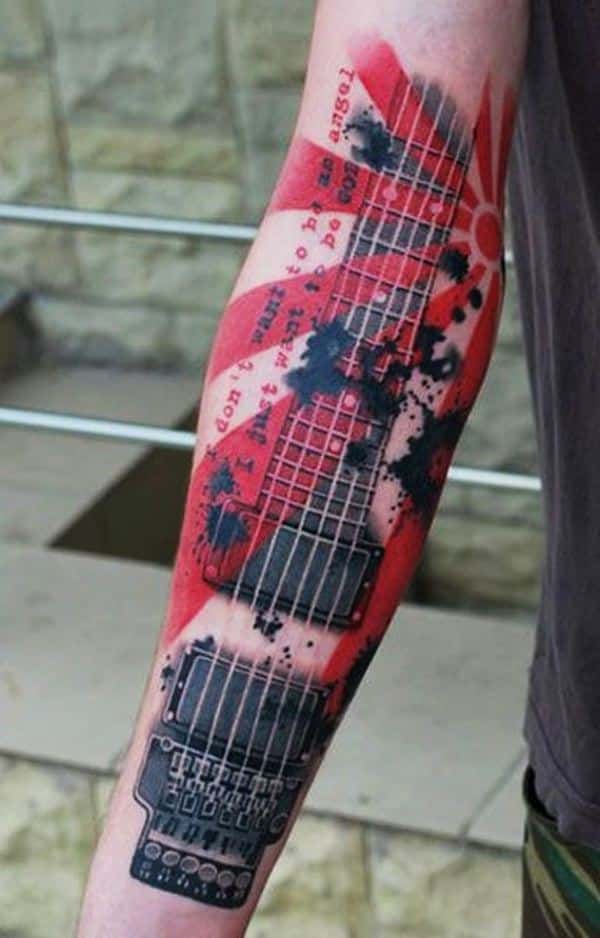 The quote reads: "I don't want to be an angel, I just want to be GOD". There's a red Japanese Rising Sun, bathing a partially exhibited electric guitar, from which you can see the pickups, frets, fret markers, and most of the neck.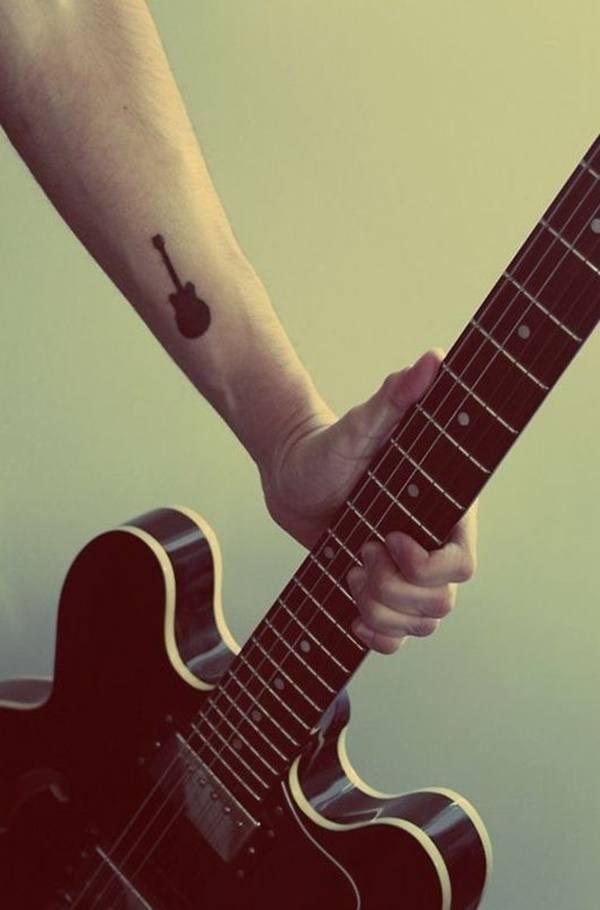 Not all inks have to be flamboyant to make a statement. This piece of art is an all-black electric guitar in a fine, minimal drawing style. It strongly resembles the Gibson B.B. King Lucille model, immortalized by the blues legend.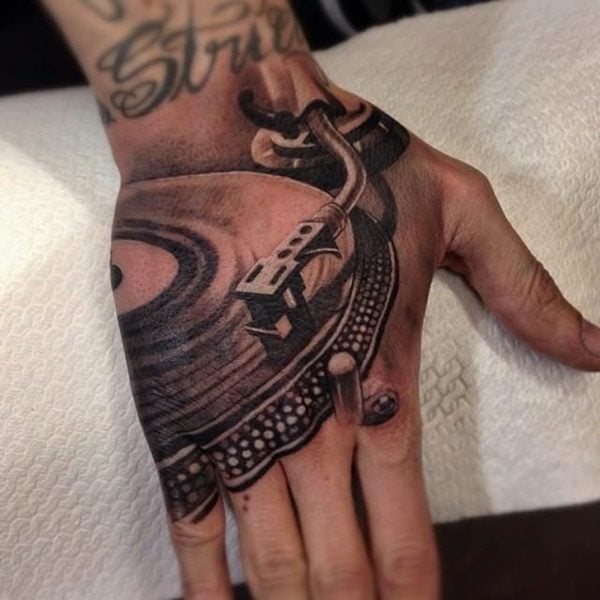 Long before MP3 and digital content, it was the time of the phonograph (or gramophone is you're British). This beautifully drawn tattoo is an homage to those times as you can see the stylus playing on a partially displayed vinyl record.
They say a picture is worth a thousand words. But what about music? This ink quotes: "Words Fail, Music Speaks", as each line of the phrase is simply written in a modest font, inversely facing one another in some form of ever-lasting duality dance.
Continuing with our meaningful phrases, this drawing reads: "Art, Music & Love". Without them, life would be pretty much pointless, as they also depend on each other, to exist. The style is reminiscent of those hand-sewn signs our grandmas used to decorate our homes.
This piece of art renders another Media Control Panel, but this one is slightly different and with a phrase on it, which reads: "Music is Life". The Panel includes the Rewind, Pause, Play, and Forward buttons, along with the Repeat button as well.
Designed entirely by dots, straight lines, circles, semi-circles, and some arrows, this tattoo doesn't explicitly send a message. Rather it dwells in your mind as an electric guitar, or an acoustic guitar, and possible even a bass or other string instrument.
Jazz legend Theolonious Monk once said: "The piano ain't got no wrong notes". He was a very smart man, all in favor, check this ink out. Flats and sharps are elegantly laid out in this piano keyboard decorated with a G-clef on top.
So many emotions pouring out of this drawing. A man and a woman, possibly even Perfect Strangers, synced in harmony by a tune. Their hearts beating in unison at one of the purest expressions of love. Music is all we need.
More music tattoos for men on the next page…