While some people absolutely hate tattoos, others are constantly searching for new gorgeous-looking or maybe symbolical images to immortalize on their bodies. Tattoos actually are not just simple combinations of images but the combination of their meanings.
A meaningful tattoo doesn't look unnecessary and can help you feel more complete and in harmony with your inner world. And that is what makes each tattoo unique. Why not approach them with full responsibility and understand what they mean first?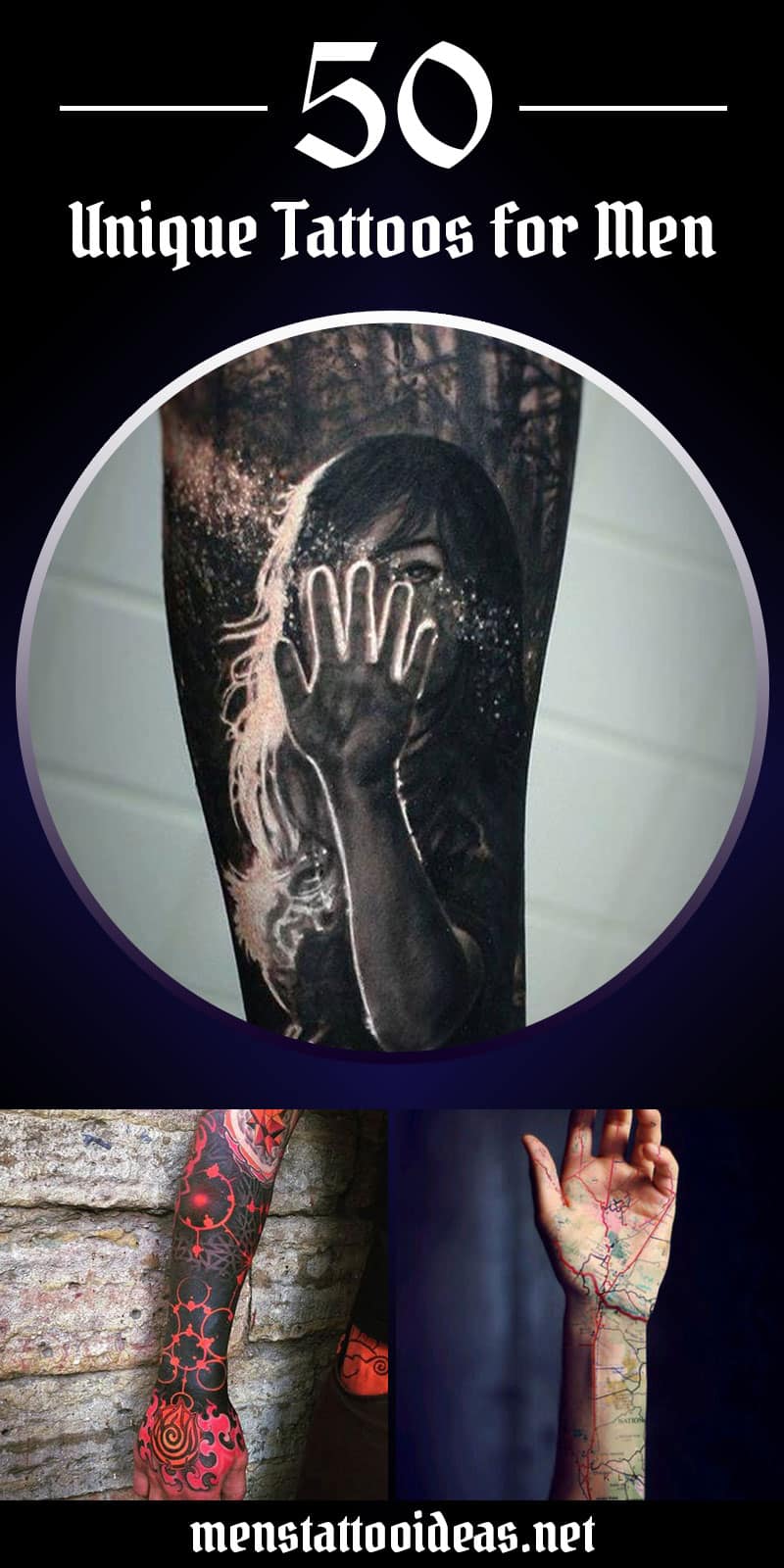 Popular Base Ideas and Meanings of Unique Tattoos for Men
Today, to entirely show what the symbolism of tattoos means, we are going to focus on 5 unique tattoos for men that can offer you the sense of completeness you may have been long looking for.
Scarab Beetle
The tradition of considering scarabs a symbol of creation comes to us from the Ancient Egypt itself. The feeding routine of scarabs with rolling balls of manure was associated with creation by ancient people. The scarab itself was seen as a creator.
Thereby, the Scarab Beetle is popular with those people who love to create and shape their own lives in this world.
The Celtic Endless Knot
For years, the Celtic endless knot was considered a symbol of eternity. Such meaningful concepts as the cycle of birth and death and the periodic nature of anything in existence can be closely connected to the endless knot.
As nothing can constantly develop and move forward, each and every one of us should be prepared for the worst regardless of the current position and state of our life paths.
The Celtic Endless Knot is popular with people who understand the cyclic nature of life and fearlessly accept and embrace it.
Thor's Hammer
The ancient image of Thor's Hammer typically symbolizes sacred things and concepts. Now, the Hammer is the symbol of the Asatru religion (otherwise known as Heathenry or Heathenism).
In its religious meaning, anything sacred is associated with divinity and is worthy of spiritual respect of devotion. Thus, those men who value and respect the idea of sacred are the most spread carriers of the image of the Thor's Hammer.
We cannot avoid mentioning another possible reason for Thor's Hammer's popularity, which is its close association with the popular Marvel Cinematic Universe, although it has no connection to the true meaning of the tattoo.
Phoenix
Phoenix represents the idea of rebirth, transformation, and passing through fire. In the more modern sense, phoenix symbolizes going through difficulties. But additionally, popular culture has been developing and elaborating those concepts during the past decades.
Apart from being outstandingly beautiful, a phoenix tattoo would be a great reminder about the difficulties that have made us into the people we are today. As everyone meets some ordeals during his life, it is not surprising that the fascinating phoenix is quite widespread today.
The Peace Sign
The Peace Sign is exceptionally simple yet powerful. Originally, it was the symbol of the Campaign for Nuclear Disarmament of the United Kingdom. Basically, the symbol is a combination of semaphore signals for "N" and "D". ND stands for "nuclear disarmament".
The concept of peace is as old as civilization. Throughout the whole human history, peace has been the most desired but at the same time the most elusive state of life. After all, not everyone is capable of enjoying what he has now and tolerating the surrounding world.
The Peace Sign is popular with those men and generally anyone who has been capable of grasping the importance of peace in our lives.
Which Unique Tattoo Will You Get?
Those are only 5 of the unique tattoos for men. We have hopefully managed to show you what the true, unique symbolism of tattoos is. That's why you should approach tattoos as concepts and not just images.
Imaginative Examples of Unique Tattoos for Men
This unique tattoo incorporates imagery that conjures Pink Floyd album covers and 70's science fiction. The bright red desert ink juxtaposes the darker colors of the background perfectly. The colorful borealis tops this tattoo with eclectic ink. This piece would fit nicely on wrists, shoulders, or sides.
Something about this northwestern forest tattoo echoes the quiet mystery of Twin Peaks or The X-Files. Done in dark haunting inks, the single yellow tree is being encroached upon by deep black, witnessed by the gray and white mountains in the distance.
This new take on the tribal design gives off vibes of crop circles, DNA sequences, and alien technologies. Inked in deep blacks, and featuring clean lines and composure, this tattoo is the perfect full arm or leg tribal piece if you're looking for something a little different.
This splatter punk, graffiti style piece takes unique tattoos to the dark side of the force. The haunting visage of Darth Vader is colored in the darkest blacks, the only ink suitable for the lord of the Sith. This tattoo would look phenomenal on the shoulder, inner arm, or side, of any Star Wars fan.
With a noticeable influence from graphic arts, this tattoo uses light, almost digital inks to produce the focus of the piece in vivid color. The circular blue halo, framing the offering hand, allows this tattoo to flow well almost anywhere on the body.
Done in deep black and grays, this tattoo resonates with a melancholy, film noire vibe. The shading of this terrific arm piece allows the whites of the mysterious light to really pop, while giving the background woods a dark, foreboding feeling.
The epitome of unique tattoo ideas! What better way to capture the essence of that life changing road trip than to ink it on your arm? This tattoo uses the wearer's skin as the perfect back drop for the epic map that takes up the foreground, with the deep red line marking travel routes.
Sacred geometry is an incredibly versatile genre for inking if you're seeking the right unique tattoos idea for you. This simple piece could easily be an ancient rune or the blueprints for an alien craft. Done with clean lines and precision placement, this piece proves that sometimes less is more.
This hive like tattoo at once conjures images of medieval armor and insect-esque like designs. Done in deep black inks to make the colorless framing stand out, as well as giving the gray background a chance to really pop, this tattoo would look great for half arm or leg sleeves.
A fiery unique tattoos idea, this piece conjures images of anime art and colorful Japanese manga. The blackened, charred, background of this design provides added dimension and resonance to the rising flame geometric designs of this intense half sleeve.
This tattoo uses dark, almost tribal like styles to allow its tree design to really take root. It looks excellent as a full leg sleeve, but could also adorn arms with the roots descending onto the hand – a perfect blend of sketch book and tribal tattooing.
Another stellar example of portrait tattooing, this piece is inked in soft black and grays, with a hint of deep greens for flavor. This unique tattoo design echoes of eras long past and the inner connections of time.
Clean lines and detail, soft shading, excellent coloring, and incredible art work make this simple tattoo really pop. Deep blacks descend into somber grays and climb to beautiful reds in this tattoo that would look great almost anywhere in the body.
Inked in bright whites, this pair of twisted serpents stands out vividly on the wearer's hand. Taking inspiration from ancient art and geometric designs alike, this tattoo is a prime example of an unorthodox art style bringing out the most in a simple piece, and is amongst the most unique tattoos for guys.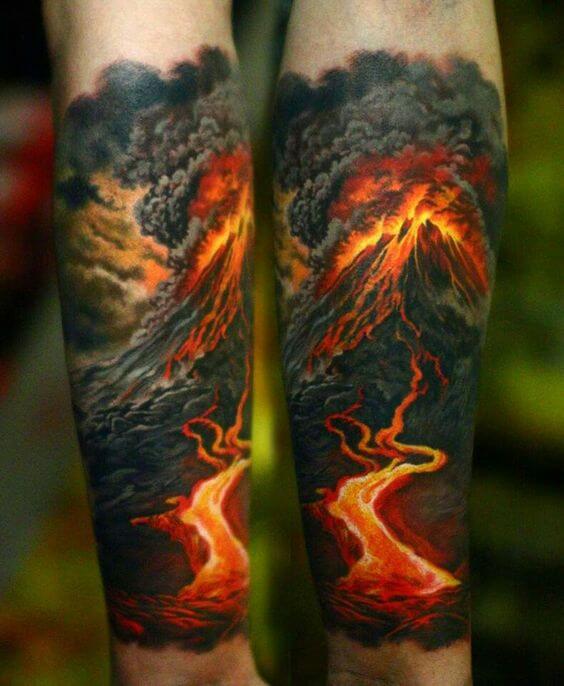 Depicting the unharnessed power of Mother Nature, this colorful piece stands out as artistically unique. The Smoldering reds of fire and lava contrast the dark of the volcano's rock and the billowing smoke overhead. Perfect for a forearm or shoulder tattoo.
Intensely artistic and beautifully designed, this sketch book inspired piece uses flowing lines and shading to match the wearer's body shape. The artist uses the piece's varying colors, and lack thereof, to provide a single coherent and encompassing image.
This dark eclipse tattoo uses white inks to capture the reflection of the encompassing light of the sun. Straight lines and varying shading add an artistic background for the celestial beauty of this piece. An excellent back or chest tattoo.
Of the more artistically designed unique tattoos for men, this piece captures the intricate relationship of life and death. Obviously inspired by sketch book style art work, this tattoo uses black and gray inks to bring its subjects to life.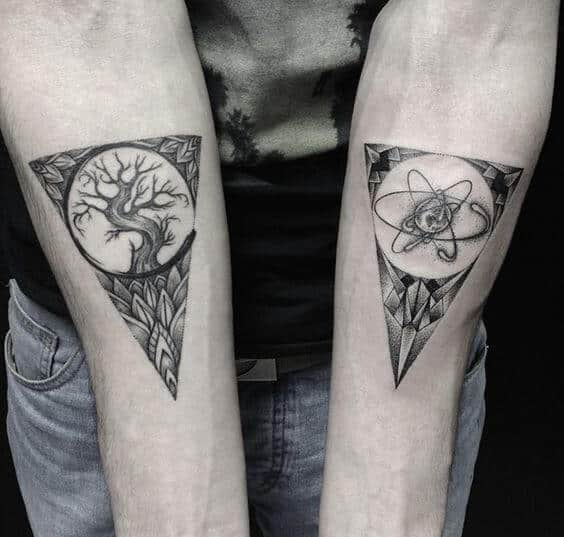 These twin designs perfectly fit on forearms, shoulders, or different sides of the chest. Done in soft grays, and deep blacks to bring out the centerpiece of the triangles, a focus on detail and shading brings this tattoo to life.
One of the more free-flowing tattoo ideas for men, this piece strays from the standard use of lines and structure to provide its subject with a deeper since of space and distance. This black hole seamlessly fades into the geometric shapes on the shoulder.
This beautifully designed sketch book inspired tattoo, uses old school tattoo ideas and styles to seamlessly present its subject. With varying blacks and grays the shading of this piece allows its dynamic art to take precedence, and for the straight cursive script to provide the frame for the tattoo.
Another of the hive inspired tattoo designs; this piece makes use of dynamic coloring, unique shading, and varying patterns to provide a sense of smooth elegance. An excellent option if you are considering full arm or leg sleeve tattoo ideas.
Using black inks to draw the eye, and soft pinks to outline the dark rifts, this tattoo stands out against the skin while flowing perfectly with the wearer's body – an excellent tattoo option for sides or for the chest.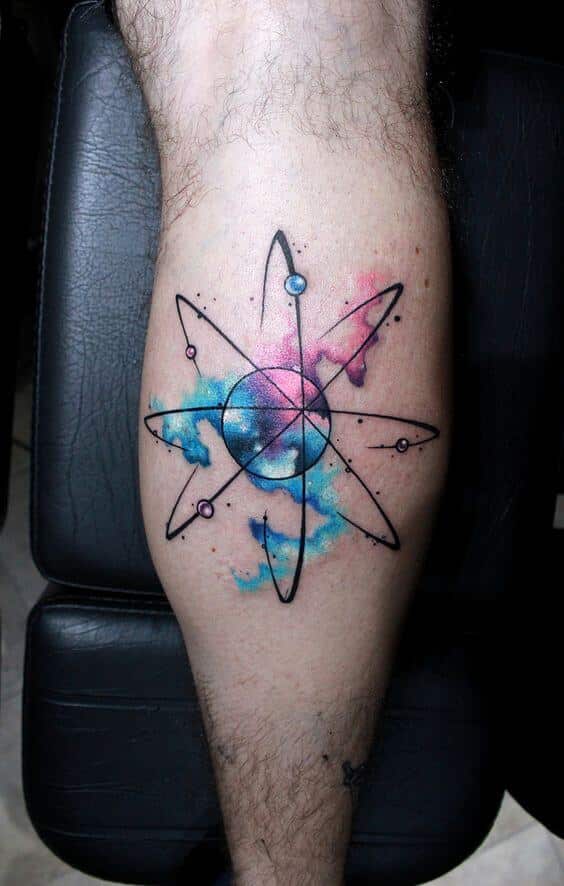 This multifaceted atom tattoo uses sleek design and beautiful colors to make its simple art style come to life. The perfect tattoo for almost anywhere on the body, this atom is the building blocks of being uniquely simple.
Another of the geometric designed tattoos, this piece vibes of hostile alien craft, or Arthur C. Clark's monoliths from 2001: A Space Odyssey. The soft gray inks and rippling background add another dimension to this triangular anomaly tattoo's mysterious quality.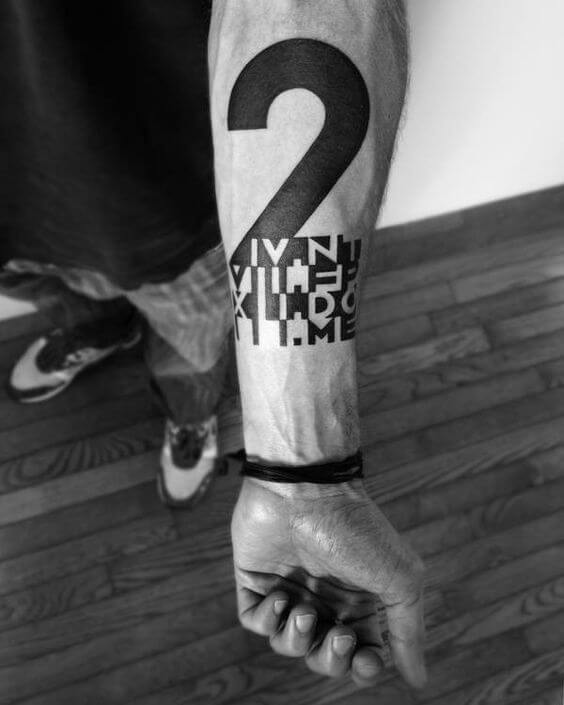 This is such a unique tattoo that from a distance it will look as if just some random shapes have been thrown together but upon closer observation, you will find that it is a clever tattoo with made up of different numbers and alphabet that come together perfectly. A great tattoo if you love puzzles.
Spiderman is somewhat of an oddity in the world of superheroes. He is young and does not possess the flashiest of superpowers but he is one of the most relatable superheroes out there. If you are looking for unique tattoos that celebrate this superhero then this is a great option for you.
Batman might be one of the most popular superheroes but a big reason for his popularity is the Joker. This tattoo pays homage to the legendary character. It is colorful, vibrant and goes off the beaten path to give a truly one of a kind of look.
This unique tattoos idea tips its hat to the inherent balance of the human mind, body, and soul. It uses thin delicate lines and symmetry to bring to life a whole new perspective of what it means to be a human being. If you love peace, you will love this one.
If a regular tattoo on the arms or the torso just won't cut it and you need something outrageous then this unique tattoo design of the devil on your face will hit the sweet spot. It is bold and literally in your face and is very hard to miss. Not for the faint-hearted though.
Who though a regular honeycomb design could be so mesmerizing? This is one of those unique tattoos for guys that don't look like much at first but then they leave a lasting impression. The bold monochromatic color scheme and the descending size scheme give it a sort of soothing effect.
Few mythical creatures enjoy the same level of popularity as the dragon. Game of Thrones has only increased this popularity. If you want to emblazon yourself with this majestic beast then this unique tattoo for men is a great way to accomplish that. It looks very authentic due to being inspired by Asian art forms.
King of the jungle anyone? Apart from being one of the most majestic beasts on earth, this happens to be a great idea for a tattoo as showcased by what can be considered as one of the meanest looking tattoo ideas for men. This tattoo uses solid lines and patterns to cleverly portray a very realistic lion.
This is one of those rare tattoos ideas that looks more like a birthmark than a full blown tattoo and that is its charm. It depicts the world map in a color scheme that is very close to the human skin color and as such it is subtle but once you spot it, it is very prominent.
Calling Alice in wonderland odd is a major understatement. The smiling cat is one of the weirder characters in this fantasy and if you have a quirky personality who just loves to have fun then this colorful version of the smiling cat is the perfect ink for you. It uses flowing edges and vibrant colors to bring out this eccentric cat in all its glory.
Nature even in its most desolate form can be incredibly beautiful and that is what this tattoo brings out perfectly. This beautiful tattoo that shows a barren landscape under a starlit night set inside a leaf. This is one hauntingly beautiful tattoo.
This is a highly artistic tattoo that looks simple initially but is more complex than meets the eyes at first. The red and black color scheme complements each other perfectly and it uses flowing strokes and shading to give this tattoo incredible depth and realism.
Can you see sense in even the most chaotic situations? This tattoo is the perfect companion for such people. It uses bold black lines of varying lengths, thicknesses, and inclinations that come together in a haphazard manner to form a truly breathtaking tattoo.
This is a great tattoo option for those who want their tattoo to mean more than one thing and give its viewers the impression that they almost understand the true meaning of the tattoo but cannot exactly put a finger on the true message behind the tattoo. It is symmetrical and monochromatic and scores highly from an artistic viewpoint.
If you do not like to take yourself seriously and are looking for a goofy tattoo that will go well with your thought process then this is one of the cooler tattoo options for you. It depicts a cyclist toiling on a bike in a way that is somewhere between realistic and cartoonish.
Life will always find a way and that is exactly what this tattoo preaches. It is mostly black with a very vibrant tree in green. This contrast is great to look at and there is a character to this tattoo that is very rare among tattoos.
This is one of the most visually striking tattoos that manage to achieve its ethereal beauty by using just the color white. It is a very realistic representation of turbulent waves against a backdrop of a starry moonlit sky that you just want to escape to.
This one is for the gothic and dark art lovers. It uses a bold and black color scheme and strong design elements to depict the evilest looking ram with an inverted pentagram on its forehead. It also uses the unique method of depiction by using both hands as a canvas for the tattoo.
Most people feel that their true self is bound behind the shackles of society's expectations. This is a unique take on this perception. It is slightly disturbing but equally breathtaking to look at. It is also one of the most realistic tattoos you will come across.
The neck is an odd real estate for tattoos. This is especially true if the rest of your torso is tattoo-free. If you are however looking for such a visually striking tattoo then you cannot go wrong with this one. It is a very detailed tattoo of the devil in all his ingloriousness.
This is an amalgamation of many different tattoo styles from around the world. That is the appeal of this tattoo. If you do not want to stick to stereotypes and like to create your own rules then this monochromatic coming together of symmetrical influences from around the world is something you will really like.
Ever thought whether black rectangles could make up a striking tattoo? This tattoo will put to rest any doubts you might have in this regards. It is simple but highly eye-catching. A great example of how some of the best things are also the simplest.
This uncommon tattoo combines two improbable design elements – A female form and a skull. These two should not go well with each other but this tattoo makes it work for itself and that is what gives this tattoo its unique character.
This tattoo uses a grey palette and takes inspiration from Viking art forms which itself is rare in the world of tattoos. It is symmetric and packed with detail and uses various geometric elements to bring to life this tattoo that screams of exclusivity.
The last thing you would expect a great-looking tattoo to resemble is a circuit diagram. This tattoo manages to achieve the impossible by using very simple design elements of using long horizontal lines combined with short perpendicular lines to create a work of art.