Tattoos are vastly gaining a lot of popularity among different types of people as they have increasingly gained acceptance in the public world. The placement of forearm tattoos is equally gaining popularity in the tattoo world. However, it should be noted that choosing the forearm as the location of a tattoo is not always easily concealable. The use of long sleeved shirts or jackets can do the trick, but this is not practical all the times.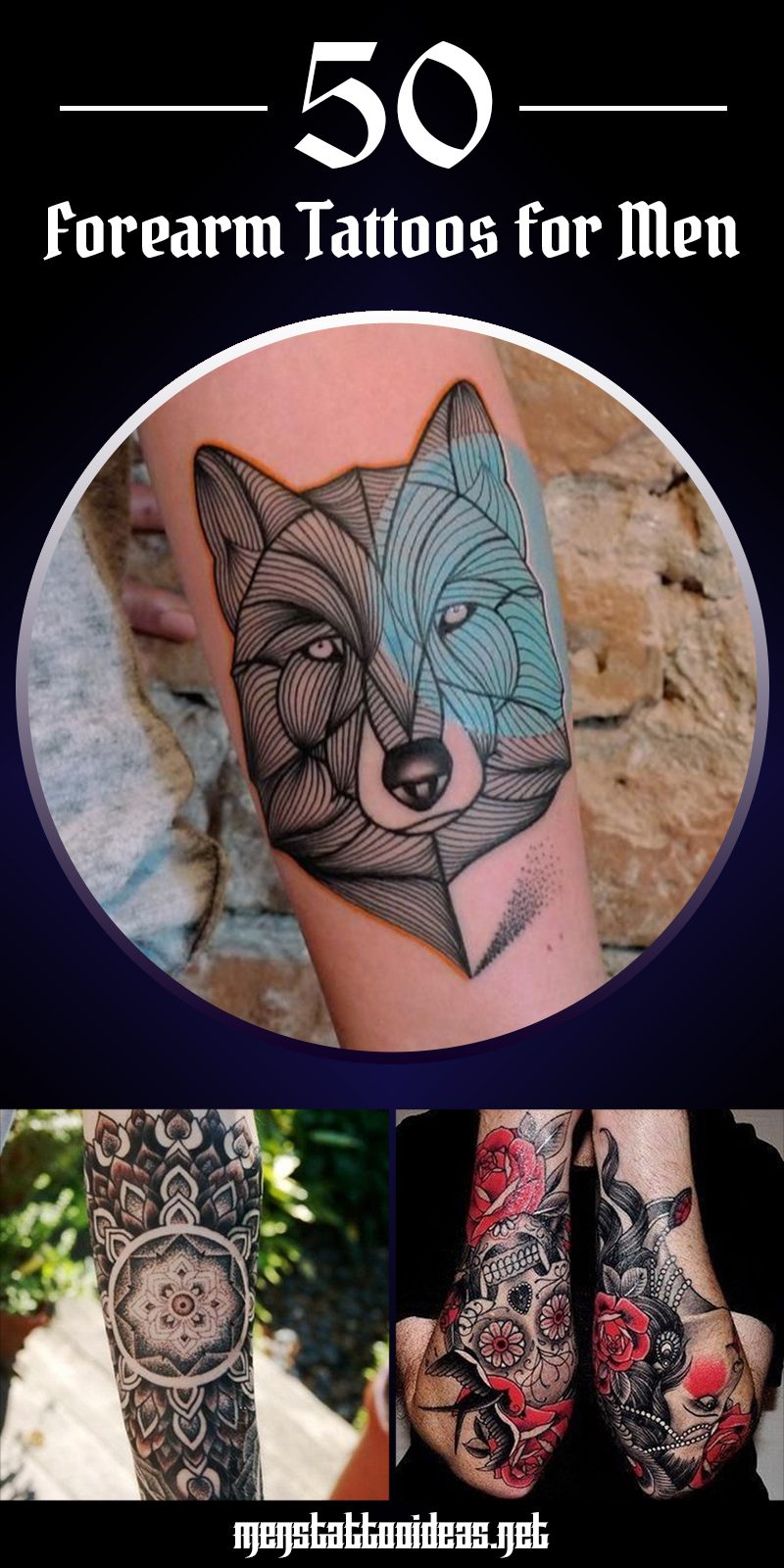 Ideal Locations for Guy's Forearm Tattoos
The forearm is an ideal location that men prefer to have a tattoo on. The choice may range from having small subtle pieces to having the whole forearm area tattooed. Some of the design choices tend to have deep and symbolic meanings that the owner may wish to express.
Forearm makes an ideal choice because it is considered to be a muscular and toned area of the male body making it a very attractive and flattering placement for a tattoo. Most men opt for a quarter or half sleeve tattoo to be inked on the inner or outer arm.
Reasons People Get a Forearm Tattoo Design
Tattoos are truly an impressive individual piece of art that receives much appreciation from the lovers. Here, we find the reasons for having a tattoo drawing.
1. To identify themselves – Most people get tattoos to mark a significant aspect of themselves, their lives or inspirations
2. To honor the loved ones – Many people honor their family and loved ones in a tattoo design. The black and gray tattoos make the highest percentage in the popularity of use. You can also decide to pay tribute to those that you love with the use of a verse tattoo.
3. For style purposes – Tattoos are quite popular in used as they are used to compliment or make a fashion statement. If one may want to express their unique and individual design, any form of the body art, adornment or modification can help.
4. Prison and gangs – On the dark side of the tattoo world is the large group of people who make use of tattoos to express affiliation to the gang world that they belong to.
5. For Profit – Some people make a choice of selling their bodies for prime advertising by the use of tattoos. Casinos are known to pay $10,000 dollars to advertise their logo on people.
Tattoo arm designs
There is a couple of possibilities when it comes to making a choice on the forearm tattoo design. For those people making a choice for more elaborate designs, the use of fantasy tattoos depicting dragons, mermaids, castles and unicorns make the perfect selection.
Other modern and popular forearm tattoos that men go for include:
3D realistic skull
Awesome black grey astronaut forearm tattoo
Roses tattoo
Color abstraction forearm tattoos
Portrait of a girl
Black lines musical lineup forearm tattoo
Planet tattoos
Colorful portrait of a child
Black skeleton whale forearm tattoo
3D lips of a woman
Skull tattoos
Girl under an umbrella tattoo
Tattoo servers to commemorate personal or shared experience, remind oneself of personal milestones or achievements and for remembering a loved one among other reasons.
The Best Forearm Tattoo Ideas for Men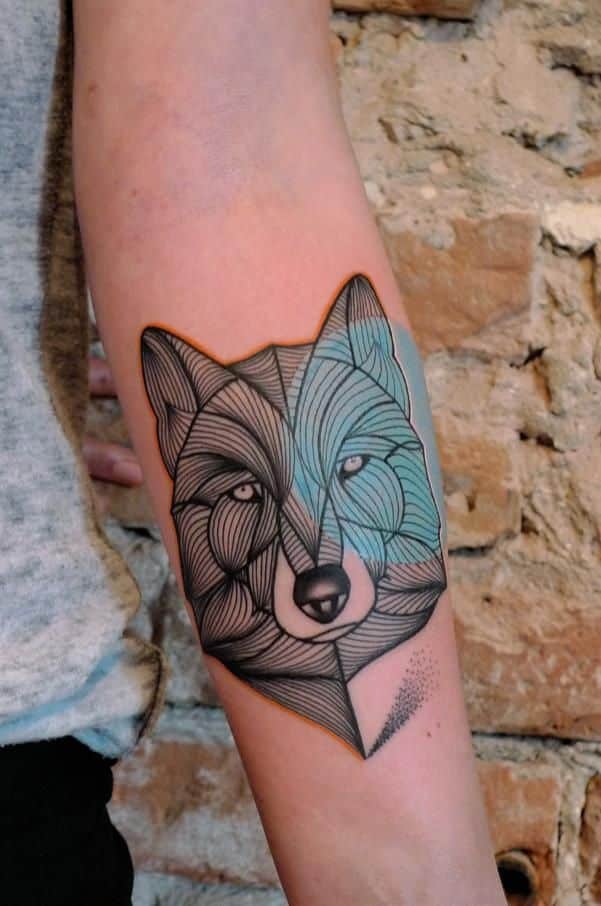 This Illustrative style tattoo depicts a sombre looking wolf inked in expert line work. The left side of the wolf's face is embossed with a soft orange glow, and the right side is eclipsed by a pastel blue orb.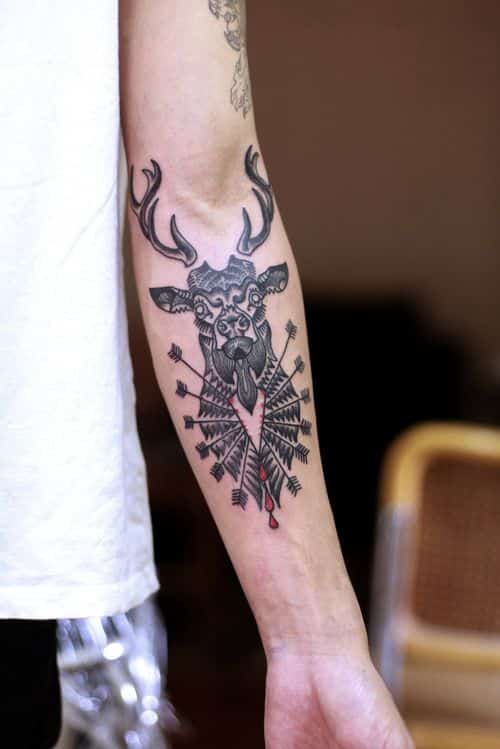 A speared caribou stares out from the inner forearm. His antlers reach above the inner elbow. His coat is decorated with intricate line work and shading. His chest is speared with 12 arrows and drips 3 droplets of red blood down the arm.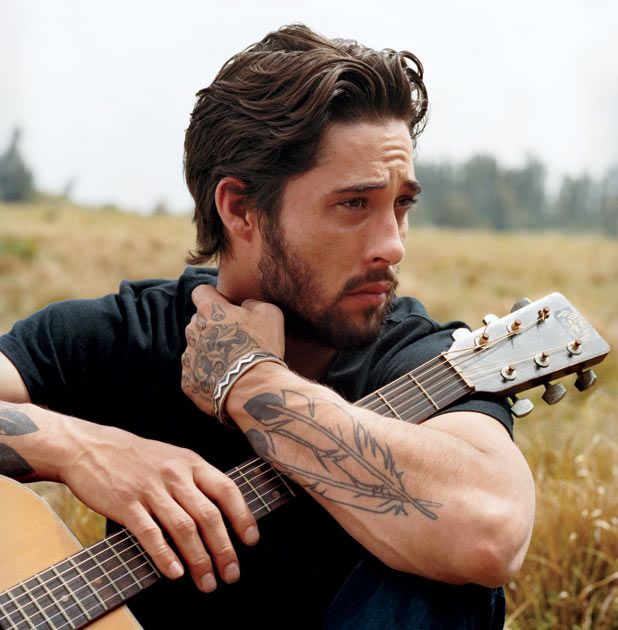 Two feathers stretch from elbow to wrist on the outer arm. The feathers cross at the stems and are uncolored except for their blackened tips. This is a great tattoo idea for men looking to get inked with a feather that still appears masculine.
This forearm tattoo features three expertly shaded and detailed arrows shooting from the outer elbow to the wrist. The arrows are tipped with geometric styled arrow heads, and bound together with fraying rope.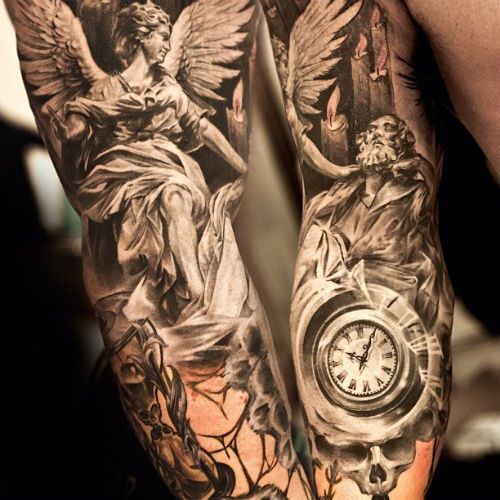 This Surrealism styled tattoo wraps around the forearm. The inner forearm is adorned with a whirling clock of Roman numerals, tipped in a shadowy skull face. The outer forearm features an ominous, skeletal hour glass.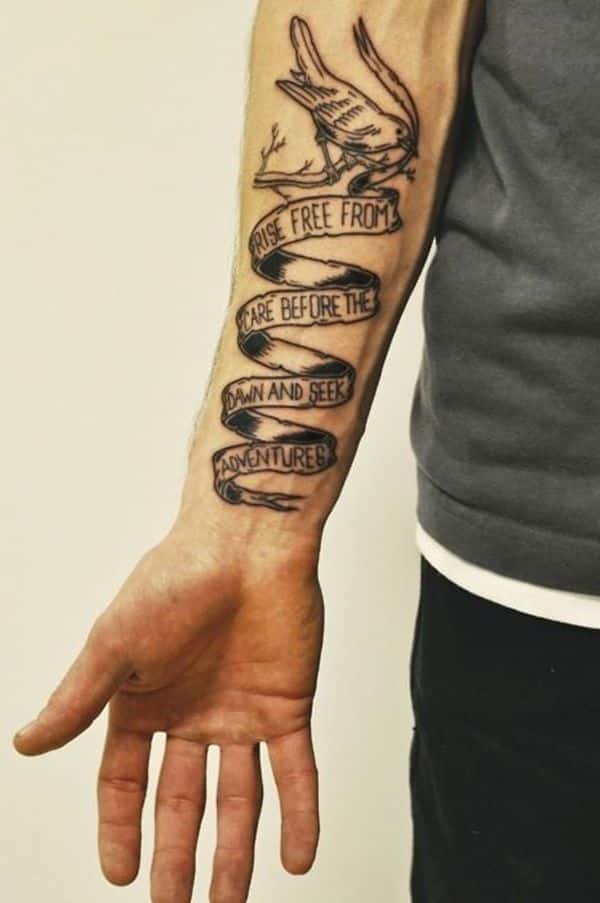 This text based forearm tattoo features a cutely styled bird siting atop a branch, a ribbon in its mouth. The ribbon unfurls from the inner elbow to the inner wrist. On it are the words "Rise free from care before the dawn and seek adventures".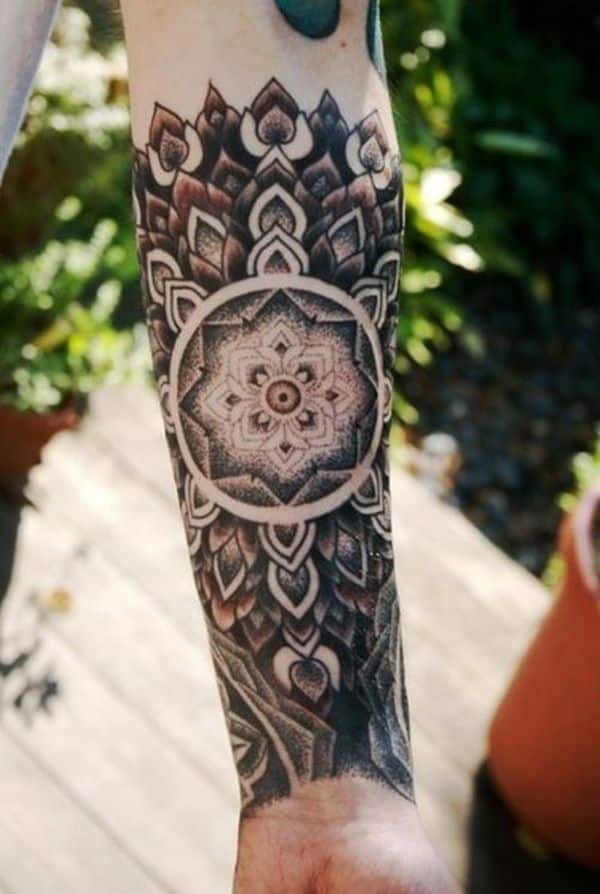 The sleeve is inked in expert Dotwork wraps around the forearm. The center features a large circlet of floral-like graphics unfurling in symmetry. The rest of the arm is covered in red and black floral inspired patterning, making this sleeve a fantastic option for men looking for dark, floral-inspired tattoo ideas.
This Blackwork styled tattoo features two thick black bands that wrap around the arm just below the elbow. On the inner arm, a single white key lies at the center of each band.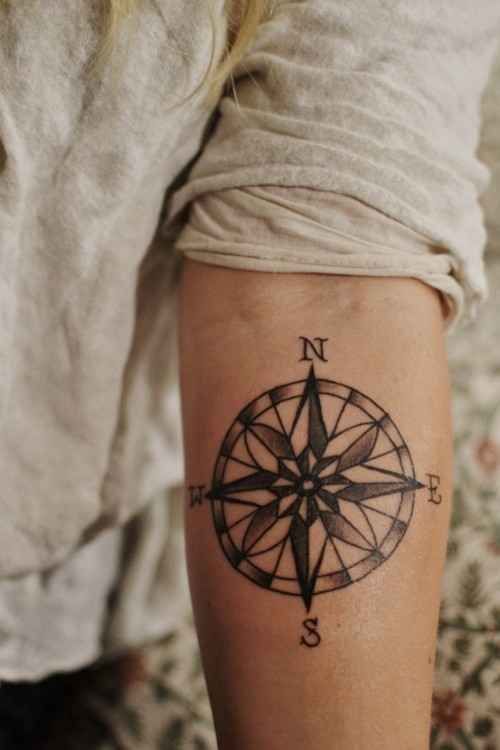 This tattoo is done in the style of American Traditional, and is an example of great compass tattoo ideas for men. The compass is well shaded and completed with simple strong lines. The directional letters feature the typical Old School styled font.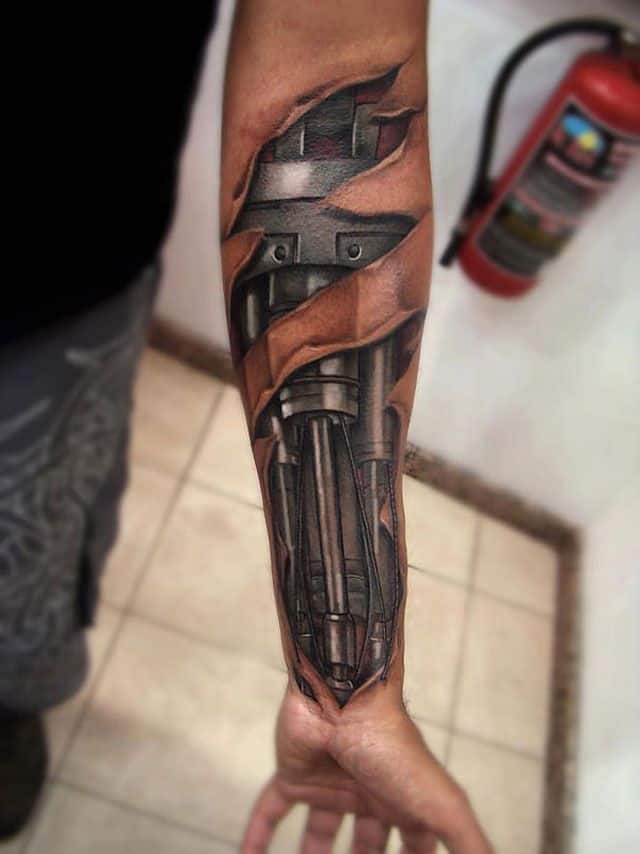 The forearm skin appears to be torn open to reveal an inner layer of steel in this Surrealism styled tattoo. The skin is ripped and peeled back in chunks from elbow to wrist to show off expertly colored ligaments of silver and white detailed steel.
More forearm tattoos for men on the next page…