Tattoos of zodiac symbols continue to be a popular choice for men all over the globe. Almost all tattoo parlors offer a multitude of design choices for each of these astrological signs. Apart from being artistically beautiful, a zodiac tattoo can tell a lot about the person wearing it or at least what he is trying to convey. Represented by a powerful and aggressive ram, Aries tattoos for men have both artistic and symbolic significance. The rounded horn coupled with the angry stare of the animal make this design a great choice for people who want to portray fearlessness and power. When challenged by a rival male, a ram charges in head first into battle. If you are someone who has that very same never-back-down attitude then getting the design inked on your body holds great meaning.
Much like any of these Greek astrological figures, this particular zodiac sign can have a lot of different interpretations. People can choose to get the same design inked in the same location on their bodies but have radically opposite views about the meaning of the tattoo. Taking that into consideration, here're a few different meanings the Aries tattoos for men can portray.
Aries Tattoo Meanings
Most people who get this zodiac sign believe they possess a common set of characteristic traits. A person with a tattooed Astro-sign usually behaves in a manner that consolidates their views about the behavioral traits associated with that zodiac group. Either naturally or by choice, these attributes of personality often get imbibed into the nature of these individuals. This means a simple tattoo can go long way into describing the personality of the wearer. At the risk of generalization, people who get this particular zodiac sign tattooed are energetic, spontaneous, and often reckless. People who fall under this Astro group are also known to love challenges and spontaneous traveling. They are also passionate about their careers and are generally more ambitious than others. Either for good or bad, these are men of action. Famous figures such as Charlie Chaplin and Harry Houdini belong to this group.
Among everything else, the imagery of an angry ram head depicts strength and aggression. This tattoo sign can act as a reminder to the wearer to tackle life's challenges head-on. This symbolic motivation can help people who are naturally timid to stand up for themselves and not be bogged down by anyone. Even though the ram symbol is masculine in nature, it can motivate women to fight their way out of an abusive relationship or simply put their views across in a male-dominated world.
Check out the best aries tattoos for men
This is one of the best Aries tattoo ideas if you want a design with good artistic elements. The tattoo comes with the Ram's head and a set of numbers over it. The numbers seem to be a date of birth, which could be significant to the wearer.
Elegance, artistry, uniqueness, whatever word you might use to describe this tattoo, it is just amazing. The guy has applied it to his calf, and you can see how amazing it looks. He has also added other elements that could have some significance.
This guy understands the aspects of an attractive tattoo. He has applied his Aries tattoo, and it includes the Ram's head which features some flames around it. The tattoo also has a good level of 3D effects and noticeable glossiness that enhance its elegance.
Can you even tell if this is an Aries design tattoo when you look at it for the first time? Unless you are keen enough, you may not realize if it is one. The Aries sign has been applied with some uniqueness that makes it stand out.
This guy might be a fan of geometry and the Aries zodiac as well. The Ram's head has been applied on the side of the guy, and it is linked to some geometric lines and shapes. Is it symbolic? The wearer knows best.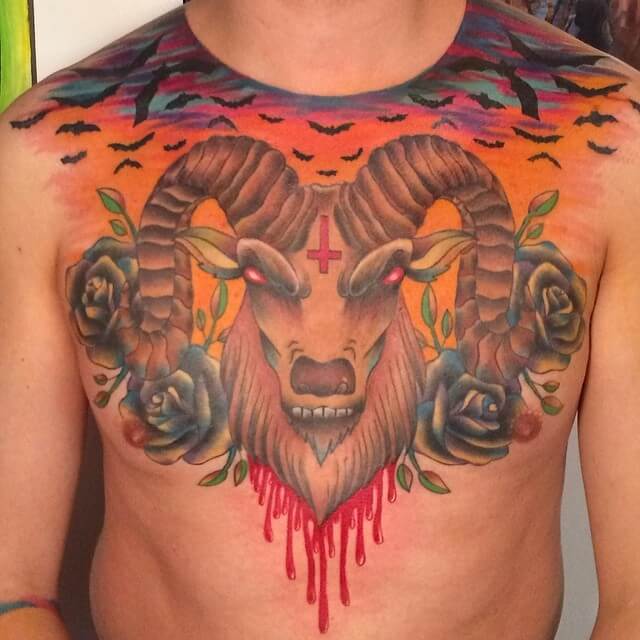 Be afraid, be very afraid. Oh Yes! That is what the Ram on this guy's chest might be telling you. The guy has applied the tattoo with a vibrant theme, along with some flowers on its side. Regardless of that, the tattoo still looks frightening.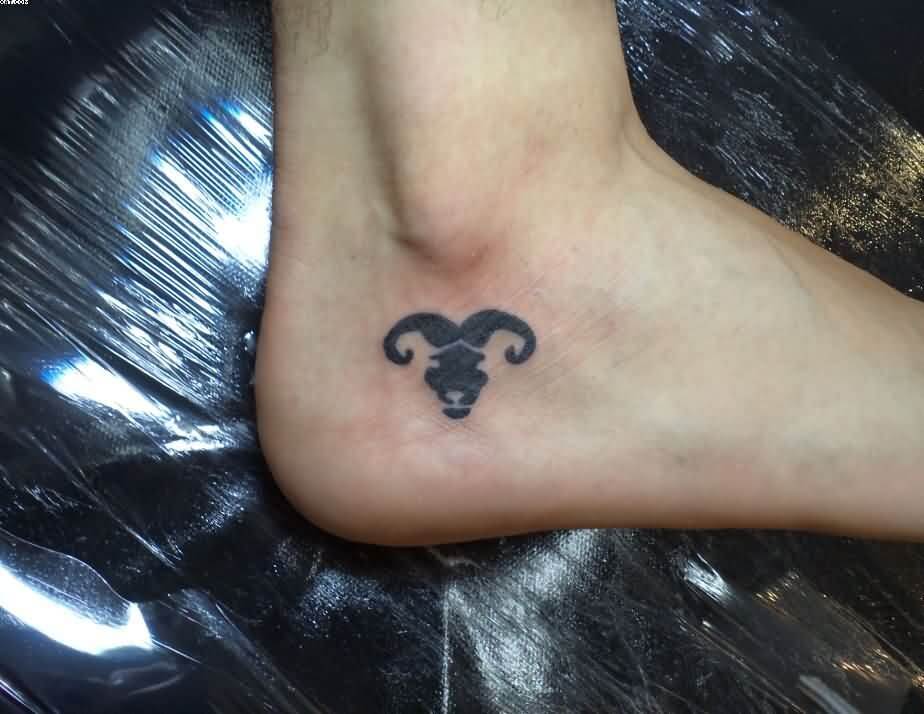 Too small? Too basic? It doesn't matter what you think about this tattoo. The guy has applied it to his ankle, and it is one of the Aries tattoos you would consider if you want a simple yet significant design.
Bring it on! This guy has applied his tattoo with one unique idea. When he folds his knee, the Ram is ready to go head to head with its adversaries. Woe to him who is an enemy. Regardless of the significance, this tattoo is one of its kind.
This tattoo features a simple Aries symbol that has been applied with a blend of deep colors. The black and red colors match perfectly, which makes the tattoo look splendid. It might seem too basic, but it surely is symbolic.
This is a great Aries tattoo design that might look basic, but it is unique. Forget about the simple color theme that isn't vibrant at all. You may not even notice if it is an Aries design at first.
More Aries tattoos for men on the next page…