Oh, how amazing this tattoo looks. It looks like it has been embossed using a metal stencil. On the contrary, it is one brilliant tattoo that has been applied with a great amount of 3D effects. It just looks stunning on the upper arm of the guy.
If you want an Aries design tattoo that has a unique style and theme, this is one example to apply. The Ram has been applied with a simple design that is also quite artistic. It could have a hidden meaning, or maybe the guy is simply proud of his zodiac sign.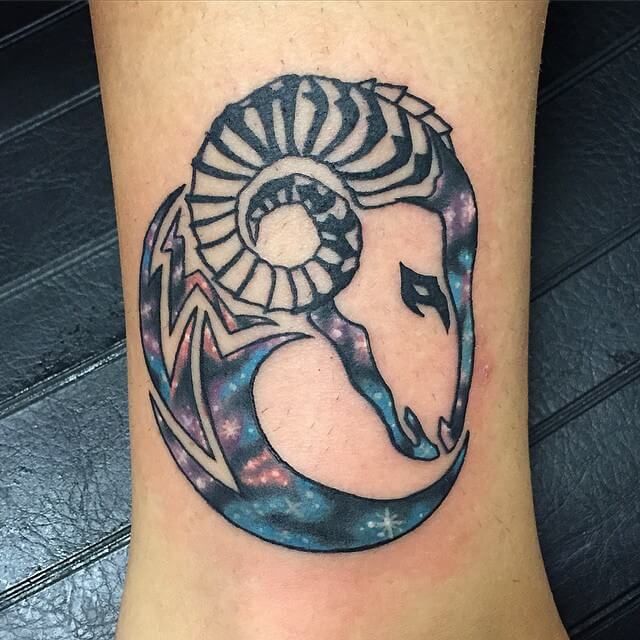 This is a great Aries tattoos idea if you want a vibrant theme. The Ram's head is applied with some 3D effects that complete its uniqueness and elegance. It might also have a hidden meaning that is well-known to the wearer.
Yeah, this one might seem to have a basic design, but do you notice how the Ram's head is applied with a sweet touch of artistry? The color theme might not be as vibrant as such. However, this tattoo is still worth trying.
Someone is mad, really mad. It's the Aries Ram applied to the arm of this guy. You can clearly see that in the bloodshot eyes. The 3D effects are noticeable, and anyone would be appealed by this tattoo regardless of its significance.
Keep your head up Mr. Ram. The elegance and artistry of this tattoo make it one of the best Aries tattoos for guys. The 3D effects and the unique color make the tattoo stand out, and you don't even have to know the meaning behind it.
The wearer of this tattoo is surely a fan of artistic tattoos. The Aries Ram has been applied with some crystal-like elements that make it look incredible. With such a style, this tattoo could be having a special significance to the guy.
Disturb at your risk! The Ram is sending that message to anyone that thinks they are too tough. The bloodshot eyes make it look scary, and the guy could have applied it with a specific reason. Either way, this one is a killer.
Mr. Ram is surrounded by a geometrical shape that is quite impressive. What is most appealing about it is the level of 3D effects. The blue geometrical shape might have a hidden meaning, or it is just a part of artistry.
To you, this might be a basic Aries design tattoo, but it is quite symbolic to this guy. It is one of the best tattoo ideas for men that want a simple design that has a deep meaning. The tattoo looks cool on the guy's wrist.
More Aries tattoos for guys on the next page…