The Evolution of Scripture Tattoos
When one hears the word "tattoo", a lot of thoughts can instantly be associated with it. Rock stars in a metal band; bikers wielding motorcycles in black leather jackets; shock artists in music videos; convicts in orange jumpsuits, the list is simply endless.
But the tattoo of today has evolved into something much different from what it was before. Self-expression, personal decoration and creative branding are just some of the new words you can associate it with.
Nowadays, people modify their appearance for beauty and scripture tattoos for men have become increasingly popular. In the same way, tattoos today do not link the wearer to cultic practices and is no longer just generally used for ancient religious purposes. They became a great form of ornamentation.
It's become a big part of pop culture that getting a tattoo has become trendy – getting tattoos with friends celebrating a life moment, or commemorating a significant event.
Prominent figures in both the acting and sporting worlds have displayed their bodies covered in ink, from the neck down. It is now quite impossible to watch sports and not see shirtless athletes with a fully tattooed upper torso.
Men in general associate tattoos with strength, brute and masculinity. What better way to serve as an inspiration for others by proudly showing words you live by, motivate you, teach you and make you a better person.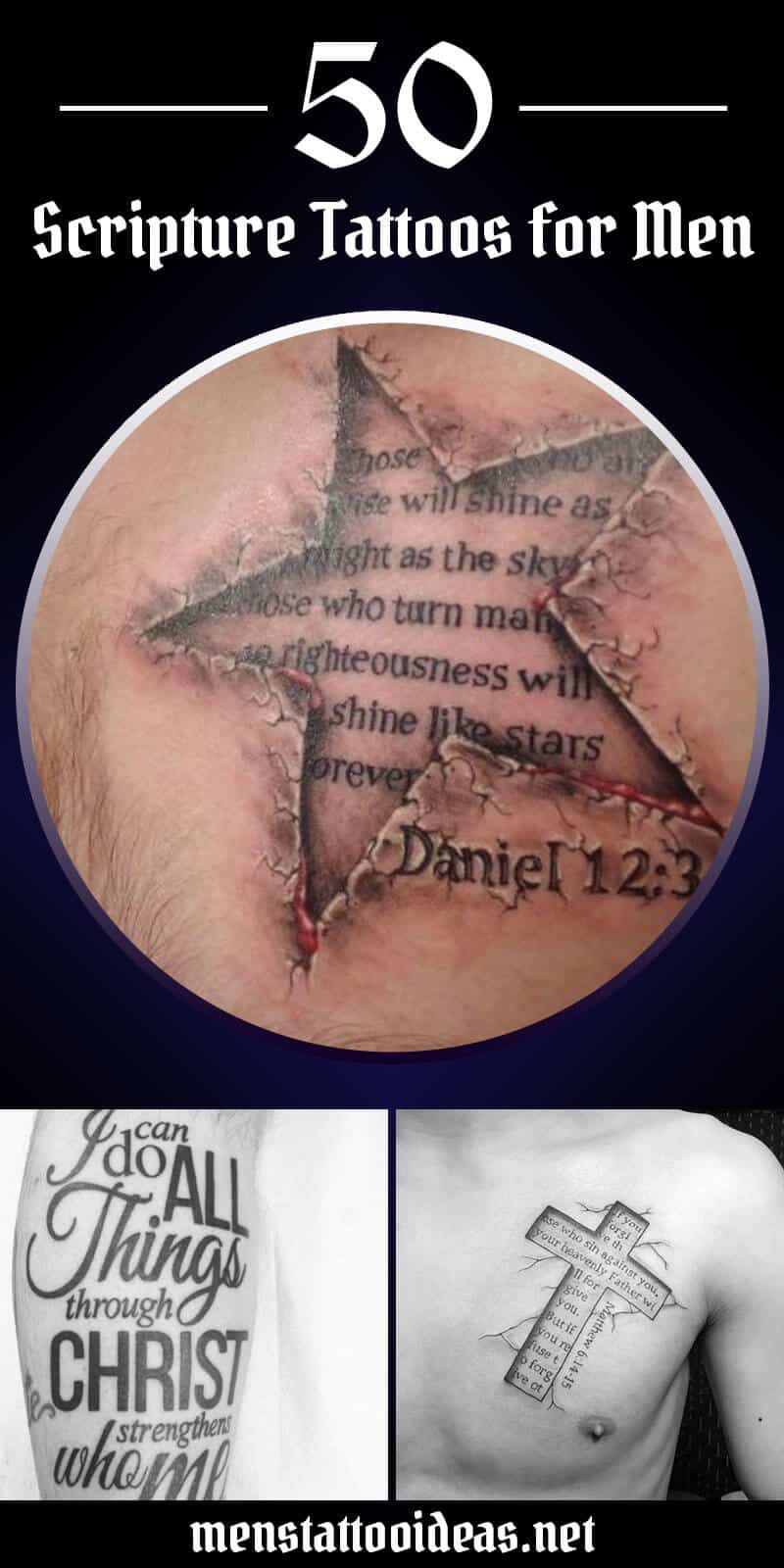 Scripture Tattoo Derivations
Scripture tattoos, in particular, gained much debate as an issue in the Christian community. Differing opinions on whether a tattoo is sinful or not has been linked to ironically, several scriptures such as:
Leviticus 19:28 – "Ye shall not make any cuttings in your flesh for the dead, nor print any marks upon you: I am the LORD."
1 Corinthians 6:19-20 – "Do you not know that your body is a temple of the Holy Spirit, who is in you, whom you have received from God? You are not your own; you were bought at a price. Therefore honor God with your body."
While the scriptures themselves do not ban tattoos directly, it does pose several questions:
What is the meaning of your tattoo? Does it symbolize a religious truth? Would God be honored by this tattoo? Does this tattoo symbolize something which is relevant to your relationship with Christ? Or would this tattoo benefit or hinder your relationship with Christ?
Others may also interpret it positively, because permanently inking scriptures on your body provides a great way to share your faith with others. It may be an amazing way to impress the Word of God and give glory to Him. Scripture tattoos on men attract questions about faith but it allows storytelling of His love.
Popular Designs of Scripture Tattoos for Men
When it comes to tattoos, men rarely choose them based on fashion trends. They usually rather go for meaningful ones, which may represent something important in their lives. Scripture tattoos for men can be full of essential significance and therapeutic properties that serve to heal past wounds.
Quote Tattoos are the usual choice, as they are simple and do not include highly artistic designs. It's not solely about art or aesthetics but instead is about remembering key quotes that reveal more about their life experiences. It symbolizes a reconnection spiritually concerning important chapters in life.
Scripture tattoos are popularly inked on the whole arm, on the wrist, across the chest, on the rib cage or at the whole back. They are usually heavily lined with blank ink and are seldom in color. True to modern style, quote tattoos are written mostly in lower case letters.
Conclusion
Tattoos are not for everyone. Ultimately, getting a tattoo is a deeply personal and significant life choice, and scripture tattoos for men are no exception. It should only be entered into with a great deal of forethought and responsibility.
Check Out These Amazing and Inspiring Scripture Tattoo Designs for Men
The star shaped sign with the Daniel 12: 3 tattoo inscribed on your chest goes a long way to show that you value wisdom and righteousness. Wise maxims and the knack for doing what is rightful are your moral compass and you wish to have them guide you all the days of your life.
Tattoo inscribed all over a serrated arm shows that your hands are guided by the Holy book. With this tattoo, you tell people that all that you do are going to be guided by the Almighty deity. It is also a nice way to easily remember the Bible scriptures since all you have to do is make a casual glance at your hand and that scripture will be staring back at you.
A look at this tattoo shows you a scripture text that stands despite all those wavy serrations that runs on the biceps. With this tattoo design for men, you pass a message that despite everything, the word still stands.
A beautiful scroll for one of the most quoted and powerful Psalms 23 scripture text, this is a tattoo idea that shows that you truly submit all your fears, passions and struggles with the Almighty God. The bird and anchor sign at the end of the scroll show that you are safe and free at His hands.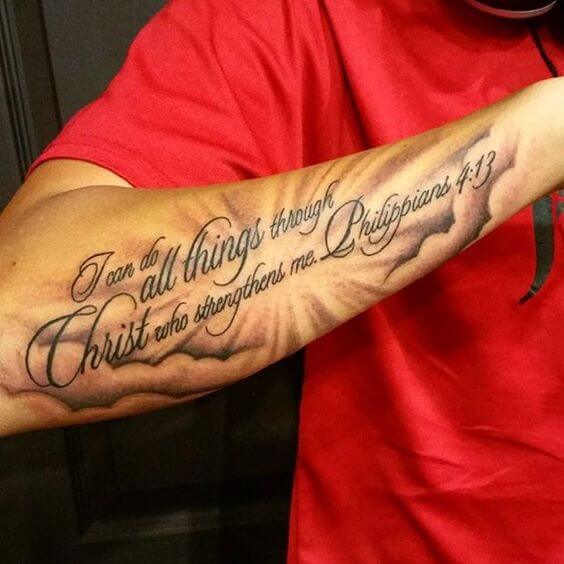 Written in beautiful calligraphy that runs across your entire wrist, this Phillipians 4:13 scripture tattoo design shows your determination, willpower and zeal to try anything as long as the Lord holds your hands. The tattoo ideas show your complete trust in a supernatural being. It confesses of your infallibility and dependence on God.
The first thing that magnetically glues you to this tattoo is those drop-capped E and S that are beautifully enclosed in boxes and decorated with flowers. The fear scripture then goes ahead to tell you not to fear because just like the drop-capped E and S, you are enclosed by his beautiful and unending grace.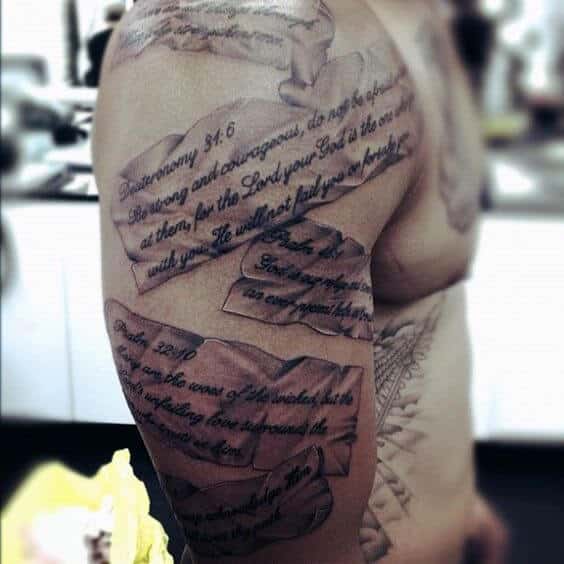 One scroll of scripture after the other, the tattoo design brings you out as a man of the church. The Elastoplast-like tattoos show that you are all ruined up but Christ has treated you and you are whole again.
A snippet from the popular Psalms 23 with the word "blessed" in caps to emphasize the showers of grace that the Lord has rained on you, this tattoo idea for guys show that you totally commit to God. Ideal for that risk taking man who knows his today from tomorrow, the tattoo speaks volumes about your total dependence on the Almighty.
Inscribed in the heart region, this tattoo idea seems to speak to your inner soul that God is with you. The cross that He has given you is not too big to handle. All you need to do is man up and see that he cares for you.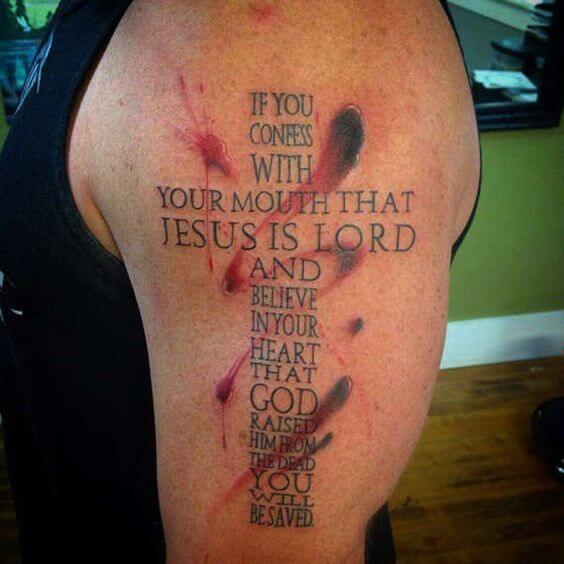 Another work of arts. This superb tattoos ideas with the design of a cross has a deep message of confession and letting go. The cross design reminds you of his unending love and would be an ideal tattoo for those men who would like to inspire their kids to be religious.
More scripture tattoos for men on the next page…