Cloud designs are increasingly popular among tattoo artists. Many cloud tattoos are typically done in black, but can be done in multiple colors for premium effect. Representing the sky, or the heavenly and spiritual realm, clouds are inspiring, beautiful, and spiritual. These tattoos are becoming more popular with men because they show that a man is both reflective, thoughtful, and powerful, always changing like the sky itself. Cloud tattoos for men are an excellent choice for someone considering their first (or second, or third) tattoo design. Here are a few designs you might think of for your next tattoo.
Sun And Clouds Tattoo
An excellent visual representation of the sun that is simple enough for any tattoo artist to replicate, the contrast of the dark clouds and golden sun provide a magnificent, artistic image. This tattoo can appear on the shoulder, the leg, the bicep, or the chest. You can add some color to make this design really stand out.
You might also try a smaller sun and cloud tattoo for the rest or forearm, such as the cloud in the storm design. The cloud tats with an eye that sees everything gives us the sense that someone or something is watching all that we do — but without fear. This is an excellent design to include in your selection of cloud tattoos for guys.
Lightning And Clouds Black Tattoo
A popular and dynamic tattoo design is the lightning and black cloud tattoo. For those of us who love thunderstorms, this is a powerful tattoo choice. You can have it done on your leg, your forearm, or your shoulder. Be sure that the tattoo artist can spread the cloud out well enough that it does not become too lumped together.
Smaller Blue Cloud Tattoo
A smaller and more ethereal tattoo choice is the blue cloud tattoo, which is enigmatic and unusual. You can get it colored specifically in such a way that the sun appears to be pushing through the clouds.
Check Out The Best Cloud Tattoos For Men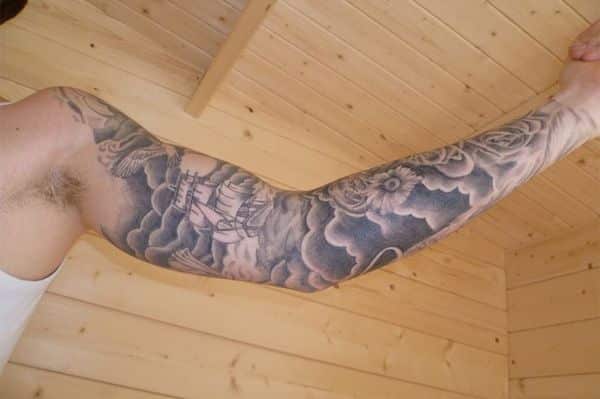 If you're looking for a great tattoo idea, this might just be it. Covering your entire arm, the black ink really stands out and is perfect for men who enjoy the elaborate designs. The intricate imagery intertwined within also gives it a more surreal feel.
A cloud tattoo symbolizes transformation and a willingness to change. Nothing represents this better than this adorable inked creation. While the cloud is simple, it is the splash of colors that truly make it pop.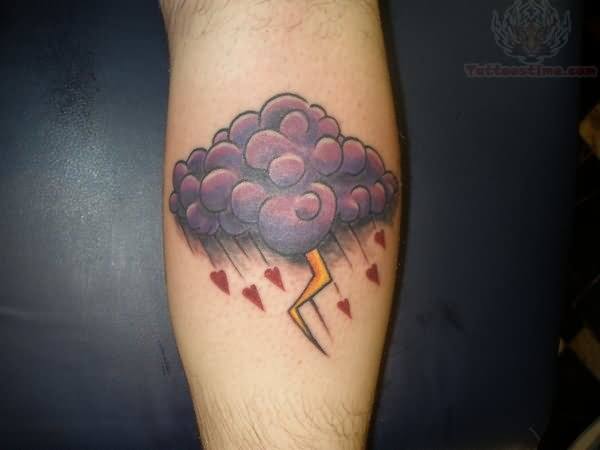 One of the best cloud tattoos out there, this one depicts a thunderstorm of love. While the design is simple, the colors ensure that it stands out. The gray cloud and maroon hearts direct the focus on the yellow thunderbolt, representing the strike of love.
This stunning forearm tattoo is one of the best creations you could get. The incredible melange of colors ranging from yellow to black create a marvel you just can't take your eyes off of. Moreover, the careful detailing makes the entire composition come to life.
Why stick to the comic forms of clouds where you could get something more real? While the tattoo only inks on the sky using shades of blue, the empty spaces present the most accurate depiction of clouds out there.
This is a unique cloud tattoo idea. Covering the forearm, it is done in black ink and shows a stylistic representation of these celestial symbols. While the detailed shading enhance the design, the clouds themselves represent the divine touch.
There is no better way to commemorate a loved one than by inking them on. This way, they will always be with you. That's why inking their name amid clouds depicts the peace and heavenly care they are bound to receive, while ensuring that they're always a part of your life.
Bring on the thunderstorms with this wonderful little design. For those men not looking for something too big, this is one of the best cloud tattoo ideas out there. Done entirely in black ink, it is striking enough to make heads turn, yet small enough to be easily concealed.
A raining cloud is the perfect symbol of transformation. It depicts a willingness to adapt ensuring that you're always on top of the game. So this simple black-outlined little wrist tattoo is perfect for representing this very important aspect about yourself. But that's not all – it looks incredible as well!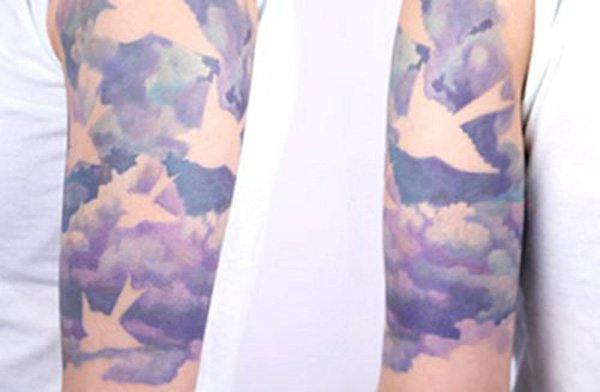 If you're wondering which cloud tattoo design would suit you the best, this one would be in the running. While the blue clouds crowd your arm, the white birds represent peace and absolute freedom from earthly wants. Consequently, this gorgeous tattoo depicts a spiritual nature.
More cloud tattoos for men on the next page…