Sometimes a true genius leaves their mark on this world and it was a work of one such genius of the tattoo world that gave us the legacy of the Sailor Jerry tattoos for men. Even though it was introduced in the world of tattoos many decades ago, it is still very much in demand which is a testament to its longevity.
People still are very much attracted to these tattoos and that is due to multiple reasons. We will explore those reasons today. These tattoos also invoke a sense of nostalgia as well as they were a cultural icon of the last century.
What is a Sailor Jerry Tattoo?
The name can be a bit of a misnomer as people who are unfamiliar with this tattoo might start conjuring up images of a sailor. That is only partly true. Norman Keith Collins, the man responsible for the Sailor Jerry tattoos was a professional sailor and he did sail from the mainland and settled in Hawaii during his formative years as a tattoo artist.
He learned his skills from someone known as Big Mike. His tattoos however covered a wide range of design elements. He was a true pioneer of the tattoo industry as he introduced and perfected many techniques that added more color to the tattoos while making them safer and less painful.
The modern Sailor Jerry tattoo pays homage to this legend while still being able to catch the underlying beauty and magnificence.
What Makes Sailor Jerry Tattoos for Men Popular?
Sailor Jerry tattoos for men have stood the test of time quite well and there is a very good reason behind this. The design elements are relevant even today. These tattoos combine a wide palette of colors that make them extremely colorful and eye-catching with design elements that men find very appealing and attractive such as bottles of booze, pistons, birds, and animals of prey, and other things that are considered to show off masculinity.
These design elements speak to the very soul of a man and even in these modern times, these tattoos are still very relevant. Men love to flaunt their dominance and that is what these tattoos are all about.
These tattoos cleverly manage to use simple objects and living things to tell a powerful story in a rich world of color. This design technique is highly appealing to today's men as well and as such is enjoying an ever increasing boom in popularity.
Who Should Get a Sailor Jerry Tattoo?
The Sailor Jerry tattoos for men are the perfect tattoo for a man who still loves to put in the extra effort and hard work to achieve his goals. These tattoos are for those manly men who can still enjoy the world made up of things they can touch, see and feel rather than a world that is virtual.
These tattoos can be incredibly detailed while incorporating strong design elements with a multilevel structure using a very wide range of colors rarely seen in the world of tattoos. Sometimes the old ways are indeed the best ways.
Fascinating Examples of Sailor Jerry Tattoos for Men
This sailor jerry tattoo cover an entire arm, and features a wide variety of colors and images, including ships, roses, spiders and many others. It also includes tiny stars in between each image, as though to create the impression of a starry night sky.
Some sailor jerry tattoos feature cartoonish images, and this happens to be one of them. This particular design includes flying skulls, mail, flying fishes and elegantly drawn roses. It covers most parts of the arm, and is a good choice for those who prefer colorful tattoos.
This particular design features the proverb, "Death is Certain, Life is Not," and includes the image of a normal hand shaking a skeletal hand. It also features a red flower at its center, and despite its message, doesn't have any macabre images.
This particular tattoo includes a strange set of images, including a group of bound arrows, a woman's face and a few others. The tattoo doesn't seem to have a coherent message, but its colorful images are both attractive and interesting to look at.
This interesting tattoo idea includes a curious number of images, including a bottle with the words stay true written next to and under it, an anime character from the movie Akira and various other images that seem unrelated to one another.
Like most sailor jerry tattoo ideas, this particular design includes a set of wild and romantic image. It features the image of a barren wasteland complete with cacti enclosed within a heart made of thorns. It also features a white flower.
This black and white tattoo features two birds flying in front of a rising sun. The tattoo is strange in that it doesn't use any bright or warm colors despite its choice of characters, and so the birds appear like they are flying during night time.
This particular sailor jerry tattoos idea features a set of images, including a palm tree and a woman. The image is quite colorful, and is intended for the joints. Also, unlike other similar types of tattoos, this design looks fun without being too cartoonish.
This simple tattoo includes a palm tree in front of rising or falling sun, with a bright yellow flower underneath it. Although the tattoo's design and use of color is very simple, its combination of cool and warm colors makes it attractive.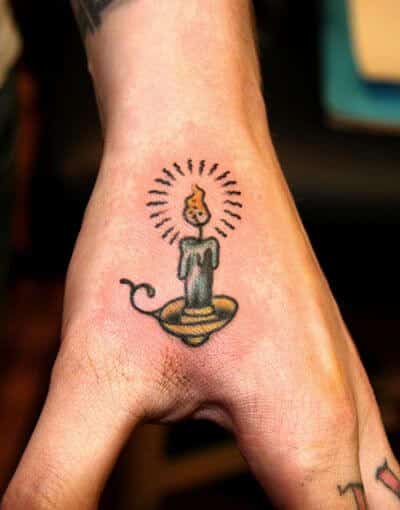 This simple tattoo design features a candle situated on top of a golden candle holder. The tattoo also uses a slightly cartoonish style which adds to the simplicity of the image. Despite these elements, though, this candle tattoo design still looks interesting.
This sailor jerry tattoo design features a white and blue cartoon shark with the words, "Don't Panic" written underneath it. The statement seems to be ironic, as the cartoon shark's mouth is filled with blood and appears ready for violence.
This interesting tattoo design features a bright, colorful dagger, pointed downwards and surrounded by flowers and other images. The tattoo also prominently features the colors green, red and yellow, all of which help to bring out the silver and grey color of the dagger's blade.
This colorful tattoo features several images, including a snarling predatory cat and some flowers. All of the images are colorful and intricately drawn. The tattoo is also versatile in the sense that it can be placed on any part of the body.
This tattoo features a smiling skeleton smoking a cigarette and wears a military uniform. The tattoo mostly consists of dark, grey colors, but it also includes some reds. The tattoo looks good on the shoulders, the arms and maybe even the legs.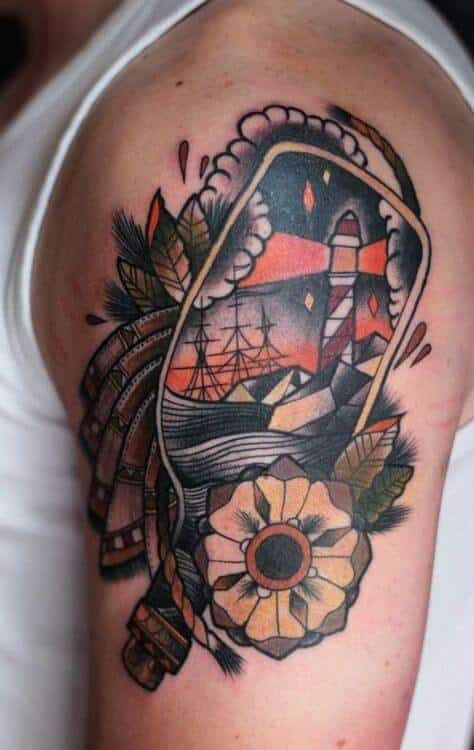 This nice-looking tattoo features a glass bottle surrounded by various leaves and a flower. Inside the bottle is a lighthouse, a ship and a starry night sky. The image also includes a lot of details and fits well on the arms.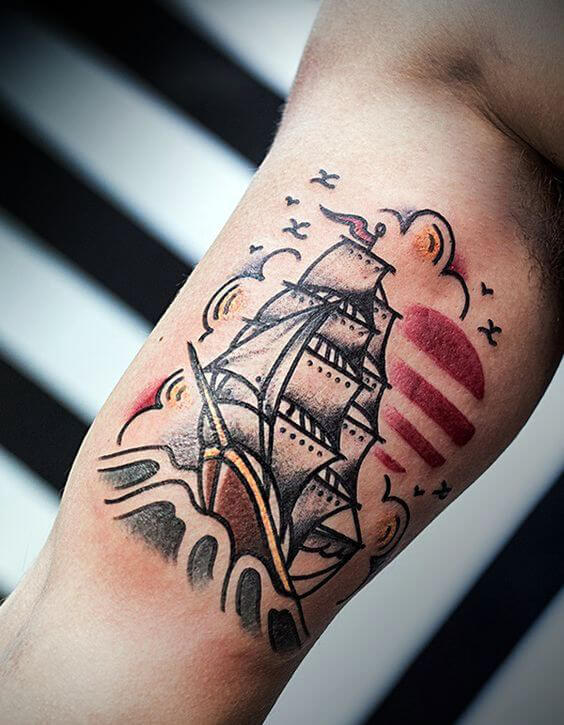 This tattoo features an antique ship, riding the waves of a wild sea. Behind the ship is a red sun, a group of clouds and some birds. Although the image has a cartoon-like appearance, it still looks attractive and colorful to look at.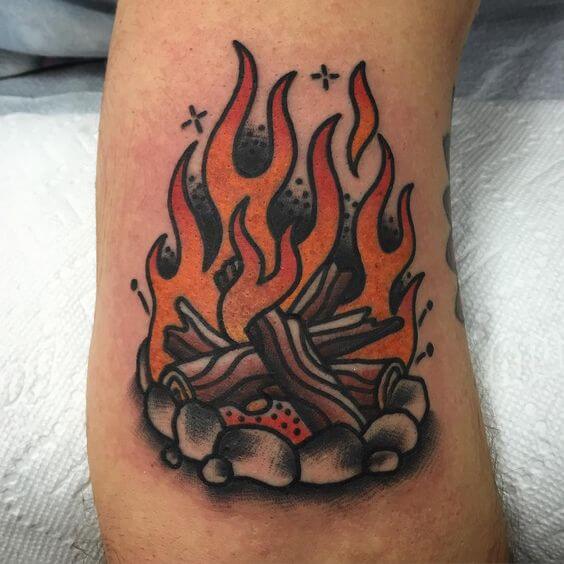 This seemingly simple tattoo shows a comfy campfire. The campfire includes a ring of stones, some burning pieces of wood and a bright red flame. The tattoo looks very simple, but it looks well on various parts of the body.
This particular tattoo features a series of flowers, an antique anchor, a compass (with a ship and a lighthouse) and various other naval images. The images are also colorful, and would look well on the torso or around an arm.
This particular tattoo features an eagle swooping down towards an unseen prey, while the sun shines behind it. Aside from its image, the tattoo is also interesting for its use of color. The eagle's wings almost look like silver, which gives it that retro eighties look.
Unlike most sailor jerry tattoos for men, this particular tattoo design features a fairy-like woman, staring out at the observer. The woman is covered with various colorful flowers and items, all of which serve to make her appear more beautiful and haunting.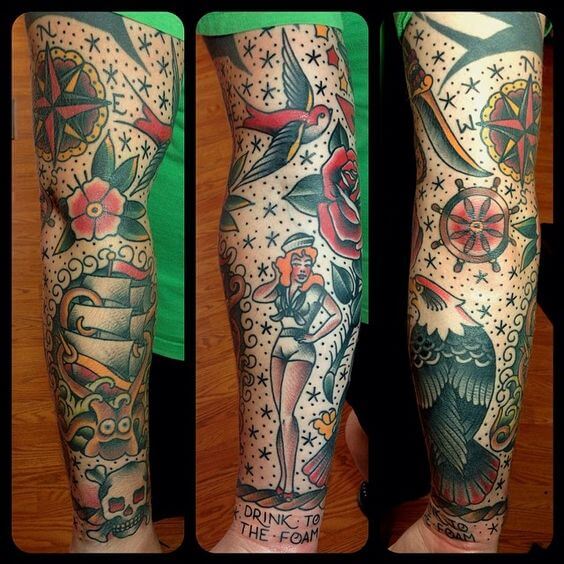 These sailor jerry tattoos for guys feature a wide variety of colorful designs which include flowers, birds, beautiful women, sailing ships and many others. These tattoos are meant to cover a person's arms, and give it that wild and artistic look.
If you prefer more aggressive tattoo ideas for men then this design may be suitable for you. It features a dark and ornate looking dagger stabbing down into a snarling panther's head, while blood splashes out through both ends.
If you're looking for something complex and colorful then this is one of the best tattoos ideas that you will find. This overly artistic design includes colorful skulls, birds, torches, sailing ships and more. Although it's not a subtle design, it certainly is eclectic.
This intricate and colorful tattoo is designed to cover both arms. Its most prominent feature are the faces of a man and a woman, but it also includes a wide variety of other colorful objects designed to make any person's arm look more fantastic.
This simple tattoo features the snarling faces of a tiger and a panther. The tiger is meant for one arm, while the panther is meant for the other. Although these images look simple, they also look colorful and beautiful.
A snake in the Sailor Jerry tattoos represents Male Potency and power. A tattoo is a flash of a personality, represent yourself as a power with a cool snake tattoo. The ready to strike pose gives out the message loud and clear – Don't tread on me!
Sailor Jerry was a legend who dealt with issues that were both practical and elemental. The bloody sword sticking through a blue rose is one epic design that remains favorite throughout the ages. Pick it up for your pained soul and show the world your strength!
A sailor who is in the sea for a long time missing his people at the land made Sailor Jerry tattoo design based on hearts popular. Hearts have always been most loved throughout the ages for men who want to show they are emotionally strong!
Old school tattoos have come a long way. The tattoo with skull and the sword marked with words "Death before Dishonour" was a successful quote during Sailor Jerry's time. It remains one best Sailor Jerry Tattoo for men till date.
A flaming heart is a traditional symbol of passion. It could be someone or something that you are passionate about, pick out this Sailor Jerry tattoos idea for men to show your adoration for the one you love! The eyes make all the difference
Getting inked is a decision for life. Express duality of human life with amazing Sailor Jerry tattoos for guys which expresses love, friendship, beauty and vitality with the rose and death, destruction, betrayal, and insidiousness with the dagger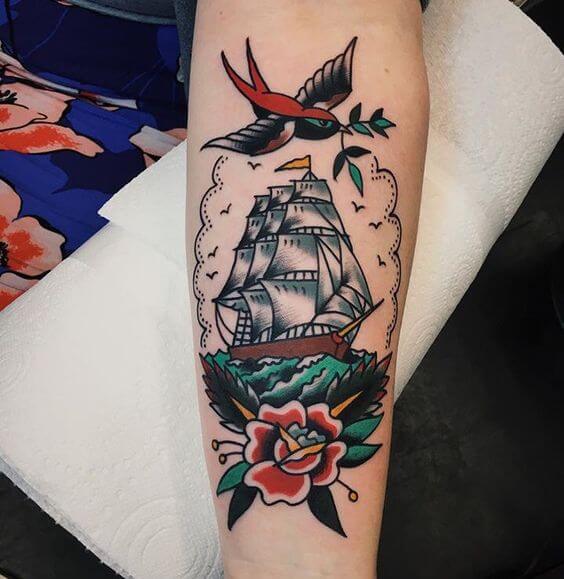 The sailors believe that the Swallow bird shows coming home. The ship for a sailor could mean both his profession as well as adventure. The rose symbolizes love. It makes it one of the most clever tattoo ideas for men
Sugar skulls on men are usually done on black and white to give that macho look. it is an excellent choice if you want to show your commitment to your girl until death does you apart! Pick your favorite Sailor Jerry tattoo ideas today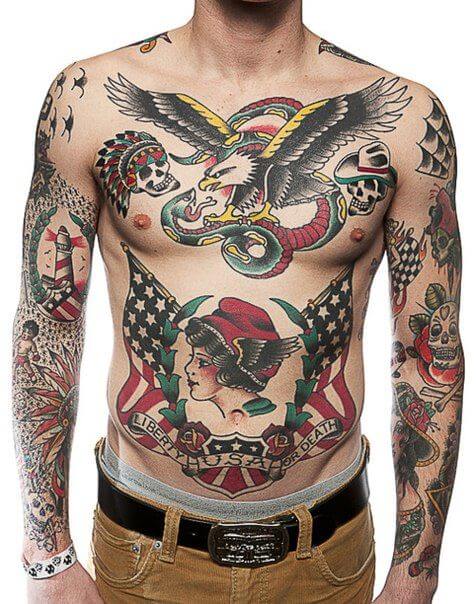 Go for whole torso Sailor Jerry tattoos to give you that powerful look. The American symbols in the tattoos like the eagle, the flag shows the patriotic spirit of idolized America as Sailor Jerry saw it! Show yourself as iconic and fierce
When you are looking for tattoos ideas for men, the snake handshake tattoo gives you an insight into life. Trusting others can have dire consequences. If you want to show that you trust no one, despite their firm grip, go for this one!
If you are looking for men tattoo ideas that show that you are a rebel, the theme guns and pistols are the best. The guns here show that you are great at self-defense and personal protection. Give it a go
A woman tattoo on a sailor's arms will probably be the only woman he would see for months to come. Sailor Jerry created amazing woman portraits that have been symbols of ideal and extreme feminity. This girl on the tattoo also bears butterfly that expresses metamorphism.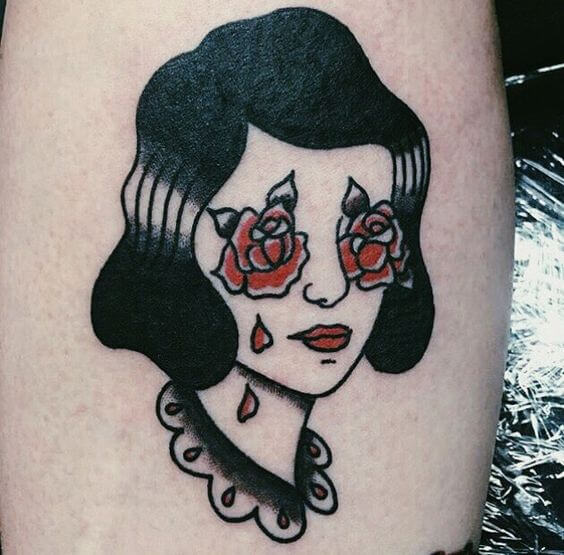 Missing the loved one on a ship could be the most difficult thing to so for a sailor. When you are missing your loved one, go with this lady with love tears as a tattoo. Keep your beauty around you where ever you go!
Sailor Jerry tattoos have always embodied adventure and holiday spirit. The skulls in the tattoo show that one is ready to face death any time without fear. The way it is on the shirt in the tattoo shows the adventure spirit of the sailor
If you are passionate about driving, you should love wheels as well. This tattoo idea for men is highly appealing to all motorbike lovers who feel passionate about travel. The wheel tattoo with wings is definitely interesting to have it on your body!
A message in a bottle is something very interesting for a sailor. If you love adventure, this tattoo for men is a perfect fit. With an exciting sunshine and sea inside the bottle, it perfectly sums up what a sailor would expect.
Pocket folding knives were versatile during sailor Jerry's time. They used as a sign of cutting and slicing, not killing! Sailor Jerry's iconic design sense makes this tattoo unique and attractive. It symbolizes love and power as well as security
Panther is one of the most adored Sailor Jerry's tattoo ideas. It is usually inked as a status of virility and manliness. All of Sailor Jerry's tattoos with panthers are ferocious and powerful. They often show the raw power of a man.
When you suffer because of separation or death, nothing better can define your feelings more than this amazing tattoo designed by mastermind sailor Jerry. The tattoo gives you the meaning quite directly without hidden meanings. Try it on!
The life of a sailor on the sea is quite unpredictable. The ocean and deep seas always can play differently just like life to push you to the water. Be a warrior, fight away to live like a real sailor with this refuse to sink tattoo on you
Nautical symbols have always been a part of Sailor Jerry's designs. They traditionally represent the North Star which guides you as a mark on the sky to see if you are in the right direction. Help yourself home with this tattoo
Most tattoos have beautifully hidden meanings. Bull tattoos always represent aggressiveness. If you are someone with a never die attitude, who is ready to fight, this is a perfect tattoo idea for you. The fighting spirit is amazingly expressed on this tattoo.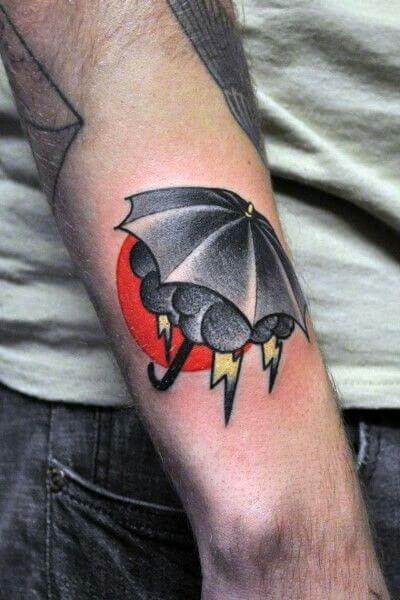 Although the umbrella could signify protection, the clouds and rain under the tattoo express vulnerability and unexpected nature of a sailor's life. It is great to go on your arm or forearm or even the torso! It is the best bet if you are in troubled times
In general, sailors are fearless and expect anything to happen. Often, Sailor Jerrys's tattoos give out the images that could be feared by some. This coffin represents coming to terms with death. A brave symbol indeed! It is a true mark of a warrior
Cactus represents mystery. If you would like to be a mysterious person, this is an excellent tattoo idea. The way a cactus adapts to the desert, a sailor with a cactus symbol on his body adapts to worse conditions of the sea