A unique rib tattoo design that is quite minimal but still cools quite cool, the inked art is a half white and half black bear. This could symbolize adaptivity has well as a dual nature since the traits of black and white bears differ a lot.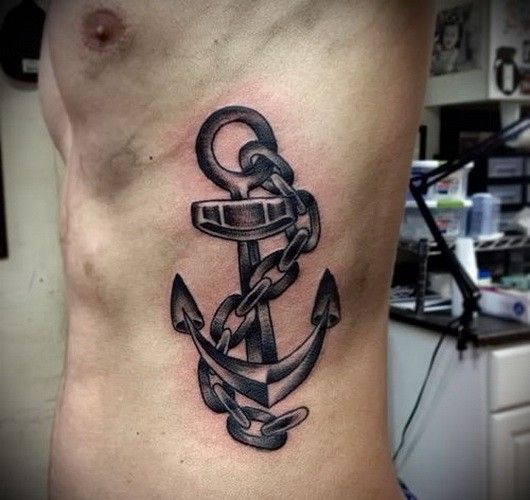 This is a tattoo of a classic anchor with a chain like the ones which were seen on sailors, what make it unique is the shadow effect and the overall bulk of the anchor as well as the chain. This makes it a little modernized while still retaining the classic concept.
Another classic themed rib tattoo of an anchor with a rope, this one is done with simple shadow shading to make it stand out and the hooks of the anchor are a little curved and sharp which give it a special effect and make it look like the devil's tail.
This tattoo is an innovative artwork of the nine planets as seen in the solar system, each planet has been made with a lot of details and has some traits of the real planet like the color and the number of moons. It is rib tattoo design for guys who want a mellow themed tattoo.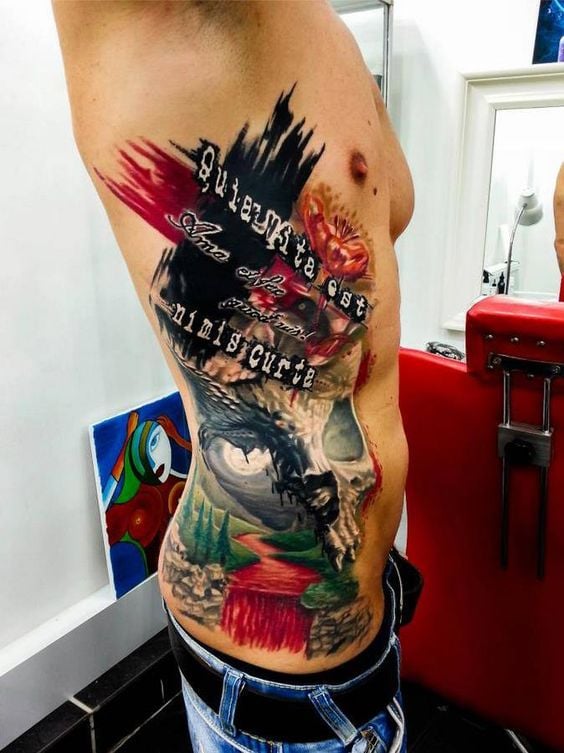 An amazing inked masterpiece made with multiple vivid colors, the scenario that is inked can be described has a river of blood with a waterfall and a half alive and half dead owl skull. Just above the tattoo there is a phrase written in Spanish.
This is a highly detailed tattoo of a fully colored dragon, the artist has managed to capture the essence of the artistic Chinese mythical creature. It is one of the most trending rib tattoo ideas if you want a hidden dragon on your ribs this is a fantastic concept.
A brilliant tribal tattoo of a flaming Pheonix, here the artist has used a simple color scheme to create a truly spectacular minimal piece of art. It looks great and can even compliment any other tattoos around the area.
This is a part of a much bigger tattoo that is covering the whole upper body, the natural garden theme that starts at the arms is later on the ribs to complete the bigger picture. Its rib tattoos for men who want a tattoo that match their existing tattoos.
A surreal work of art inked onto the body as a tattoo, the artist has made a spectacular tattoo with a head of a Red-Indian woman with a dream catcher just below it that blends in perfectly. The color scheme and shadowing effects are also adding to the overall appeal to the tattoo.
A detailed black and white rib tattoos for guys, the tattoo is an amazing depiction of the ancient kai fish which is said to be auspicious in the chines tradition. The artist has also made beautiful details in the water that lies in the background of the tattoo.
More rib tattoos for guys on the next page…