A funny yet meaning tattoo made of stick figures, the tattoo has been made with simple stick figures and has a phrase inked which read as 'Why aren't you having fun idiot?' this is a great tattoo that can mean a lot to someone since it clearly reminds the person to have fun.
Scenic rib tattoo have been quite popular lately, people get a part of the scene inked onto either sides to make a bigger picture when seen together. Here we see a scenic tattoo of a tower on one side of the ribs, two gramophones in the center and a few birds flying in formation on the other side.
A tattoo of a red-Indian chief's skull, this is quite popular these days as many people are getting tattoos of skulls with a red chef's feather hat. It is supposed to symbolize leadership, power, and wisdom, which makes it a great rib tattoo idea.
Here we have a fully detailed rib tattoo of an entire tree with a dream-catcher hanging from it, the artist has put in great effort to make the tree look very realistic and portray some intense emotions of serenity and silence. It looks majestic as it runs along the whole length of the ribs and cover a lot of area.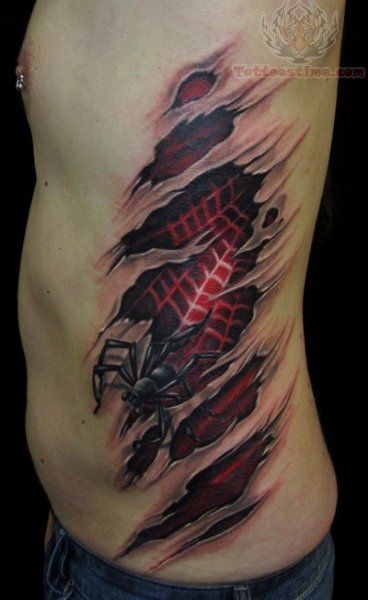 These are quite popular with youngsters and fans, this is torn skin tattoo which reveals a spider-man costume inside. The tattoo has a lot of minute details and even has a spider crawling out of the inked holes. The torn skin looks quite real with the shadows and shading effects.
[An iconic USMC 'Semper Fidelis' Bowie Knife rib tattoo with Olde English Font and a Sepia tone surrounding the USMC logo of a globe, an anchor, and an eagle. The words Semper Fidelis are Latin and mean 'Always Faithful' or 'Always Loyal'.
A descending Eagle rib tattoo with talons grasping at the blank space on his ribs, in a yellow, red, white, and black tone. The Eagle coos viciously towards the tattoo owners navel, and spreads its wing before descent.
An elegant Chinese rib tattoo, featuring 'Han' Characters vertically scribed onto the man. Chinese characters are derived from the oldest used writing system in the world and carry a rich history providing distinction and grace. Honor is a cherished idea in China.
A geometric Hawk rib tattoo, with wings extended in the foreground and a black/red color schematic. This unique design cuts the hawk into perfect symmetry with the triangular outline. The Red Triangular outline extending towards the armpit also provides units of measurement as depicted in the bottom left corner.
A clashing tribal and Greek aesthetic rib tattoo extending through the armpit in black and white. This rib tattoo features Hellenic geometry as well as psychedelic swirls. The entire design is contained within a rectangle though the border is in line with the many swirls, triangles, and squares.
More rib tattoos for men on the next page…