This detailed arm tattoo shows off the force of the arrow in all its glory. While the black arrow itself is intricately designed, the circles and lines surrounding it depict its sheer power.
This gorgeous tribal design of the arrow is a simple representation of the power of determination. While the defined lines form a sharp contrast against the skin making the ink stand out, it is the design itself that is sure to turn heads!
Contrasting determination with time, this unique and eye-catching design depicts the limitations of time to achieve your desired goals. It is perfect for those looking to tread off the beaten path, as it symbolizes those men who brave adventure to pave their own destiny!
This beautiful bundle of five arrows is one of the best representation of the uninhibited power of the modern day man. It depicts strength in all aspects, emotional and physical. While the black ink forms a clear contrast against the skin, it is the delicate design that confers upon it a charming elegance.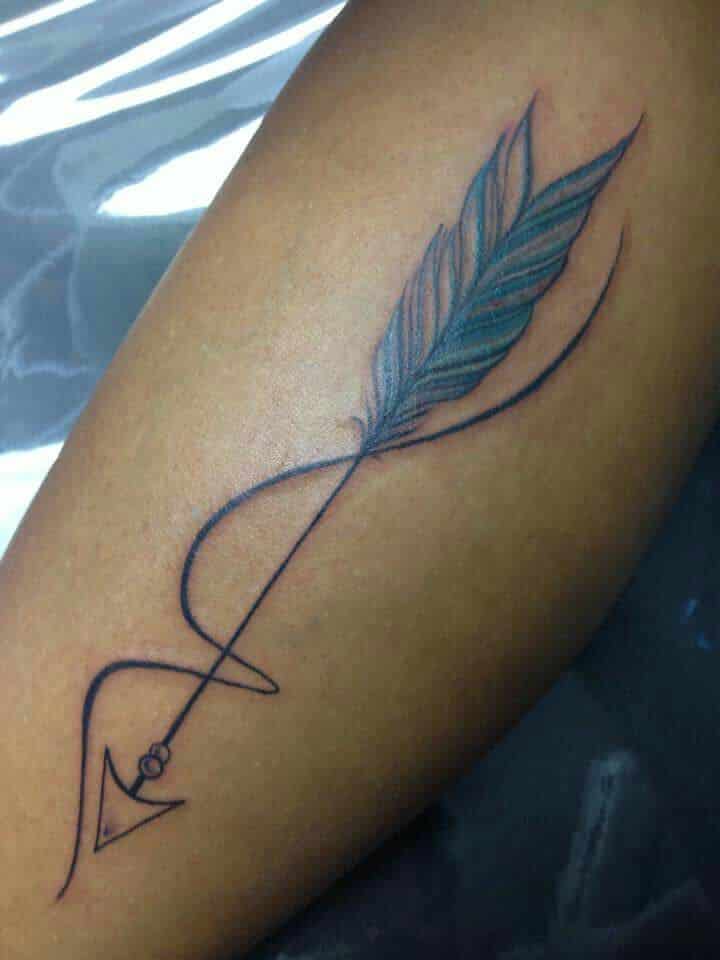 This simple design is made all the more beautiful with just the right dash of blue. The arrow itself depicts determination, while the simple representation of the bow represents the instrument for success. The entire design comes together to create an elegant tattoo, perfect for those on the lookout for some great ink!
The tattoo is drawn on the entire length of the forearm. The arrow is seen to have been already shot from the bow, ready to hit the target. It has some beautiful feathers at its end and some nice joints.
The tattoo is drawn near the wrist of a man. It is just an arrow drawn using a black bold line. The tattoo also features two circles drawn using broken lines. Its head is a V-shaped dotted line. It also has some fancy shapes at its center.
The beautiful tattoo is drawn on the front part of the upper arm. It is a very simple tattoo that features an arrow drawn with thin lines. It has two circles that are placed halfway into each other at its center.
The striking tattoo is drawn on the calf of a person's leg. It is a mixture of numerous shapes. It looks like an arrow that has an excellent head and feathery tail. There are circles, a star, and lines intertwined to enhance the tattoo.
What a beautiful tattoo? It is drawn on the inner side of the forehand up to the upper arm. It features a beautiful arrowhead and a purple tail. The arrowhead and the tail are joined by nicely written digits and alphabets.
More arrow tattoos for men on the next page…