Family tattoos carry a special significance, and mean something different to every person who gets inked with a family symbol. Some family tattoos are particularly popular with men, and express the love and togetherness that is part of the family bond. If you're thinking of getting a tattoo to honor the special people in your life, here are a few of the images that could help you decide which tattoo is right for you.
A number of men get the names of their children tattooed on their chests. This is a popular family tattoo with women as well. A chest tattoo with a person's name means that the individual is close to your heart. Some men also get chest tattoos of other notable people in their lives. For instance, it is not uncommon for a man to get a picture tattoo of his mother or grandmother on his chest as a show of love and devotion.
Some family tattoos for men are also featured on the arm, and often feature the name of the man's significant other. Men often get tattoos of the names of their wives or girlfriends on their arms. An arm tattoo is usually more visible than tattoos on the chest. The arm is also a sign of strength. These tattoos are often accented with another visual symbol of love, such as a heart or roses.
Family-centered quotes are also popular with men who want to honor their relatives with body art. Some family tattoos for men include phrases like "family over everything" or "blood makes you related, loyalty makes you family." Men also get family tattoos that feature their exact sentiments, such as "family is there to pick me up when I'm down" or "there's nothing I wouldn't do for my family." Some of these tattoos are simply words in fancy font, and others include accents like flowers or trees to make the body art more eye-catching.
Some men are also getting tattoos of family trees as a way to pay homage to the people who mean the most to them. The symbol of the tree is often tattooed on the chest, back or arm, and is a way to show family history. Family tree tattoos often feature the names of great grandparents or grandparents, but can also include accents like a grandfather clock or infinity symbol. These accents signify the notion that family is forever, and that there is always something to learn from previous generations.
There are also family tattoos that feature cultural or religious symbols that are indicative of the tattoo wearer's beliefs and ethnic heritage. For instance, West African Adrinkra symbols are sometimes features in tattoos for African or African American families. Hispanic men who get family tattoos often include their native country's flag. Crosses and praying hands are included in family tattoos as well, to show that the family has a strong spiritual foundation.
While these are some of the most popular family tattoo ideas for men, you can use these as inspiration to create a tattoo tribute to your loved ones that is all your own.
Check out the best family tattoos for men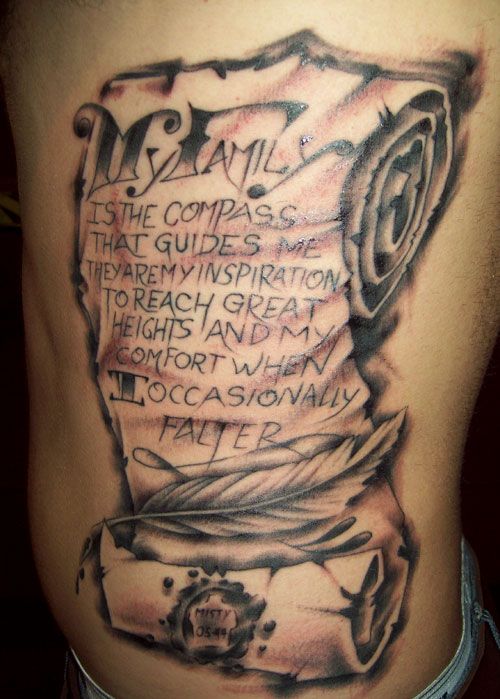 This black and white family tattoo is perfect for larger areas. It features a lightly-sketched, gently distressed scroll with a quill pen at the bottom. The words of the scroll are inked in heavy black at the top and lighter black towards the bottom and discuss that one's family is a compass.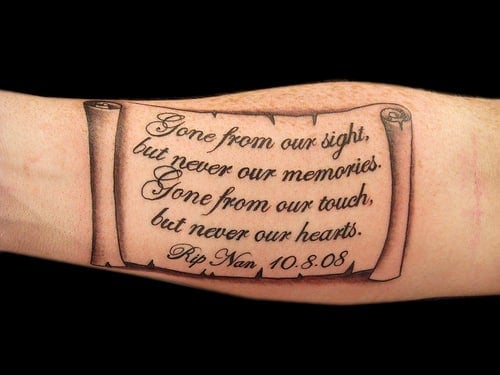 This family tattoos idea is a beautiful tribute to a loved one. Featuring a simple scroll and cursive script, this black and white image is classic, and you can customize it with the name of your family member. Its small size makes it ideal for areas like the forearm.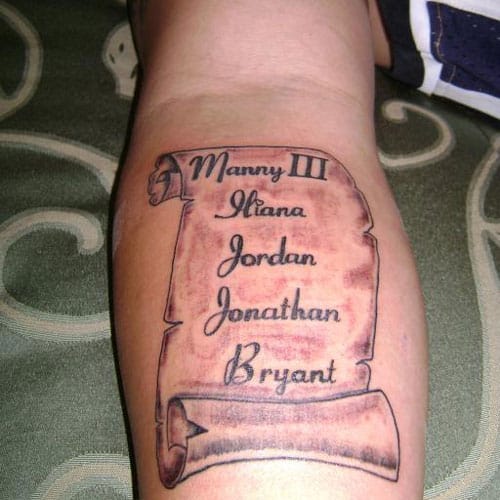 This black and white family tattoo design incorporates the names of family members in heavy black cursive ink. The names are printed inside a scroll which has rough, slightly crumpled edges giving it a realistic feel. This is a great choice for medium size areas.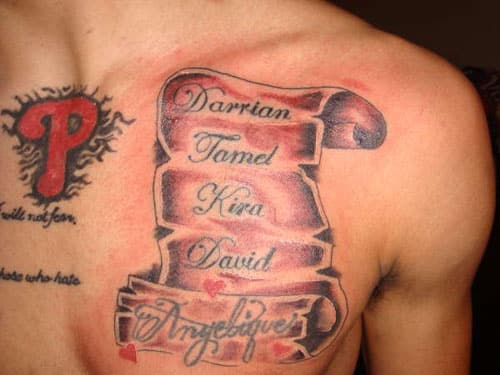 One of our best family tattoos for guys, this image depicts a small unrolled scroll with crumpled edges. The scroll is outlined in black, and the family member's names are also printed in black cursive script. For added interest, light red ink is used behind each name to allow the names to really pop out of the image. Red hearts at the bottom of the scroll add a touch of elegance and unite the image.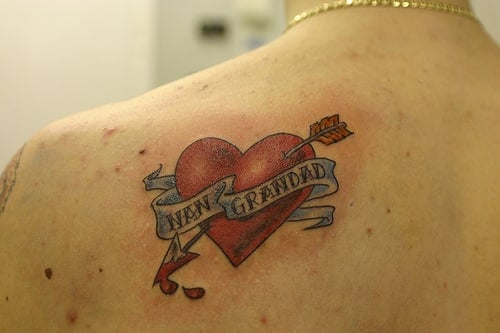 Classic tattoo ideas for men like this one are perfect for smaller areas. This classic red love heart with a cupid's both through it has been given an edgy update with deeper red ink, a flowing banner with black accents, and drops of blood on the end of the arrow itself.
This black and white tattoo design is a great choice for a first tattoo. One of our simpler designs, it features a lightly outlined scroll with 3 names inside it in cursive script. Gentle ruffling of the edges of the paper gives a realistic feel while shading and smudging of ink at the lower portion of the scroll adds depth.
This is a loving, iconic tribute to a departed family member. It features a child, in black and white, releasing a red heart-shaped balloon into the air. The name and death date of the deceased relative is elegantly inked in beautiful black cursive script on the left underneath the balloon.
Ideal for larger areas, this tattoo design shows a quote "Family First" in heavy black ink scrawled in a semicircle across the upper chest. Each letter is highly detailed with lots of curly lines and swirls to give this quote an artistic uplift.
This vibrant, full color tattoo depicts a vintage revolver in silver, gold, and brown surrounded by pinky-red spring flowers with deep green leaves. A white banner with the word "Dad" flows from the top to the bottom of the image. This style is best for small to medium areas.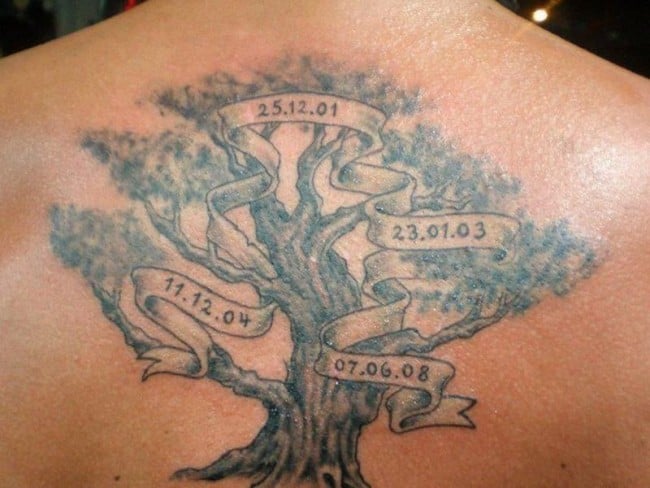 This black and white tattoo features an intricately drawn family tree, the leaves and trunk of which are highly detailed. The three main branches of the tree are all encircled by a banner that drapes through the tree leaves and down to the base of the trunk. The banner is inscribed with dates.
More family tattoos for men on the next page…