The art of tattooing has transcended generations. It is still a popular method of body art with young and old, men and women, every race sporting tattoos. It can be a cultural thing, a decorative thing or just for fun. It does not matter why you do it as long as you know the meaning and you are cool with it. Tattoos can be worn on all parts of the body if you are enthusiastic enough. The most common places you will find tattoos are the forearms, the arms, legs, back, ribs and the wrist. One other body part stands out for this artistic impression, the collar bone. Collar bones are common tattoos spots among the ladies and men. Tattoos on collar bones require a lot of confidence for one to flaunt because more often than not they will be visible. A tattoo on a man's neck is a statement of their confidence and manliness. It could be cultural or artistic.
Zeroing in on men, collar bone tattoos for men are a common sight. It takes a lot of nerve to get one on that area. Getting one on the collar bone for a man shows the degree of confidence you have. Depending on the kind of tattoos you spot, it comes across as self-assuring. There are different types of tattoos which can appear on a man's collar bone. Script or ornate tattoos are normally in grey and black ink, they are often simplistic and they express one's beliefs and allow one to express themselves boldly. Some men tattoo single words on their collar bones. They can signify motivation, inspiration or strength. It depends on the wording and nature of the tattoo, it could be bold or light. Traditional tattoos such as the banner tattoo, can be found on collar bones. They could signify something that is of significance in a man's life.
Many will suggest that a collar bone tattoo is painful. That what makes it agonizing is that it is a bony part of the body. This is all the more reason why collar bone tattoos for men distinguish them as courageous and daring, personable qualities that any man would want to be identified with. It depends on where the tattooing is taking place: a professional tattoo artist will make it tolerable and will know what to do not to hurt you. So among the reason why men tattoo their collar bones is to feel that they are daring, they have to take on the challenge and withstand the pain. They are also popular among men for aesthetic value. If a man is expressive in nature, they will want to show off and what better way to show off than a collar bone tattoo. Another reason could be cultural, for example they are supposed to get a tattoo as a rite of passage of some kind. It could be a great honor for a man to wear a cultural tattoo in a society.
The most important thing is to get a professional tattoo artist to work on the collar bone. It is a sensitive part of the body even if one is a man, so you have to get above average services not just for your health but for the quality of your tattoo.
Check out the best collar bone tattoos for men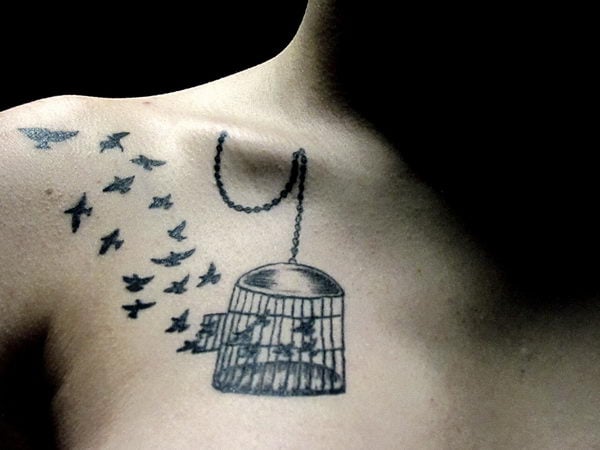 If you are looking for a collar bone tattoo that symbolizes freedom then this one can be your perfect choice. The black and white tattoo showcases an open cage from which little birds are flying away. The tattoo is meaningful and empowering at the same time.
This collar bone tattoo design is pretty intense. The tattoo features three nails that appear to be sticking on the shoulder. The tattooed shades and blood droplets give this one a realistic look. While it may not be for everyone, for people looking for a bit darker or Gothic tattoo ideas, it can be the perfect fit.
This quirky bone tattoo placed right on top of your collar bone is one of the best off beat tattoo ideas for men. If you are looking at getting a collar bone tattoo that is pretty uncommon and would help you make a statement, then this one is definitely your thing!
This one is definitely a statement tattoo. Spread from shoulder to shoulder this collar bone tattoo says, "Bred to Die Born to Live". Well, it may not be for the fainthearted, but it'll definitely showcase your dare-devil personality.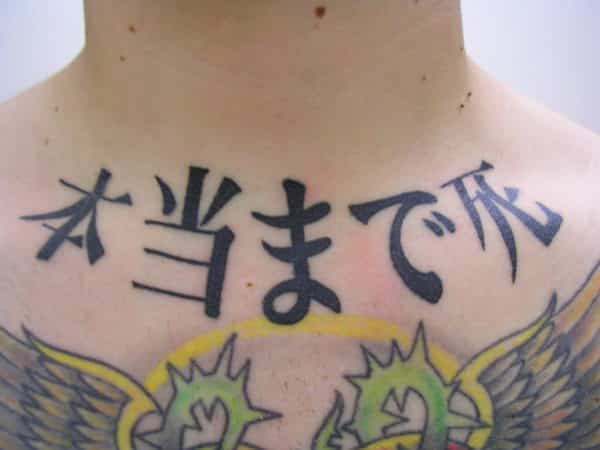 If you are looking for collar bone tattoos for men that showcases your Asian origin or love for their cultural heritage, then it can be the best one for you. This one showcases five Chinese characters. The best part is, you can choose the characters that you want and get them inked on your collar bone.
While you may think a rose has no place for it when it comes to collar bone tattoos for guys, but these pair of roses inked in vibrant red and green on each collar bone, is simply majestic. While the tattoos looks simply beautiful, they can have deep meaning for you.
This quirky tattoos spread across the chest is fun and funky. The collar bone tattoo design shows various hand gestures, which is pretty interesting. Painted in black ink, this tattoos will surely up your cool quotient quite a few notch.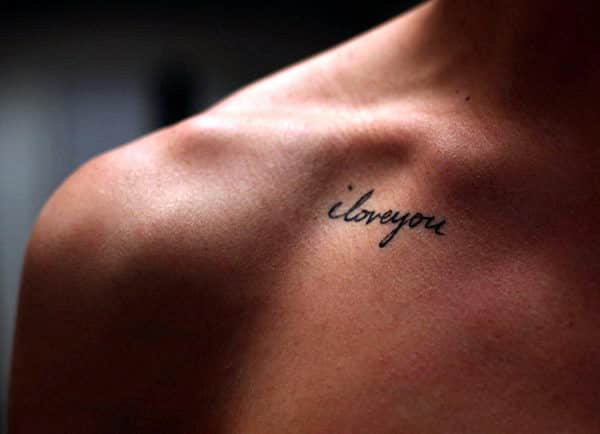 This tiny black tattoo can be the most beautiful expression of love. Of all the tattoo ideas for men, this one is the shortest and most simple. What better way to express your feelings to your loved ones than tattooing it on your body.
This collar bone tattoo design is pretty intense and mean various things to different people. Spread from one shoulder to another, this tattoo design shows two reindeer locked in a battle. The tattoo can be perfect expression of struggle and strength at the same time.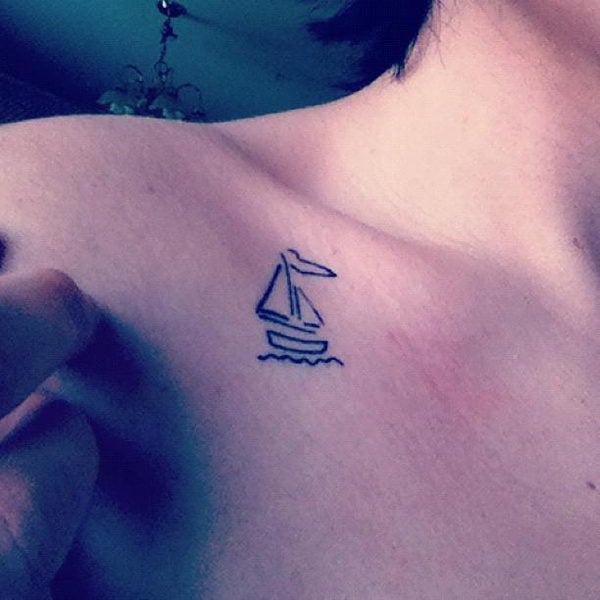 With a boat sailing through troubled waters, this tiny black collar bone tattoo is highly expressive. The design is pretty simple and thus is a perfect first tattoo as well. Inked right on top of the collar bone, this tattoo can be a positive reminder of all the hard times that you've successfully sailed through.
More collar bone tattoos for men on the next page…