Spine tattoos for men have a wonderful place, literally, in the world of ink art. With such great placement on the body's flexible core, a spine tat can be very dramatic and illustrate what lies beneath (bones, muscle), or be a place for fantastical art on a large scale. What better place for a snake, dragon or sinewy fantasy tree?
Why are Spine Tattoos Popular?
An inked spine can show off magnificent muscles along with tribal or totem art, an arrow, or a Celtic design. This placement is also great for lettering, especially Arabic or Asian languages. Bio mechanical designs work particularly well, some with fanciful steampunk or medieval skull imagery.
Phases of the moon are a celestial image that can work great as spine tattoos for men. They symbolize the cyclical nature of time and bring to mind regeneration and the constancy of life. Ancient Chinese symbols that can be used include dragons (a symbol of power), the yin yang symbol (illustrates the necessity of balance in all things), and the elegant symbol for longevity with the five "good fortunes" (wealth, health, longevity, love, and virtue).
The spine is also a central place for messages in the form of Roman numerals or meaningful phrases that morph into imagery. If music and soundscapes are important to the tat bearer, he can ink a whimsical image of headphones with the cord spelling out the words of a song or an expression of love.
What do Spine Tattoos Represent?
Nature symbols and the elements (earth, wind, fire, water) can bring a spine tattoo to life. Fire symbolizes transformation and purifying powers. Water is attributed with cleansing power and air is associated with learning, intelligence and thinking. Earth represents prosperity and sustenance. Combined, the four elements make a powerful statement of the critical energy forces that sustain life.
In Native American culture, the dreamcatcher is a popular symbol of protection from bad spirits that appear in dreams, it was originally used on children of the tribes. Tattoo designs in Native American culture often included birds and reptiles that were included along with the tribal clan name. Today, Native American faces, eagles, and feathers are popular spine tattoos for men that evoke the spiritual elements of various tribes.
Religious symbols abound with inked spinal art. The Christian cross, often with a Celtic design, evokes strong imagery as well as indicates a man's faith. Some people add scripture to a cross tattoo, while others add an image of Christ. The fish is another Christian tattoo symbol that can combine the Greek word for fish (ICHTUS) within the fish symbol, and is sometimes seen with a related bible verse about Christ making his followers "fishers of men."
The spine tattoo can also be humorous or whimsical such as a zipper, hands opening up around an image of the spinal cord, or someone or something trying to escape through the back.
Of course in addition to knowing what kind of image the bearer would like, it is important to know where the spine tattoo should begin and end. Often starting at the base of the neck, the larger tats go fully down the spine to the tailbone and offer a big canvas for the tattoo artist. Sometimes the spine tattoo focuses more on the upper spine and spreads over the shoulder area as well. Whatever a man's desire for an image on his spine, it is a great place to consider for ink art!
Check Out The Best Spine Tattoos for Men Here
This spine tattoo represents a zipper that unveils the spine at the top. The increasing shadows make it realistic and give it dimension and edge. It is ideal both as stand-alone tattoo or as part of a big design of the back.

These blue filled circles are placed across the spine. They come in different sizes and designs, just to give the tattoo an interesting twist. It is a softer tattoo that can match other blue ones.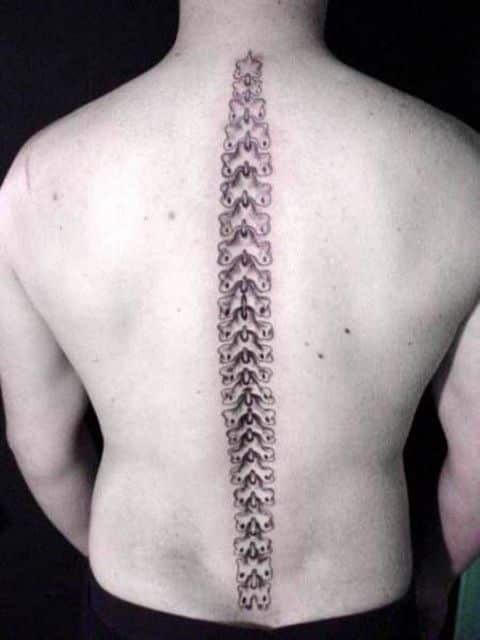 This apparently simple piece showcases the different bones of the spine. Each and every one of it resembles the real bones and it is beautifully represented using shades. Just like the real spine, the tattoo is not a perfectly straight one.

This geometrical tattoo offers a different perspective of the spine. Though it is an apparently simple one, the various gradients make it more complex and original. Each spine bone is different and it makes it a good geometrical tattoo.

The spine tattoo design won't go unnoticed. It makes us think of tribal tattoos, yet it is one of the tattoo ideas where the artist let his creativity shine. It looks great on muscular and well-built men with broad backs.

Such as tattoo is clearly for the bold men who aren't afraid to take any chances due to the fact that it stretches on the neck and a part of the head as well. Get it to always be remembered.

An open zipper that seems to be revealing the inside of the spine, along with some surrounding stitches that enlarge the overall tattoo. It is one of those central spine tattoo ideas that one can go for.

There is a pile of books across the spine and some of them have a number of a code. It can be successfully used to mark several important dates, as well as your love for knowledge in a unique way.

The symbols depicted here show the particular meaning that the overall spine tattoos idea has for the owner. It used plain black, without any effects and it focuses on delivering a message rather than creating a visual work of art.

While this can't be particularly regarded as a visual art that is aesthetically pleasing for everyone, it manages to be suitable both for men and women. It is raw, brutal and surprisingly realistic in an unconventional way.
More spine tattoos for men on the next page…