Man has been moved by the wonders of astrology for thousands if not millions of years. One of the most popular astrological signs is the Gemini, which is associated with versatility, wittiness, eloquence, intellect, youthfulness, adaptability and liveliness. These are strong traits that most men associate with – a feat that has made tattoos made from this zodiac sign quite popular. But more than just that, there are many more reasons behind the growing popularity of Gemini tattoos for men. We take a look at such tattoos, their significance and why they are popular.
The Twins
The design of twins primarily borrows its symbolism from the sun sign. You can get one with twin angels, twin boys, twin girls etc. Likewise, other twin layouts like twin snakes, twin birds and twin animals are quite popular. The main advantage of the twins design is that it can be presented using two different color combinations breaking monotony and creating a whole new world of imagination.
The Glyph
The glyph is a pictograph or hieroglyphic design emanating from the number two in the Roman numeral (II). As simple as it looks, it provides one with a wide variety of options making it possible to deliver a classy and imaginative design. Perhaps the reason why the glyph Gemini tattoos for men are popular is because roman number II depicts duality. Of course, its design isn't too fancy or complicated making it suitable for guys of all age cohorts. This pattern is best tattooed on the back, wrist or arm.
The Text
Yet another popular type of Gemini tattoos for guys is the Text variety. For instance, you can get worlds like "Proud Gemini" or "Gemini" tattooed. The text can also be accompanied by a simple design of the twins or glyph. For those looking to explore more tattooing options, you can get creative with the Gemini ambigram, which is extremely artistic and dynamic. As a tradition, the text tattoos are made in navy blue or black colors – but since tattoos are all about uniqueness, you can experiment with other colors as well. The fact that text allows one to use words and symbols makes it a popular choice among men who identify with Gemini attributes.
The Gemini Constellation
A well thought-out Gemini constellation pattern not only comes with a bit more excitement but also freshness. In order to make a constellation, the designer has to join stars in a systematic manner to portray the twins holding hands. A constellation design can only be identified if the stars are interconnected with lines creating the image of twins. You can take the fun a notch higher by getting one of the twins made on your arm and the other, on your soulmate's (However, this can only be a good idea if your partner shares the same Zodiac sign with you). The reason why Gemini Constellation is popular is because it offers a few more ways for one to express themselves. Men like it because it gives more options than the other three.
Check out the best Gemini tattoos for men
This is a simple, but eye-catching Gemini tattoo. Since it is a fairly simple tattoo and has no color in it, the cost would be very affordable. This piece has a nice, aged stone look and the cracks in it have a very realistic appearance. The shading helps add to the old stone look that makes this an excellent tattoo choice for a guy that is a Gemini.
This tattoo has a nice, aged stone appearance, complete with cracks and all. There is a scroll that lies behind the piece, which you can see extending out above and below the Gemini symbol. It also has a birthdate included in the center, which is a good placement for a loved one birthday, a wedding anniversary, and other important dates.
If you are looking to get a black and gray tattoo based on the Gemini sign, then looking at Gemini tattoos ideas can help make your decision easier. Here is a nice, detailed Gemini design that includes both the symbol and lettering spelling it out. The symbol has a nice elegant and stylish appearance to it, and the lettering underneath stands out with black and gray shading behind it.
Here is a very detailed gemini tattoo design that will not be missed once it is inked into your skin. In the center of this piece the Gemini symbol really pops out, and the extravagant design behind it really adds to it. In the background you can make out a detailed tribal type sun, and you can also see a little heart right underneath your sign symbol.
Gemini tattoos, and other Zodiac signs have long been popular ideas for both men and women, and they are very easy to alter so they are unique to you. This tattoo is a very simple design, but it is also a one of a kind tattoo. The linework is very strong on this piece of ink, which is extra important on simple designs like this. The symbol is decorated inside with a line pattern which gives it an appearance that will stand out to all who see it.
Beautiful women have been a staple of popular tattoo ideas for men for many years, and it is a trend that will always remain popular. This chest piece features 2 beautiful women with flowers in their hair. Each side of the chest perfectly fits one women, giving it a mirror type appearance. To add to the tattoo there are flowers filling out below the women's faces, and they are complete with leaves.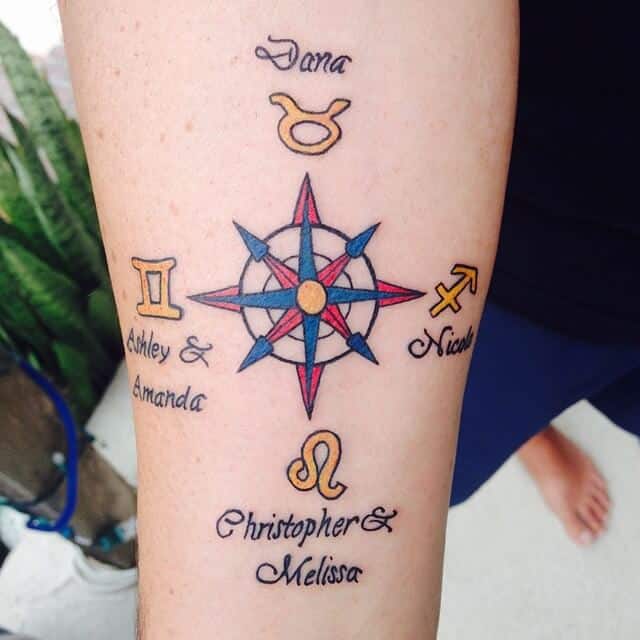 Here is another option for your Gemini tattoos idea, which also incorporates other astrological signs of loved ones. This tattoo also has some nice colors in it so it cannot be missed. In the center is a nautical star, with the North, South, East, and West arrows pointing to a different astrological sign. In addition to the sign, each one has a loved ones name above it. If you are a Gemini guy then this may be a good idea for you.
This tattoo is a one of a kind design for a male Gemini. It features two women facing each other, with one facing up, and the other down. It is a black and gray piece that has a lot of detail. The Gemini astrological sign is incorporated on a medallion which drapes over one of the woman's hair, being attached to a chain. It is a perfect tattoo to leave either black/gray, or you can color it in.
Here is an example of astrological signs for couples. In the image you can see the ink on both the woman and the man, and with the bright colors they are stunning tattoos. The artist did an amazing job to intertwine the 2 different signs, which automatically makes you think of a couple in a loving embrace.
With so many different Gemini tattoos for guys, you will have no problem finding an idea that best fits your personality. There are many awesome designs out there whether you are looking for a large or small tattoo. This particular tattoo is a larger tattoo that fits perfectly on a guys leg. It includes the Gemini symbol with a scroll behind it, and then there is a birthdate in the center.
More gemini tattoos for men on the next page…