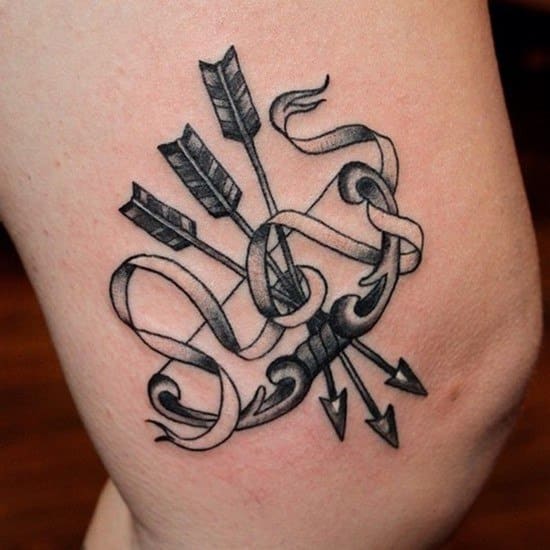 This black ink tattoo depicts three arrows in a bow tied together by a ribbon. Together, they represent strength and determination, depicting their ability to break through any barrier in your path. The intricate shading further adds to its charm.
The small bundle of five arrows on the upper arm represents power and strength – a valuable quality in any man. Furthermore, this simple black ink tattoo on the upper arm can be easily hidden under any sleeve to ensure the perfect workplace decorum.
If you're looking for great tattoo ideas for men, you might've finally found it. This black ink tattoo is a simple design for those who don't want too much ink. It shows two crossed arrows – a symbol of friendship. So this would be the perfect tattoo to get with your pal!
The bow and arrow depict direction, as well as the ability to propel oneself towards goals and ambitions. The simple design looks elegant and sophisticated on any man, whereas the black forms a brilliant contrast with the skin tone for added appeal.
Adding a splash of color, this tattoo shows five arrows heading in a single direction with one heading towards them. It depicts the rebel personality who is unafraid of going against the flow of society. After all, isn't it only those who think and work outside the box that truly manage to make a name for themselves?
If you're looking for the gorier tattoos, then this might be more your style. With the colorful arrow piercing your skin, there are splashes of blood to be seen all around!
This single black arrow on the chest depicts determination and ambition in life. It can be easily concealed for the more formal settings, and yet the simple design has an elegance of its own!
If you love wrist tattoos but don't want to go for something too elaborate, check this one out. The single black arrow shows off your ambition and determination in life, whereas the small design isn't out of place even in the more formal situations!
Here, five arrows circle the wrist to create a unique representation of determination and strength. While it makes an quirky wristband, it also an elegant design in ink. The intricacy in each arrow only adds to its charm.
This tribal arrow design represents raw masculinity at its finest. It stands for determination and strength, depicting imminent success in all of life's endeavors. The minimalist black design also ensures a far more poignant contrast against the skin.
More arrow tattoos for guys on the next page…