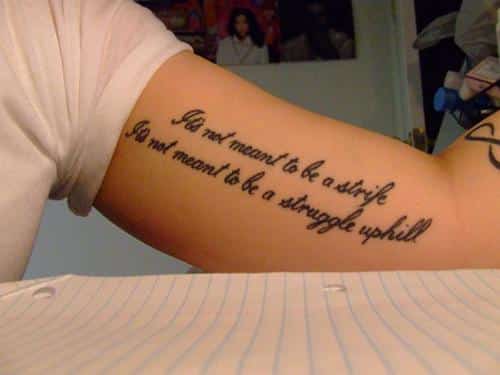 These words of encouragement acknowledge that life can sometimes be a struggle. Featured in thick cursive print, this tattoo is perfect for those wanting a comforting reminder in dealing with life's difficulties.

This tattoo is 2-in-1! With 2 quotes, one on each arm, this quote tattoo uses a cursive font with wavy lines coming off of the main letters, underlining the words. It's perfect if you're looking for a motivational saying to see you through each day.

This fun tattoo features the words "Chin Up" in a modern, bold font. In this photo, it's featured placement is under the chin, as a literal reminder to keep your chin up, even on bad days.

A large-size tattoo, flowing cursive script is used for this uplifting quote to remind you that bad times will pass. This tattoo extends from shoulder to shoulder in a slight arc shape.

This special quote tattoo design uses a quote from Peter Pan, the classic children's book about the boy who never grew up. Printed in small black type and lowercase letters, this is a modern style, perfect for larger areas.

This detailed tattoo integrates words and images. In light cursive script, the words "Only the Strong Survive" are featured above and below the image of bloody knives and thorns.

In a modern, thin black font, this medium to large size tattoo features a powerful quote about the importance of standing up for what's right. It's a perfect tattoo idea for guys needing encouragement.

This stylish script features a combination of larger cursive letters with more modern, smaller script. The all-black design, lightly inked, has a lot of flow and is ideal for smaller areas.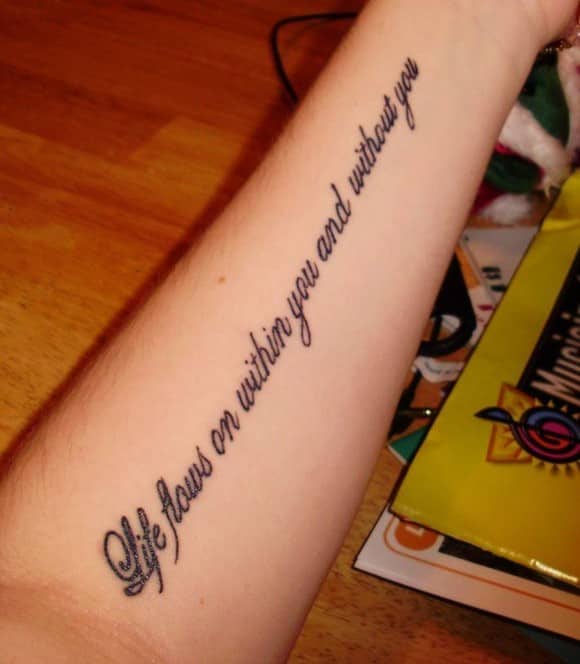 With its dark black ink and thin cursive script, this tattoo quote is unique and peaceful. Featured here on the forearm, it works best for small to medium areas.

In a curved yet modern font, this heavily inked tattoo features a quote about the all-seeing power of love. This is perfect for guys looking for a romantic tattoo, and it works well in small areas.
More tattoo quotes for guys on the next page…