If you're looking for owl tattoos for guys, this might just be it. Despite its adorable and fluffy appearance, the sharp claws cling on to the branch. The tattoo depicts an innately perceptive nature and is done entirely in brown with a splash of green.
There is nothing more deadly than an owl, and this fierce black ink chest tattoo perfectly depicts that. With the moon in the background, the piercing eyes stare back at you, and the feathers itself blend into black.
Owls don't always have to be depicted in a fierce manner. That's why this colorful and artistic portrayal of the master hunter is a brilliant tattoo idea for men. The contrasting splash of colors as well as sketchy lines capture the essence of the bird, portraying its wise and astute nature.
This tattoo on the back of the hand is perfect for those who like to show off their ink. Done entirely in shades of black, it stands out due to its juxtaposition with bare skin. Moreover, the owl also makes a great tattoo for men, depicting a strong, masculine energy and an insightful nature.
Aligned perfectly with the forward-looking face, this neck tattoo is sure to turn heads. The side-facing owl is depicted in subdued hues of brown and black while the striking eyes are inked in yellow-green. This gives it a penetrative glare, portraying the wise and perceptive nature of the mighty bird.
With the moon in the background and the dull pine-cones and leaves making up the foreground, the owl is silently perched on a branch. This colorful tattoo depicts the patience and resilience embodied by one of the world's most deadliest predators.
Owls are magical creatures, and nothing represents that better than this tattoo with an emphasis on cool colors, a starry background, and misty clouds that depict inner power. The bird is entirely at peace, representing tranquility and wisdom.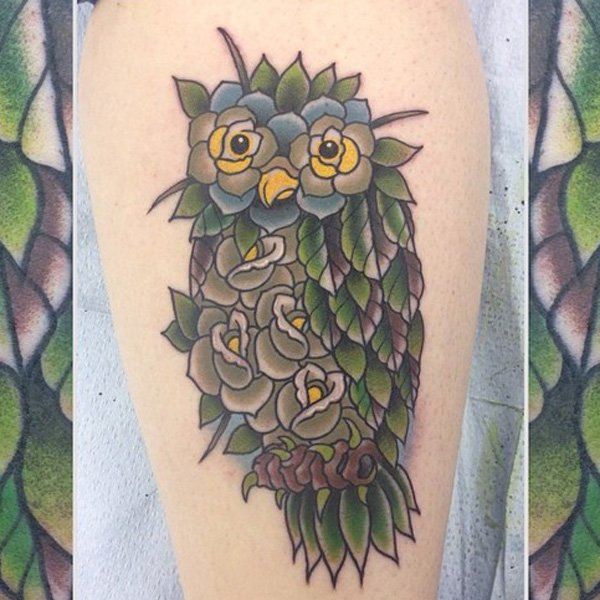 This stylistic depiction of the owl is created in varying shades of green with a splash of light blue and yellow. As the bird is made entirely from leaves, flowers, and branches, it depicts the beauty, power, and wisdom of the natural world.
Whoever said that sober colors were more masculine could not have been more wrong. This chest tattoo depicts a beautiful array of colors with the bird in full flight. The third eye is a concept borrowed from Hindu mythology depicting an extremely perceptive nature which is able to discern what others can't.
With the face in clear focus, this stylish owl tattoo idea is perfect for men. The eyes show a sense of power and conviction which should be feared by all, while the blue background represents a calm and collected nature – making it one of the most dangerous combinations in the world.
More owl tattoos for guys on the next page…