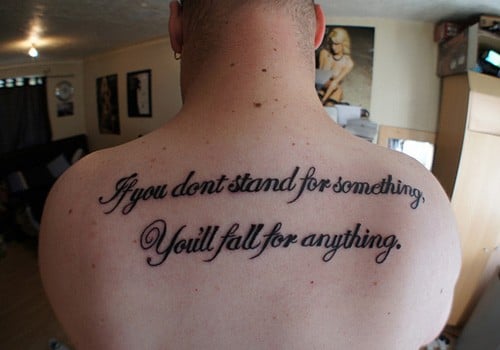 People look for inspirational words to make tattoos, here we have a perfect example where the person has tattooed the line "If You don't stand for something you will fall for anything. This is a great line that could be a reminder for the person to stay alert in life and defend what matters the most to them at all costs.
Some words are sources of unlimited inspiration like these ones "The World is but a Canvas to Your Imagination", here the artist has used a very thin and minimal font to ink these words on the ribs. This makes a great tattoo idea for men as it is not very loud and it is mostly hidden under the arms.
Expressions of emotion always make great tattoo ideas, here we see a similar tattoo where the artist has inked the words "The time that withers me will wither you". There is an intense emotion attached to the words, the person is trying to symbolize something important to them through this tattoo.
Mean love to have quotes tattooed on their bodies, especially the ones that hold inspiration. Here we see a tattoo of the words "Live as you'll die tomorrow, learn as you'll live forever" this is very meaningful as it reminds the person to not waste time and also teaches him to practice patience.
Sharp quotes that reflect a rebellious or a defensive attitude are also quite popular with guys, here we see a perfect example of such a tattoo where the words "Only You Can Define Yourself" are inked on the chest. These words remind the person that no one except themselves can define or judge them.
This is a tattoo design with the words "Love is worth only a mother" written along the arm. You notice that it's written in bold ink and also easy to read. It displays the intended message clearly. This is definitely a great tattoo idea for men.
"Do what yo love" is the message and it certainly needs no interpretation. This is a very meaningful tattoo design especially for the adventurous man who likes to follow his dreams. The font is also easy on the eye; probably a great way to pass across such a message.
Such a tattoo design epitomizes the real struggle of a man and measures his true worth. It's another amazing design for men especially with its deep meaning and symbolism. The artistic nature in which it's written also makes it very appealing to the eye.
"Love without cause" is a wonderful tattoo idea for the romantic man. It's written on the inner part of the arm with some nice font to portray a simple yet powerful message. The absence of other images around it helps to draw attention to the main statement.
This a great design with an aura of rebellion around it. It's actually more of a declaration in the unapologetic manner in which it is written. "I am what I am" is the message and it needs no clarification. This is another meaningful tattoo for guys.
More meaningful tattoos for guys on the next page…