When it comes to tattoo ideas for men, this one is certainly a favorite amongst them. The tattoo with a gun like this is special and will turn heads wherever you go.
Stretching out on your back this gun tattoo idea has extensive details with the smoke as good as real. The tattoo displays your love for the art of hunting. The gun is shaded in a beautiful way highlighting it on your back.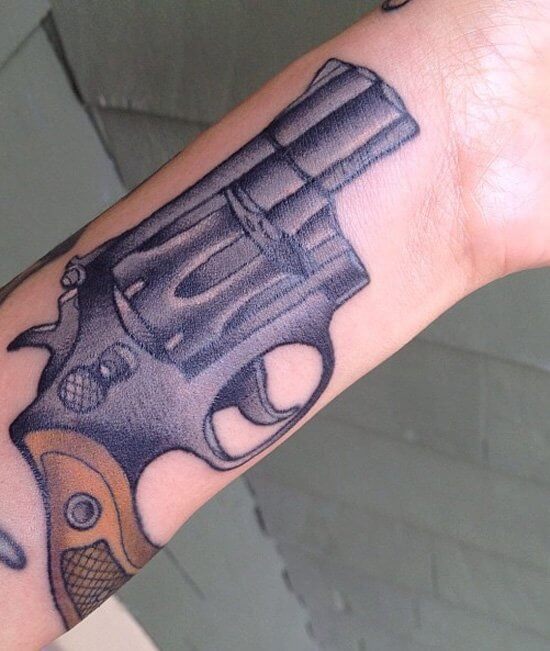 A pint-sized pistol is something everyone wants which can be easily carried without lifting the weight of a normal one. This magnified gun tattoo idea looks great on your arm with its charcoal black shading and its detailed leather grip.
Don't you just love vintage guns? Ask any gun enthusiast, and he will say his dream is to own a vintage gun. With gun tattoo ideas out of this world you don't have to spend a fortune to own one but just get it inked, with designs that intricate it looks as beautiful as it sounds.
Ever imagined yourself as a secret agent with a gun strapped to your legs. This tattoo will fulfill the fantasy as its leather pouch which holds a gun looks nothing short of astonishing. With details so neatly drawn out in this gun tattoo idea, you will feel like it is a real life gun.
Everyone loves a classic rifle, a hunting rifle nonetheless. With finishing and details so powerful that it looks like wood this speaks out for itself. To keep calm and carry on are the words inscribed perfectly matching the feel of this tattoo idea.
So ever thought you would be a sharp shooter handling the Magnum Sniper for your country. This gun tattoos idea is one of the best when it comes to showcasing your love for rifles. With detailed design and shadowing it looks surreal.
Another one from our vintage collection the beautiful design on the gun tattoo ideas we have it flows perfectly and looks beautiful, and with its perfect shading, it sounds like you have it on you. A classic of the genre this one is for all the gun lovers out there.
An automatic revolver with every detail there is on the real one this one is a winner when it comes to inking your lower back. The sheer realism of the gun and its grip make it one of the best tattoos ideas.
Who doesn't love an embossed revolver? With beautiful design and the perfect amount of shading coupled with the smoke coming out its nozzle, it looks embarrassingly beautiful. This beautiful gun tattoo will look staggeringly attractive on your body.
More gun tattoos for men on the next page…