These all black dragon tattoos looks great individually as well as together. The large dragon on the body sports a mix of tribal and Polynesian design elements and features a full dragon in a traditional oriental pose. The small tattoo on the bicep features a dragon head which successfully maintains a theme with the body tattoo.
This tattoo has an authentic Chinese look. Covering the chest and the abdomen area, the tattoo has all the stylistic elements that are found in traditional Chinese dragon art. The different shades of orange combined with the darker shade of the scaly body look amazingly well.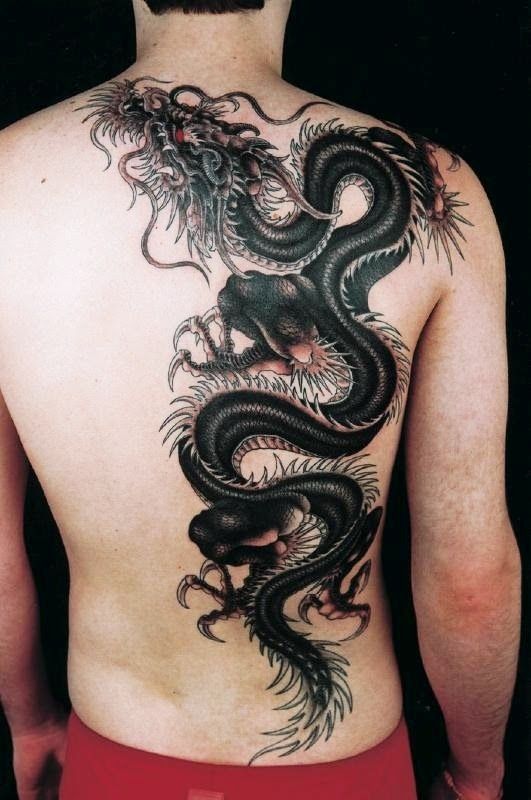 One of the most beautiful tattoos on our list, this shiny jet black dragon tattoo covers almost an entire one side of the back. The tattoo is colored glossy black which beautifully depicts the scaly sheen of the dragon's body.
Traditional red, blue, and yellow is beautifully amalgamated to give life to this oriental style dragon tattoo. Meant to envelope the upper portion of an arm, the tattoo features beautifully colored flowers and other elements which add to the depth of the design.
This tattoo covers a portion of the chest and flows down to cover the entire upper portion of an arm. The tattoo depicts a red dragon flying in the clouds has numerous oriental stylistic elements. The tattoo also features a yellow lightning bolt and a deep black night sky in the background.
One of the most iconic images in Chinese mythology is a dragon holding a divine pearl. This is one of the most ancient depictions of a dragon. The tattoo is almost entirely black with blood red dragon wings breaking the monotony.
Taking a break from oriental designs, this arm tattoo has a very modern and western design. Apart from the yellow of the dragon's eye, the entire tattoo uses a single color. The highlight of the design however, is how the wings flow into the chest and the back.
Beauty often lies in the simplest of designs. This small dragon tribal tattoo is a very easy design that almost any tattoo artist can pull off successfully. This all black tattoo also includes the entire body of the dragon entirely made up of tribal strokes.
A jet-black dragon pouncing over the shoulders, the artist intentionally restricted the design to a single glossy black color. The dull black tribal background and an almost-metallic dragon with shiny dark scales on top give the design a great new dimension.
Perfect for complementing a well developed arm, this black dragon tattoo is perfect for people who love simple tribal designs. The thorny body of the dragon is beautifully drawn and it brings a sense of aggression to the overall design.
More dragon tattoos for men on the next page…