This is a lovely design of a dove holding an arrow, showing passion and aggression towards reaching a certain goal in life. It also indicates victory and success. Something nice can be written around it for an extra effect.
This wonderful dove tattoo gives look of a geometrical design. The wings of the dove are widely spread just like the messenger of God which has come to spread love.
Dove has always been a messenger of peace and love and has religious importance. This amazing tattoo with a cross is beautifully colored. It would be a great idea for guys to have it on their arm
This tattoo shows a dove flying out of the darkness. This dove indicates courage to fight against all odds and negativity in the life. This tattoo marks great achievement of the dove giving great confidence to the mind of the person having it.
This is a nice little tattoo with a dove and a beautiful colorful flower. There is a rising sun behind the dove indicating a new beginning or dawn in life. This is a well colored, beautiful tattoo.
This tattoo design has a flying dove, holding a set of keys. These are the keys of luck, keys of fortune.
Also sometimes a couple has a design with one partner having a lock as a symbol and the other one has a set of keys. It shows love and partnership.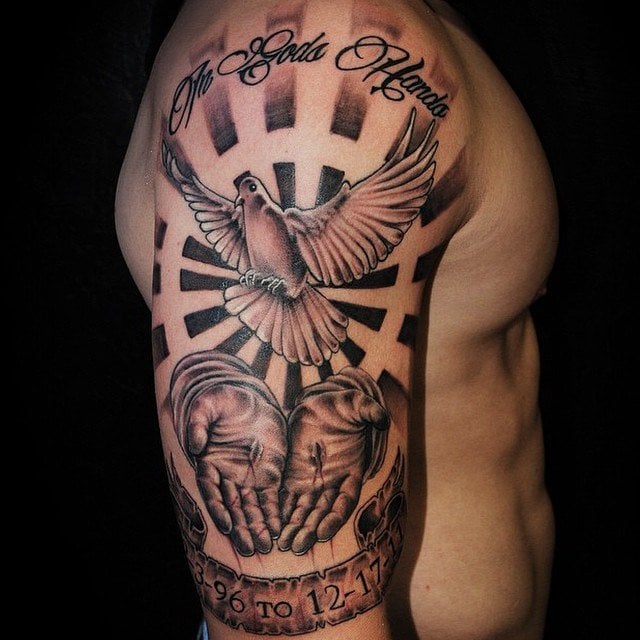 This dove tattoo is a memorial tattoo which is made in memory of someone who is not with us anymore. The date of birth and the date of death is written in such tattoos.
This is a beautiful dove design with a dove sitting on a mirror with olive branches around. Its shades give it a very natural look.
This couple of dove indicates love and partnership. It shows the promise of being together till the end of the time. It is usually done by someone who is in love.
This flying dove looks like an angel and is a beautiful symbol of love, peace and freedom. It shows great enthusiasm, energy and happiness.
[the_ad id="18525″]