If you're someone who shirks away from the ordinary, this one is for you. While the black ink compass stands out against the bare skin, it is the placement that makes it stunning. The simple wrist tattoo is situated off-center, depicting your love for the unconventional.
This phenomenal compass design stands out because of the splash of colors in its background. The bold black lines are transformed into an impressive design as the bright colors ensures that the compass catches the eye.
While the compass has become the symbol of travel and direction, it doesn't always have to be simple. In fact, this tattoo just goes to show that a morbid take on this popular design looks just as cool. Done in shades of black and red, it depicts the compass against a scene right out of the horror movies. So if you're searching for a scary compass tattoo, this one might be the answer to your prayers!
This incredible tattoo depicts a seemingly 3-D compass placed upon the world map. With ample detailing given to both objects, the entire scene comes to life with ease. It is perfect for those who see travel as their way of life.
A beautiful way to ink on love, here you see the compass directing you towards your soulmate. Placed amid roses, the words 'Wherever You Will Go' stand out to represent that the two of you will forever be together.
Inked in a stunning black and white with red overtones this compass tattoo incorporates classic naval imagery, with the sea compass and anchor, on a serene background of white orchids. The stark contrast of the two really gives an emotional context to this piece.
This detailed compass portrait done in deep grays, bold blacks, and bright whites, showcases the artist's exhaustive and thorough work to really bring this tattoo to life. The colors chosen for this piece allow for an air of moodiness and intelligence, the perfect ambience combination when considering tattoo ideas for men.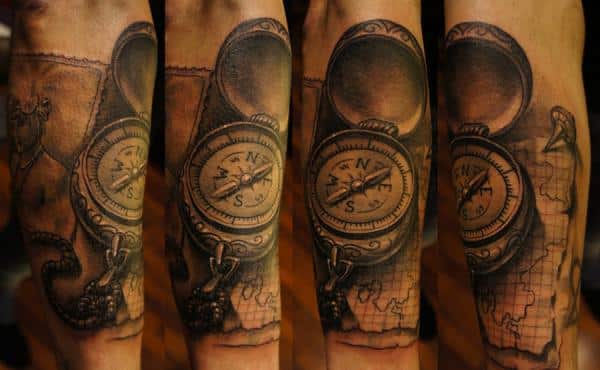 Beautifully rendered in vintage colors this piece uses its vivid imagery to set the tone and hint at the story behind the ink. The browns and soft blacks of the map and photograph in the background really allow the greens and yellows of the compass to pop visually.
One of the more visually striking compass tattoo ideas, this piece inked in old school black and grays demonstrates the artist's exquisite attention to detail not only in the compass, but in the tiny nuances of design in the tools and map background.
The use of classic tattoo artistry and black and gray ink in this piece makes a beautiful setting for the emotional subject matter of this tribute tattoo. With meticulous attention paid to the details of the compass, rose, banner, and text, this compass tribute tattoo comes off looking radiantly elegant.
More compass tattoos for men on the next page…