This is one of the smaller tattoo ideas. It features amazing symmetry as the head sits at the center of the design on the side of the upper arm. Three tentacles run on either side of the arm. The octopus tattoo has beautiful reddish and dark blue designs.
Show amazing body art wit one of the longest octopus tattoos. It starts on the upper arm just under the shoulder. Tentacles intertwine and run downwards. It ends just above the palm. There are careful patterns and arts drawn in plain black.
The octopus tattoo idea encompasses three body parts- chest, shoulder, and upper arm. The head of the octopus sits on the shoulder while a couple of tentacles drop towards the inner part of the elbow. More limbs spread across the chest above the nipples.
This is arguably the most ingenious octopus tattoo designs. It boasts of a large single tentacle starting from the inside of upper arm. The dark limb then drops to the inner part of the elbow and advances to the area above the wrist.
It is easily one of the most artistic octopus tattoos for guys. The large head of the animal rests on the inside of the upper arm. Its large eyes are pronounced. Reddish black tentacles drop to the inside of the lower arm, surrounding it beautifully.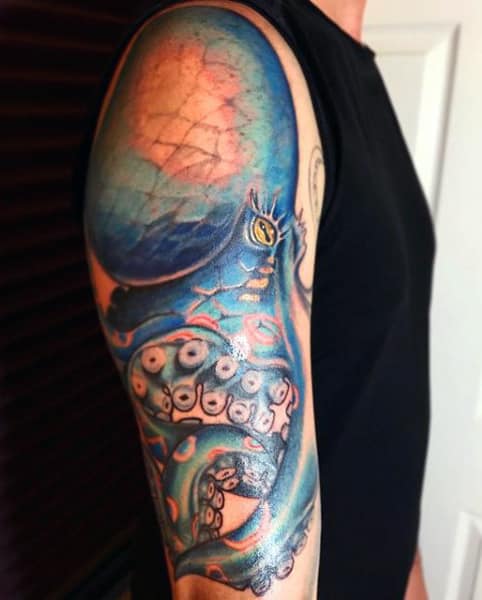 A large head is predominant on perhaps the most beautiful octopus tattoo designs for men. While the head sits squarely on the shoulder, parts spread downwards, and outwards covering the entire upper arm. The whole tattoo features deep blue and pinkish designs.
You will like this octopus tattoo drawn on the upper arm just under the shoulder. It is unique, because the octopus seems to trap an astronaut firmly with its limbs. The octopus and the space man have delicate art in dark and light black.
This design looks like many octopus tattoos drawn close to one another. However, it is a single tattoo that sits on the entire upper arm and part o the shoulder. It has variations of red, deep blue and black that emphasizes masculinity.
Orange, red, and blue designs sit throughout the octopus tattoo idea. The head is drawn at the middle of the upper arm. Tentacles run downwards and end at the elbow. More limb crawl to the shoulder. The tattoo's colors and patterns are amazing.
Few octopus tattoos for men have this ingenuity. The head of the octopus is drawn on the top most part of the chest on one side. The body runs to the center while tentacles spread towards the other side of the shoulder.
[the_ad id="18525″]