It is among the most incredible octopus tattoos for guys. The head is expertly positioned on the shoulder with its eye seemingly peering at you. Some of its tentacles spread across the chest just above the nipples. Others run on the upper arm.
You will see few octopus tattoos for men that are more complex than this one. It predominantly occupies the upper arm encircling it beautifully. It has artful black designs and accentuated by reddish flowers. The tattoo starts just near the chest and ends at the elbow.
You will fall in love with this one, as it is one of the best tattoo ideas. Its rich blue complexion starts at the chest, runs across the elbow, and drops all the way down to the wrist. Inside are flashes of black and red.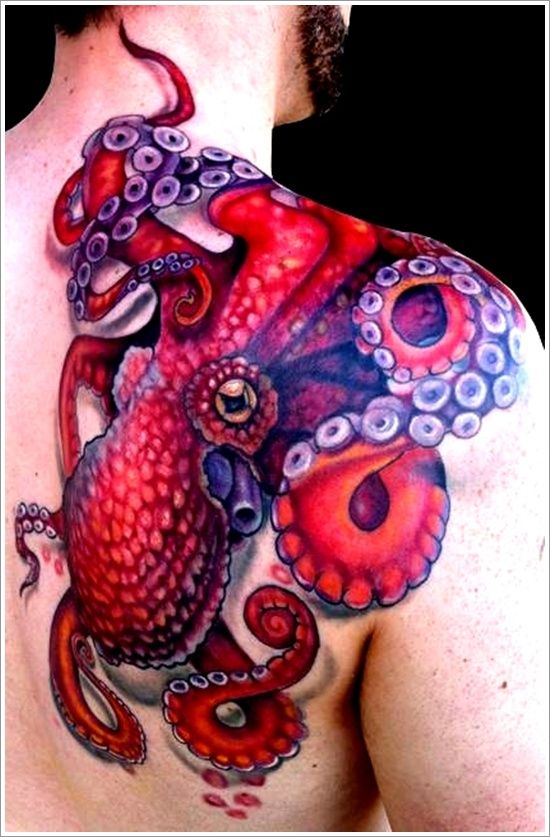 The octopus tattoo features a deep red body. It is drawn on the upper back just beside the shoulder. From its large body and features, it appears to be a mature octopus. A tentacle runs behind the neck to the hairline at the back of the head.
It is rather a scary octopus tattoo. The animal's large head and peering eyes are predominant at the person's back. Most of its tentacles run across the upper back. Some travel towards the tricep area while the rest spread to the other shoulder.
It is perhaps one of the simplest tattoo ideas. It features a seemingly young octopus on the chest just above one nipple. It is simple because it does not feature complicated designs. The head sits at the center while limbs run upwards and downwards.
If you like large tattoos, this octopus tattoo idea will mesmerize you. It is a large octopus emblazoned on the entire back. The head sits on one shoulder while the other parts spread delicately on the back of the neck, mid and lower back.
The octopus tattoo design is drawn on the side of the body around the rib cage area. The head is just under the armpit area while the tentacles spread downwards. One tentacle runs menacingly towards the side of the tummy. It ends just above the pubic area.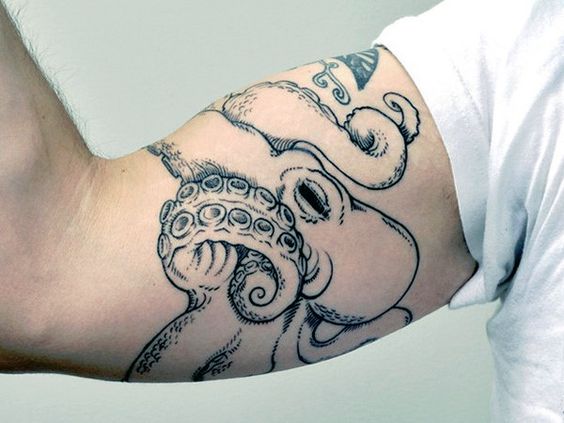 It is one of the unique octopus tattoos for guys, as it accentuates the muscles on the upper arm. The tattoo encircles the triceps and biceps with tentacles featuring delicate art. It is plain black with some areas more emphasized than others are.
This one illuminates the shoulder with plain black beauty. For this reason, it is one of the most creative octopus tattoos for men. Its head sits on the part just above the elbow. The tentacles spread upwards towards the shoulder. Some enter the chest area.
More octopus tattoos for guys on the next page…