This colorful tattoo of a squid with its tentacles thinning out upwards can be primarily used for showing off and in other cases, for inspirational purposes. The spiral limbs moving upwards can be a source of encouragement to the wearer who has set the sky as the limit for his life goals.
A scary octopus tattoo covering the upper and lower arm area is a sign of bravery and ability to different challenges by using a wide range of methods. This sea animal has eight tentacles that it uses for survival. The wearer of this tattoo a lot of ways to deal with challenges coming his way.
The daring octopus design inscribed on the shoulder with its tentacles not spreading outwards but rolling within the shoulder limits is a sign of fulfillment. The wearer of this tattoo uses the tattoo to show him how much he has fulfilled in his lifetime and how tough it was to finally make it.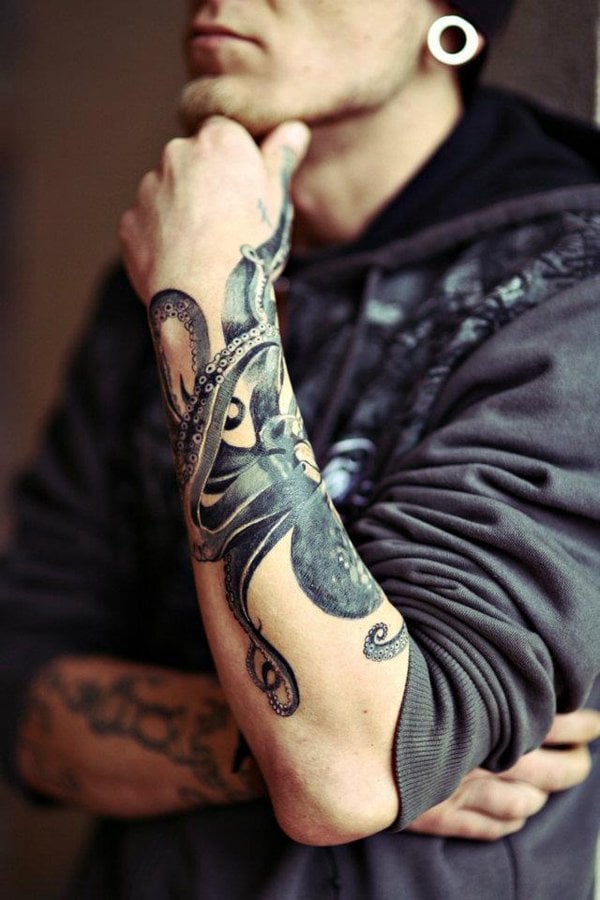 A lower arm tattoo of an octopus perfectly encircling the arm is a representation of courage and can be used as a source of inspiration by the wearer. With this tattoo, every time feel low and look at the octopus a feeling of self-reliance and bravery should fill you.
This colorful Japanese tattoo covering the arm looks scary and is clear sign that the wearer is a no-nonsense guy who is ready to fight back when rattled. It is a show of braveness and ability to tackle challenges in different ways.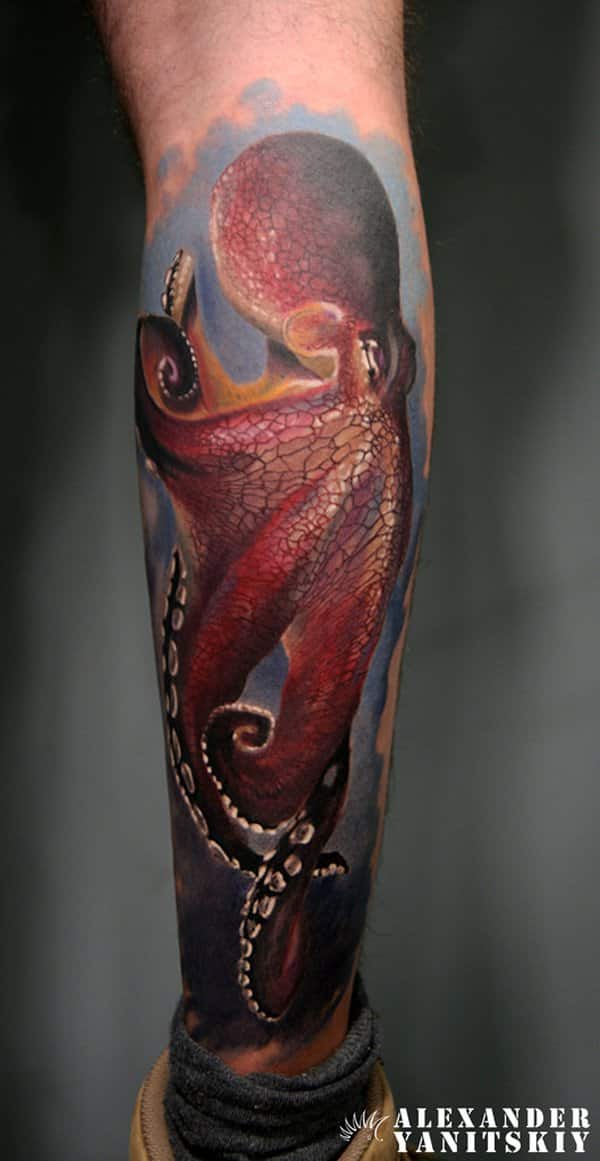 The octopus tattoo design is drawn on the back of the arm. It starts just above the elbow, where the octopus head is seen and drops downwards up to the wrist. It features bright red color, black tentacles, and an underlying grey.
This is one of the unique octopus tattoos that is drawn on the chest. It sits just above the nipple and occupies one side of the body. It features a creative black accentuated by blue and small indications of glowing pink.
It is one of the most simple octopus tattoo ideas and should be easy to executive. There is just black outline of the octopus on the upper arm. It starts from the shoulder and stretches downwards as the tail touches the bicep area.
Another beautiful octopus tattoo idea as the design features plain black. It occupies the shoulder and runs smoothly across the upper back. There are meticulous patterns of what appears to be antique art inside the outline. A tentacle flashes across the upper arm.
The amazing octopus tattoo design features expertly interlocked tentacles. The main body sits on the chest just above the nipple towards the other nipple. It features deep green and black patterns. The limbs have a mixture of red, black, and reddish designs.
More octopus tattoos for guys on the next page…