Some very thoughtful quotes can make good and meaningful tattoo ideas, here we have a sharp quote which says" Intelligence Without Ambition is Like a Bird Without Wings" This makes a brilliant tattoo for the forearm and the artist has even used a humble font to keep the design minimal and meaningful.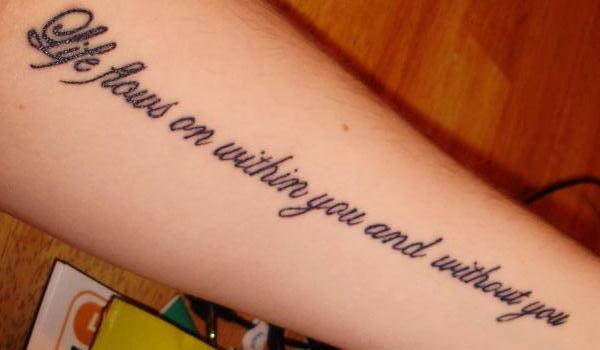 Sometimes in remembrance of a loved-one people get quotes tattoos on their bodies that can give them strength and motivation, Here we see that the artist has inked the words "Life Flows on Within You and Without You", This could mean that the departed person lives on within their memories and also expresses how much they are missed.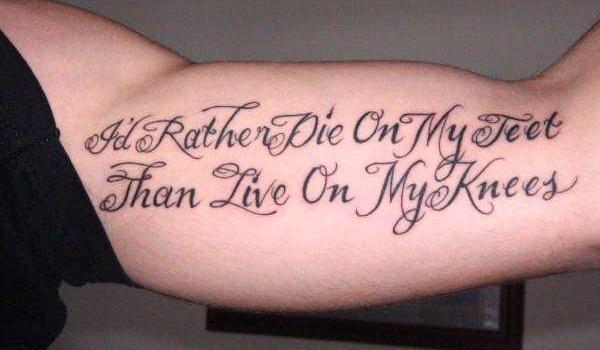 Proud quotes and sayings have become quite a popular tattoo trend these days, here we have the words "I'd rather die Than live on my knees" inked on the inner side of the bicep. the Artist as made great use of the available space and has spread the words with a brilliant cursive font which is adding to the overall appeal.
When thinking of meaningful tattoos for guys this one is a great option to consider, it has got two words tattooed on each of the wrists and they read as " Loyalty" and "Honesty". The artist has not used any special colors or shading effects since the tattoo speaks for itself and is best kept minimal.
People usually take great pride in the pain that they have experience and risen from, this one is a great example of a similar tattoo where the words "Pain is Temporary" are inked on the bicep. The artist has used a special shading technique to give the overall tattoo an amazing shining effect.
Teens love to get flashy tattoos that stand out as an intense expression of emotions, where we have a punkish themed tattoo of the words "I'd rather be hated for who I am than be loved for who I am not". The artist has captured the punk theme by adding a few bloodstains which are creating a great effect with the classic typewriter font.
People want to get tattoos that inspire them and remind them constantly of their goals, here we have a fantastic example of such a tattoo where the artist has inked the words "Creativity is allowing yourself to make mistakes, Art is knowing which ones to keep" it look great and the unique black and white effects are making it stand out.
Quotes from movies and books have made their way to becoming tattoo ideas, here we see a brilliant example of a movie line which reads as "If you want peace prepare for war". Here the artist has used a nice matching font which adds to the theme and has also made a small pistol in place of the letter "W" in the word War.
Some meaningful tattoos for men are made very minimal because they don't need decorations because of the deep meaning they hold, here we see a calf tattoo which reads "The Journey is the Reward". These lines suggest that people should not keep high expectations, the experiences they have in their journey is their only reward.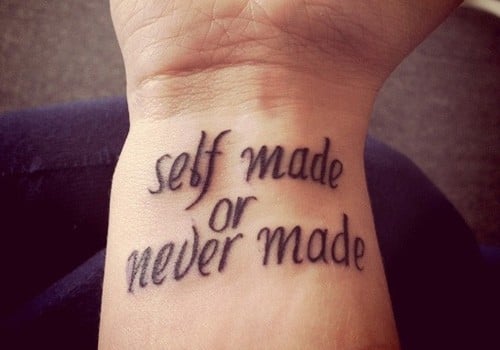 Proud words are a symbol of power and independence, here we have a similar tattoo of the words "Self-Made Or Never-Made". This holds a deep meaning and inspiration for people who have made their way through difficulties and emerged as powerful people, this must be considered while looking for meaningful tattoos for guys.
More meaningful tattoos for men on the next page…