Unique individuals will know exactly what this tattoo is talking about. It is dedicated to everyone who feels special and wants to make a difference in the world. If you feel one-of-a-kind, this can give you the power you need.

Fear can paralyze you and prevent you from having an awesome life. The owners of this tattoo know this and they are ready to face the challenges of the world. They won't let fear control their lives any longer.

This is one long quote tattoo for men, which covers a large part of the man's body. It establishes the main values and goals in life so it can serve as real life lessons that the owner wants to remember.

When it comes to quotes, tattoos ideas never fail to impress, though they usually lack astonishing complexity. It is all about the meaning here and this tattoo will be there to remind you of feeling every moment and enjoying what life has to offer.
A passage from the bible can be tattooed as well. This one is integrated in a remarkable star that looks as if it is cracking the skin open. Within the star, the quote looks as if it's a page from a book.

The owners of this tattoo design sure don't take 'no' for an answer. They are always willing to push themselves and to push any limits they might have to face. They are the risk-takers that everyone look up to.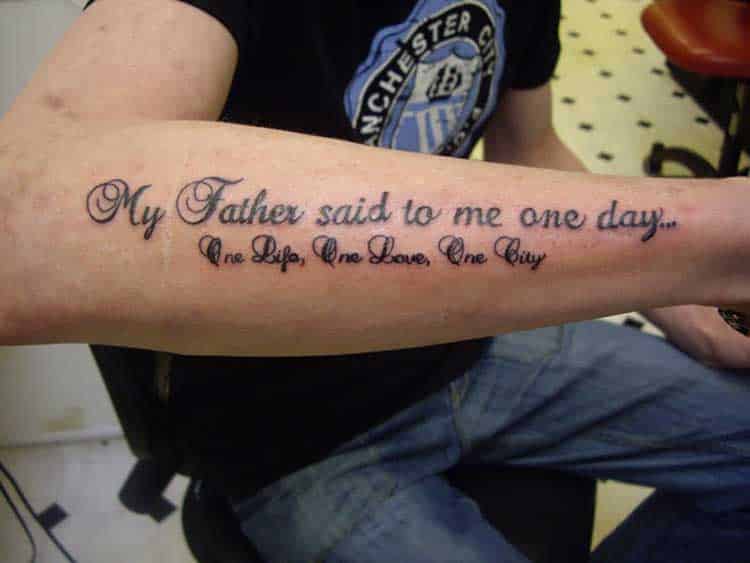 Apart from being a motivational quote, this one also reveals a tight family connection and the deep affection that the owner has for the parent. A simple line can change one's life forever and improve his or her personality.

Though this quote seems pretty clear at first, it can have a double meaning. Whether you want it to show your inner strength or to accept your flaws and move on, it is a good choice that can become part of who you are.

Life is incredibly short and this quote makes us very well aware of that. A change in attitude can help us enjoy every moment and to live life to the fullest. The tattoo is beautified by extra designs around it.

Most people feel forced to compromise. The owner of this tattoo will do whatever it takes to remain focused and faithful to the pre-established goals. It can be regarded as one of the quote tattoos for people who never give up.
More tattoo quotes for guys on the next page…