The center of this tattoo is a beautiful pattern, created with leaves and a flower-type shape. Surrounding the pattern there are three creatures; a butterfly, a monkey and what could possibly be an anteater. The colors that have been used are mainly red, yellow and green. There are many tattoo idea's present in this artwork.
Here we see two handguns which are facing each other; their barrels almost touching just below the umbilicus. Guns are often seen in stomach tattoos for guys. Each of the guns has a word on the grip; one says "love" and the other says "hope".
This stomach tattoo has a very strong black outline, which is eye-catching. It is a symbol of a bird with its wings spread. There is intricate detail within the symbol which has been created with triangular patterns and the use of shading.
Large wild animals are often viewed as masculine and this is why these designs they make good tattoo ideas for men. In this tattoo we see the head of an elephant which has large floppy ears, a long trunk and tusks.
Eagles are powerful images of strength and courage and are highly sought after as a stomach tattoos idea. This eagle has been detailed with black ink and shading on the wings, a white head and yellow ink on the claws, eyes and beak.
This is a non-complex stomach tattoo idea that features a monochrome design in black and grey. This timeless piece of art is a great choice for masculinity and can depict the fifth sign of the zodiac-Leo. The simple design of this noble cat conveys a majestic personality and is a great symbol of strength courage and pride.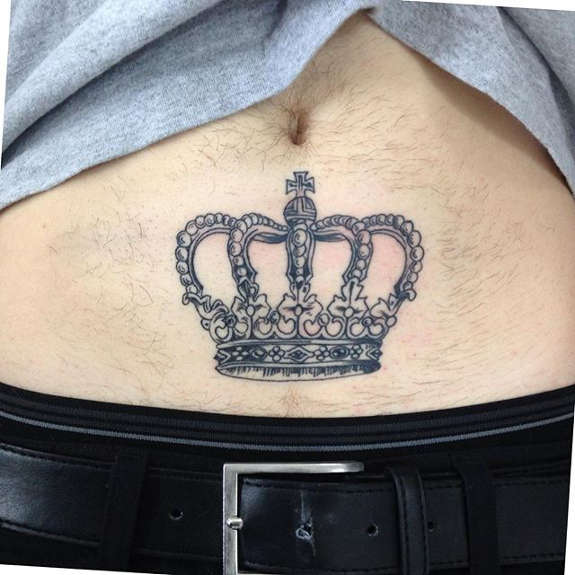 Here is a less intricate king crown tattoo that most obviously points to the affiliation with the grand blood. The grant emblem covers significant amount of skin allowing borderline details plus, its simplicity in choice of dark color brings out its elegance. Bearing a plethora of meanings, the stomach tattoo idea is best suitable for personalities that are associated with leadership.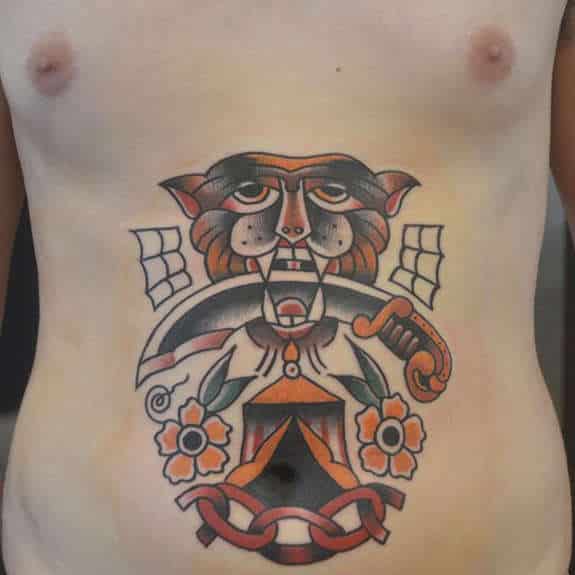 Cartoon-oriented tattoo designs are not such a mainstream choice for men but with the correct representation of ideas as depicted above, they could go a long way in bringing out that inner child. The multi-element tattoo design uses an array of color that makes it unique and creates a strong visual appearance. It also is very detailed making it fascinating and irresistible and expresses a more carefree form of identity.
The gun as a stomach tattoo idea for men is a perfect depiction that fits the outlaw personalities. Inked around the stomach with a high level of expertise is an interesting choice of location as it oozes with symbolism. Silver and black color is distinct and very much in vogue.
Sun and moon tattoos are a mainstream among men symbolizing unity of opposites. This particular piece of art incorporates cartoon base. The color scheme is simple yet it clearly depicts shades and shadows along the edges.
More stomach tattoos for men on the next page…