Two contrasting floral images, this tattoo bears the message that despite our differences, we should learn to coexist in harmony and complement each other. The two conspicuous images are connected by smaller patterns that play a key role in completing the tattoo. This shows that despite how outstanding, you might be, you still need the small people to push you ahead in your quests.
Bearing Hindu religious and geometry symbols superimposed on top of a lotus flower, the tattoo shows you are a true Hindu. You live by Hinduism and just like the lotus flower, you are always ready to reawaken and blossom even after a hard day.
Resting on you torso, this lotus floral mandala tattoos for guys show that you truly have a beautiful center. Your mind and soul revolve around eternal peace and serenity. Ideal for that spiritual guy, this tattoo clearly communicates of your belief in supernatural beings.
A circle to show wholeness, this tattoo shows that you are a whole being. The image is mostly common in monk prayer rooms but can be transferred to your body for self-meditation and reflection. You lack nothing and as such you can achieve whatever you set your mind to. On the circle periphery is a pattern of beautiful flowers to show that when you believe, you focus and achieve.
Two mandala floral images on both your hands, this tattoo idea show your belief in nature, its richness and extent. In wearing this tattoo, you are also giving praise to your maker for giving us the free gift of nature.
Running all the way from your shoulder to your wrist, this mandala tattoo resembles the superb work of arts on church glass windows panes. It shows your deep religious affiliations.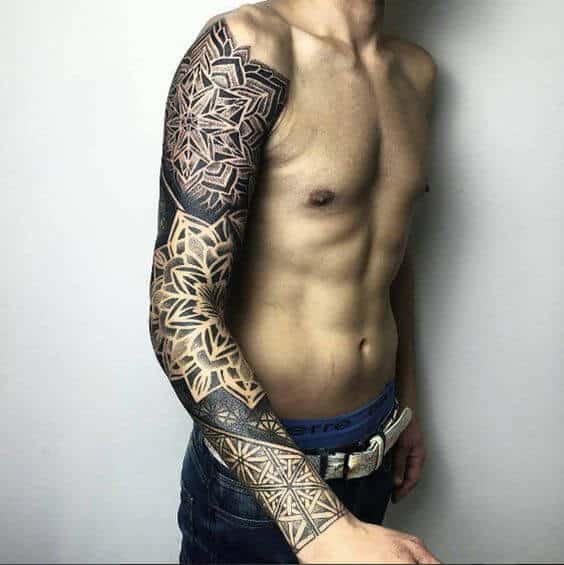 Another mandala floral tattoo covering your entire arm, the design shows how extensive nature has covered us and given us an abode. Nature is our home, we should respect our home. The patterns are also found in prayer houses and on church window glass panes to show belief in spiritual beings.
When this mandala tattoos idea was painstakingly drawn on the legs, one message must have rung through the seething pain religious is your foundation. You need to deeply hold to your base.
A pattern of floral images superimposed on each other, this mandala tattoos speak of you as an optimistic person. You are wavered by challenges but you take them and transform them as achievements which you superimpose one after the other.
A kaleidoscope of bright red, green and yellow colors make the better part of this mandala design. It shows your inner beauty and love for diversity. The lotus flowers are at their prime and so are you– you believe in the now and are ready to prove that you are truly a great person.
More mandala tattoos for guys on the next page…