Here's another great example of how there's no need for a tattoo to be big and flashy in order to be beautiful. This flower mandala tattoo design, done on the lower part of the forearm, is just perfect for anyone who is looking for a smaller, low-key tattoo.
Some tattoos can't be described as anything other than "a work of art." This tattoo shows how, if you give some freedom to an artist, you can get an amazing tattoo full of different mandala patterns. This tattoo is among the most beautiful mandala tattoos ideas for men.
This tattoo depicts two halves of a flower mandala tattooed on two feet. When they are put together, they make an amazing work of art.
Shoulder flower mandala followed by some amazing artwork all the way down to the elbow? Yes, please. This tattoo shows us how combining mandalas with different designs provides beautiful results.
This tattoo depicts a forearm sun mandala tattoo, done entirely in black. Pattern work is amazing, with all the black parts done as precisely as humanly possible. Amazing work of art.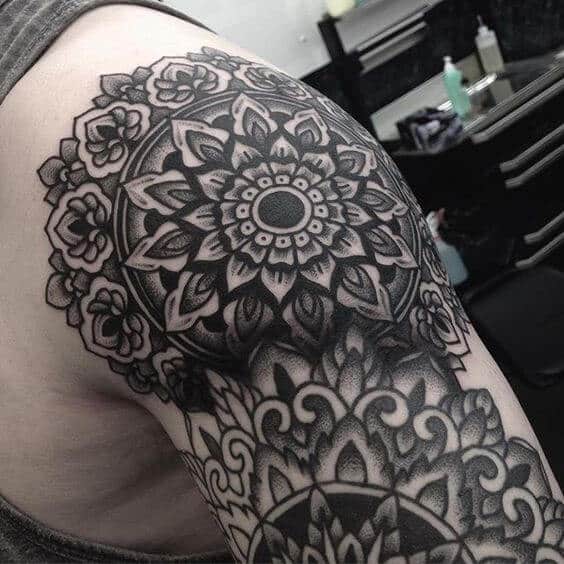 Shoulder flower mandala tattoos are always welcome. Especially when done as good as this one. Details are done brilliantly, with all the smaller flowers drawn spot-on.
This tattoo shows us a combination of different mandala designs in the same pattern. In the inner circles, we have a sun mandala, surrounded by a beautiful flower mandala. The cherry on the top is the spider web design on which the tattoo continues.
This image shows us a compass-shaped flower mandala tattoo, done in bold black ink. The strength of black in this tattoo really makes it stand out in the crowd of plain ordinary tattoos. Also, doing a tattoo on the forearm is always a good idea.
Here we see a beautiful forearm tattoo which combines a couple of very popular motives. First, a flower and a compass-shaped mandala patterns, then connected by a web-like pattern. Everything is done with black ink. What makes this tattoo stand out is that all of the shadowing is done in a beautiful, fading style.
What we can learn from this image is that a calf is a perfect place for a mandala tattoo. This flower mandala is done spot-on, entirely in black ink. The artwork in the patterns is amazing, with every piece done just right.
More mandala tattoos for guys on the next page…