Geometric tattoos ideally have a pleasant feel to them. This can be seen manifesting itself in this work of art. Only the right angles were used and strait lines to give it the golden spiral effect. It is another Fibonacci spiral, which symbolizes the cause and effect system.
The arrow is a commonly used item in the Geometric tattoo industry. Accompanied with the compass it really is an eye opener to what can be achieved with this type of designs.
A multitude of triangles can give the illusion of a truly remarkable picture. They say beauty is in the eye of the beholder this statement is so very true in this image. Making all the triangles come together to form one stagnant piece of work.
This is a complex design of what can be created with time and effort. The significance of the feather represents hope, freedom and inspiration and this brings forth the sophisticated beauty of the Geometric style. The feather is gelled together with many different shapes fitting together to make a beautiful flawless effect.
Geometric tattoo design with different patterns can be used to make one whole picture stand out. It is very different from common and traditional designs. There is a deeper significance behind this art work with a little bit of the tribal feel. The circles blend in unison with the patterns.
If there isn't any color then dark shading gives the perfect illuminating effect. The different shades and patterns make up the whole piece that should be viewed separate.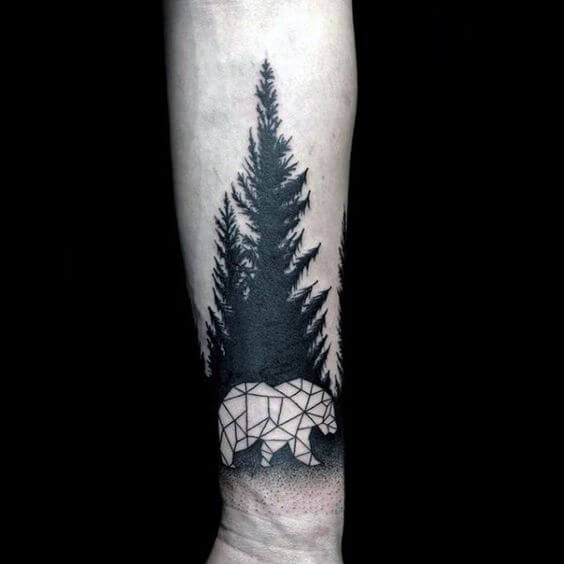 If you are looking for a more symbolic tattoo then this one is just for you. It symbolizes rebirth with the simplicity of the shapes of the animal. This makes it a sought-after piece that defines enlightenment. The tree is portrayed as the new life symbol, for it gives back. This is in essence what mother nature is all about. Shading in the back end of the image is the perfect correlation between the abstract image and the life bringing tree.
Proud under the moon is the shape that the artist was going for. The relationship between the moon and the wolf is something very ancient and this is why people often choose tattooing the two together.
Tattoo ideas for men doesn't have to be very complicated and with lots of color. A favorite among men these days are intricate designs of circles accompanied by an array of different inner circles. It has a very ancient nautical style to it that will be incorporated for many more years to come.
Shades of triangles are a lovely effect to have. 3D imaging is very eye catching. Symmetric work is an art form unlike any other.
More geometric tattoos for guys on the next page…