One of the best tattoo ideas would undoubtedly be this one with its simple design and defined lines. While the black ensures defined lines, the splash of color ensures that the whole thing is nothing short of eye-catching. The delicate red, yellow, and green fill up the flowers while the background sees a splash of blue for a more striking contrast.
This intricate design places flowers along with their eternal friends – the birds. While the flowers and leaves are shaded in red and green, the bird is represented in the brightest shades of red and black.
For those men looking for a more simplistic design, this might just be it. With a more natural bent, the petals aren't outlined in black, yet the color ensures that it is highly defined. Done in a delicate shade of orange, the pollen and long stem is in black to create a sharp and beautiful juxtaposition of colors.
For those men who love their black and whites, colorful flowers might not be the best idea. Instead, here is a gorgeous design in shades of black. With each petal being highly detailed, it ensures that the whole design is nothing short of stunning.
To bank on the contrast of black and white, here is a beautiful Lily – the symbol of masculine virility. The flower itself is made in white with shades of gray while the background is black. Without defined lines, the petals blend into their surroundings for an added aesthetic appeal.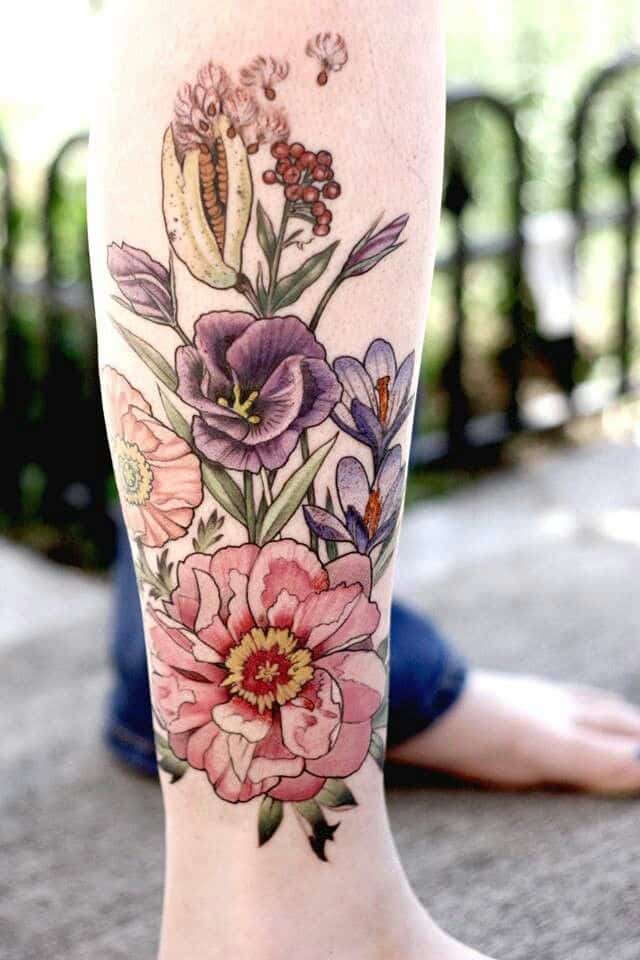 This stunning design shows a bouquet of flowers and is possibly one of the best ankle flower tattoos out there. Each flower is highly detailed in delicate shades of red, orange, blue, purple, and yellow. Furthermore, the detailed design of the stem comes together to create a gorgeous end result.
This tattoo shows an outline in black ink, making a wonderful contrast against the skin to ensure that the design stands out. It shows multiple flowers places alongside one another for optimum effect. With a strategic placement of leaves, it is one of the best flower tattoos for guys.
This minimalist design ensures that it is a brilliant flower tattoo for men. With a simple outline in black ink and highly detailed petals, this is perfect for men who don't want too much ink on their skin!
Orange and yellow flowers combined with a compass makes this the perfect ink for men with a defined direction in life. While the shading ensures that everyone needs to do a double take, the design itself is nothing short of outstanding!
If you're looking for an elaborate arm tattoo, this might just be it. The elaborate shades of black along with the intricate design itself make this a great tattoo for all men. Moreover, the splash of red in some petals makes a wonderful contrast with the black used for most of the tattoo.
More flower tattoos for men on the next page…