This large scale tattoo, taking up both the bearers' forearms, allows the vibrant reds to tell its story. With the bright color accenting the rose pedals, the girl's cheeks, and the skull's eyes, this piece really allows highlighting only certain aspects to bring out the most important aspects of the work.
The soft colors of this orchid tattoo allow the subject to be accented without overdoing it. The blacks and grays of the branches provide a nice background for the flowers coloring to pop. The artistry, color, and shading of the orchids, branches, and background give the tattoo an overall peaceful presence.
The black and gray of this piece allow the orange highlights to really stand out on the skin. The Japanese influenced design is nicely balanced throughout the winding background and the curling flowers. Abstract and tribal flower tattoos, like this one, are seeing more and more popularity.
Bright colors and intense geometric design patterns provide the look and feel of this intricate tattoo. Vibrant reds, soft blues, and highlighting yellows along with complex artistry and articulate composition make this piece really stand out from other flower tattoos.
Another old school sailor tattoo inked with the reds and greens to make this piece really pop. The white shading on the flower pedals and leaves give the tattoo a sense of depth, while the font choice on the text adds a sense of sentimentalism to this piece.
Size and scale of your work is also important to remember when considering tattoo ideas. This mostly black and gray orchid tattoo has a minimal approach with a big artistic feel. The purple color running through the pedals accentuates the flowers dull background colors and sparks the heavy emotional tone of this tattoo.
This grand scale tattoo uses color, pattern design, and controlled chaos to achieve its colossal mural like appearance. The falling pink cherry blossoms, purple rose, and grandiose blue wild flower, bring a sense of tie-dyed magnificence to this full sleeve.
The simple grace of this tattoo is provided by its elegant design and use of black and grays to bring it to life. The spiraling leaves and pointed pedals add a roughened masculine edge, while the soft red accents allow for a nice glowing visual effect.
This black and white inked rose tattoo showcases nice shading usage as well as expert design and artistry. The realistic art work along with a nice selection of contrasting color hues on the rose pedals and shadows give this tattoo an intricate elegancy.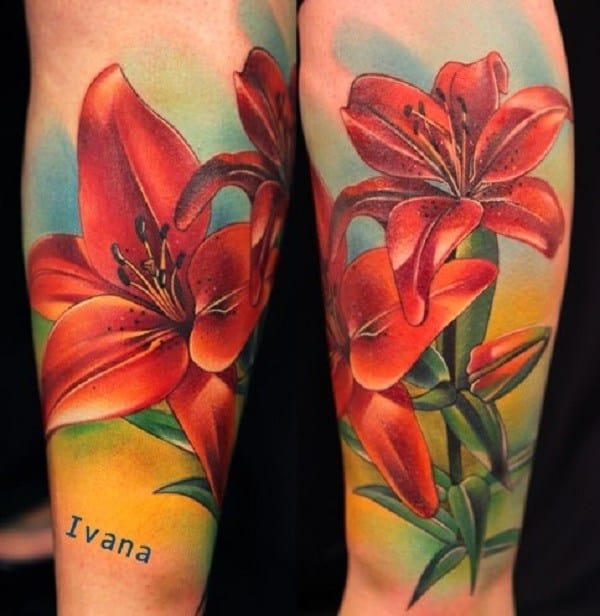 Bright and spirited colors fill this hibiscus tattoo with life. The radiant atmosphere provided by this piece are thanks to the reds, greens, and oranges the artist used for the flower, as well as the vibrant yellows and blues used for the backing pallet.
More flower tattoos for guys on the next page…