In a softer and more realistic example of the same flower, this hibiscus tattoo stands out nicely on the skin. Using more dulled and gentle color hues than the previous hibiscus example, this piece provides a presence of watercolor artistry.
Another example of the style of artistry's effect on the tattoo, this anime like flower tattoo uses bubbly curves and flat color tones to pull off the style in question. The artwork gives the tattoo a nice and unique perspective on individual style work in tattooing.
Choosing the right shading and color for a tattoo can pack massive detail into a small piece. This miniature hibiscus flower tattoo's gray shading lines on the red pedals and green leaves, as well as the dynamic yellow focal point packs a big punch in a small package.
The roughened black and gray coloring of the leaves along with the gritty imagery of the thorny stems and stark contrast of the uncolored roses gives this tattoo an essence of worn strength. This tattoos design and creative execution make it a great consideration among the choices of flower tattoos for men.
The soft and dream like quality of the artwork on this tattoo give it a subtle and calm essence. The light blues and pinks of the sky and orchid pedals allow the more vibrant blues, yellows, and blacks of the butterflies, the tattoo's focal point, to be the center of attention.
This is done in black ink and is a brilliant flower tattoo for guys as the Lily, despite being delicate, is also considered pretty masculine. The long stem of the flower coupled with its intricate shading ensures that it stands out against the skin.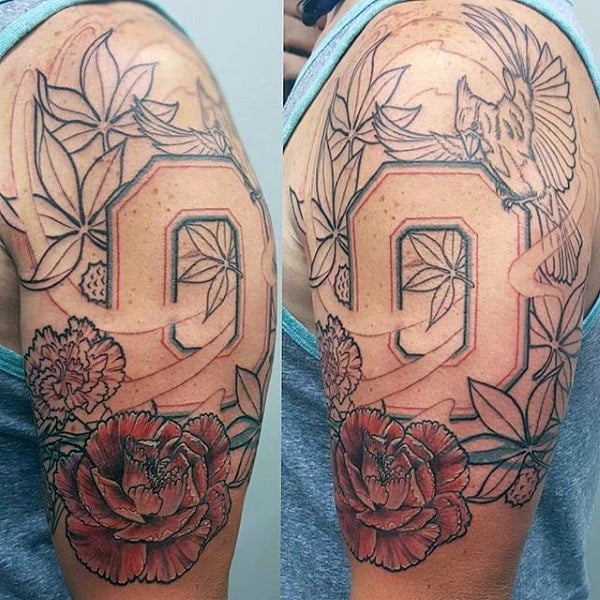 This intricate design is further accentuated with the splash of color. While the entire design is outlined in black ink, it is just the flowers that draw your eyes with the detailed red shading. It makes for a great shoulder tattoo for men.
Whoever said roses were not masculine needs to take a look at this one. A beautiful flower tattoo for men, this eternal symbol of love also makes for some beautiful arm ink. Here you can see the delicate beauty in a combination of red and white.
This gorgeous tattoo involves intricate shading to bring out the inherent beauty of the design. While the flower glories in rich red tones, the leaves themselves are striking in comparatively duller but beautiful shades of green. The bold black outline ensures a definite contrast against the skin tone.
Combining the image of death and flowers is a common juxtaposition made my many. So this black and white tattoo depicts a skull and claws, with intricate petals and leaves lining the bottom.
More flower tattoos for men on the next page…