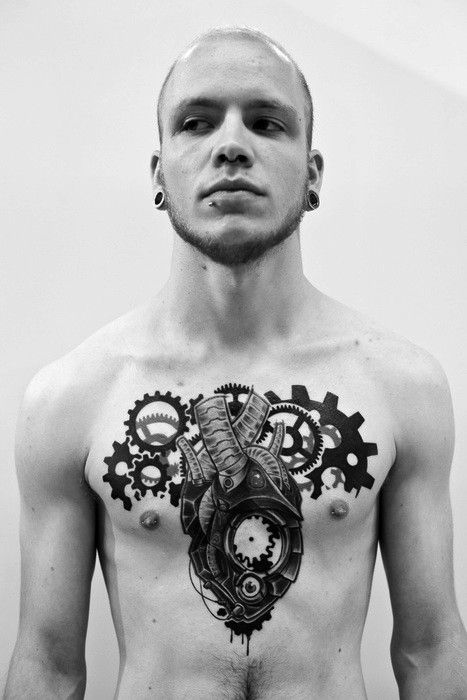 This technically perfected tatoo is a great choice for anyone that is inspired by ancient inventions and great minds such as Leonardo da Vinci. Or you may consider yourself like a Perpetum mobile that runs continuosly like a machine.
Tatoos usually have a story behind. And what greater story, than the original sin with the snake, apple and Adam and Eve somewhere in between. Do you consider yourself a sinner or a protector of the Truth? This snake is certainly giving you many options.
Dark romantic dragon, flying down your arm. What a great story. Few red details give it a very deep feeling of serenity even if the eyes of the dragon may look vicious. Maybe you just want people to see beyond the obvious.
A machine? A human? Who knows? This tatoo perfectly presents our struggle with the fast way of life and the amazing 3D effect with all the details make it seem so real. Do you want others to look into your machine-like body and find the humanity inside? Is your heart made of steel or flesh?
Owls are always the safe option, if you're cnsidering an animal tatoo. This cool tatoo of a little owl sits gently on the neck and keeps you reminding to make smart decisions. It is completely enough and doesn't need any color to highlight the symbolic meaning.
What could be cooler than a tattoo that gives you a glimpse of your skull. Place your back hand on your face, and you can see yourself transform into an optical illusion. This back hand tattoo of a partial skull is shaded in black and will be sure to make heads turn.
This comic tattoo of a Chinese dragon in clouds covering the length of an arm knows just how to utilize color. Primarily in black, the red offers a wonderful contrast to the whole design, making it stand out.
Half a skull and a whole lot of cool, this forearm tattoo will capture everyone's attention as you walk down the street. The perfect shading gives the image a 3-D effect, ensuring that it stands out against your skin.
Nothing beats a dragon tattoo when it comes to awesomeness. This chest tattoo shows off the fiery beast in all its majesty as it curves around the skin. The Chinese dragon is the symbol of masculine power, and this one depicts it best.
Cool, masculine tattoos don't always include terrifying skulls or horrible monsters, sometimes they are just designs – like this one. The bold shapes, strong lines, and the fire on the neck and skull create a stunning conglomeration.
More cool tattoos for guys on the next page…