This large tattoo isn't about the beauty of a woman or her feminine charms. Neither does it depict peace and happiness. Instead, with a skull peaking out from her hands, this angel is a constant reminder of death.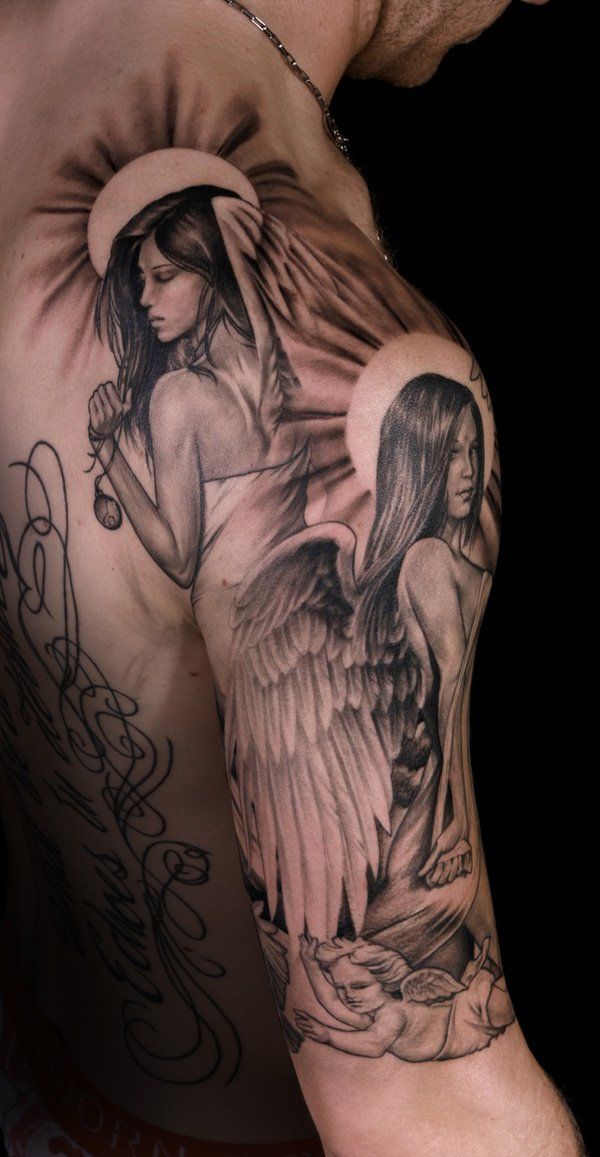 Depicted in shades of black, this large shoulder tattoo depicts two angels. Playing on the contrast formed between black and skin, the figures have been shaded to present a more realistic appearance. And right at the bottom is a single little cherub!
The figure of this brawny angel is showcased in shades of gray while the black and red wings indicate a darker aspect. The angelic halo is replaced by checkered grey boxes as well, for a more artistic representation.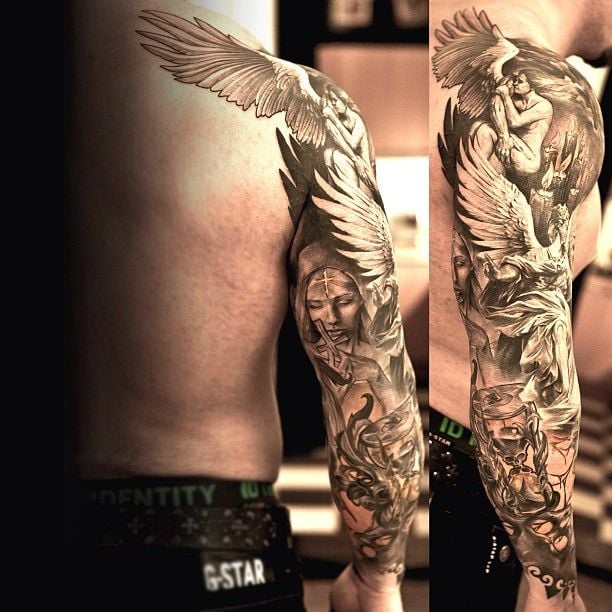 With multiple images intertwined together, this tattoo is exceedingly beautiful but dark. It shows an angel in the throes of lust, and another praying to the cross. Moreover, at the bottom of the image is an ornate hourglass, while the birds present throughout may symbolize how time flies.
Here are two angel figures depicted in shades of gray. Working with the much lighter skin tone, the ink gives the figures a more rounded appearance. Moreover, there is also a dove present in mid-flight to emphasize the peacefulness of the image.
This angel tattoo stretches across the back in a detailed New School style depiction. At the center, an angel kneels down, its head rested upon its crossed arms. Its huge, stunningly shaded wings swooping from the tops of the shoulders all the way down the back.
This is a prime example of New School styled angel tattoos for guys. An angel kneels at the center of the back, its head resting upon its crossed arms. Its heavily detailed and shaded wings reach from the shoulder blades down the back. Stray feathers float down to the waist.
This inner forearm tattoo depicts a meaningful angel tattoo for men. A black and white shaded angel cries loving tears beneath the Gothic cursive script, "Forever in my Heart." Beneath the angel's folded hands is etched: "NAN 1937-2012".
In this tattoo idea for men, an angel stands at the center of the back with her outstretched arms balancing two weights. Her wings are delicately shaded, and her hair blows across her gentle face. She stands atop a pillar etched with tiny cursive script.
This tattoo idea features a praying angel resting upon the outer deltoid, her hands folded in prayer. She is detailed and shaded in typical New School tattoo style. Atop her head rests a glowing golden halo. The words "Good thoughts" run down her side.
More angel tattoos for men on the next page…