This simple angel tattoo takes up the entire arm. It is done in black ink, but depicts the pure face of the heavenly creature. It is ideal for those more spiritual men looking to get some great ink.
This artistically done back tattoo is an absolutely gorgeous and frightening image of an angel as he appears to muster up some terrifying power. With claw-like feathers filling up giant wings, this is a much darker image. Moreover, the red tints in the lower half add a further touch of fear.
She is beautiful, alluring, and perfect for your arm. If there is a woman in your life you'd like to cherish, someone that has stolen your heart completely, you can inscribe her name in the ribbon wrapping this steamy image. The tattoo is done in black ink, and the shading only serves to make it more realistic.
This arm-length tattoo includes everything, from angels to birds. Inked on in black shades to bring out a contrast with the skin tone, it even features a heavenly glow from the angel figure at the very top.
The life-like shading of the angel is done in gray tones. The wings, which are a darker shade of reddish-black frame the surreal figure. But instead of depicting joy and happiness, the positioning of the angel appears to present sadness instead.
Here, the powerful angel is equipped with a sword. Dressed to the hilt, he is stabbing the Devil – depicting the victory of good over evil. If this epic battle scene isn't masculine – nothing is! The shoulder tattoo has been done in black ink to give it a more raw, masculine appeal.
Dressed in scanty body armor, here is another alluring angel-figure done in black. She is bordered on the bottom with what appear to be stylized waves, whereas the background surrounding her is filled with clouds. This is ideal considering her place in heaven.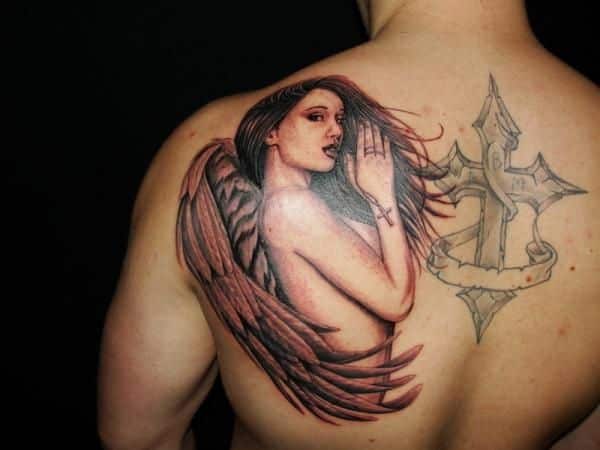 For the more religious man, here is an angel praying to the cross. She is detailed in black ink. However, shades of burnt sienna have been used to give a rounded effect to her features. Moreover, the cross has been detailed in gray.
This shoulder tattoo is inked in black. The restful face of the angel is lined by a headscarf on the top, and bordered by roses at the bottom, making her the center of focus.
Here is the angel standing strong and dark in the center of this brilliant image. Even as all eyes are inadvertently drawn to her dark figure, no one can miss the storm clouds that appear to be gathering. Moreover, there is a clear bolt of lightening in the background as well.
More angel tattoos for guys on the next page…