This piece fills the entire back and depicts three female angels deep in thought. On the left, an angel with billowing hair stands tall and pensive. On the right, a dark haired angel covers her breasts with her arms, her wings soft behind her. The lower back depicts an angel's face surrounded by lilies. Her hair trails up over her companions, and the cloudy night sky behind them.
This upper arm sleeve depicts a muscled angel basking in the rays of sunshine pouring down from the heavens. His body is heavily shaded to give the illusion that he is carved from stone. Shading and line work completes the realism of the piece.
This angel is inspired by Mother Theresa. Her outstretched hands symbolize protection and acceptance. She sits at the center of the back, and her detailed wings reach up towards the shoulders. Her robe is carefully shadowed in typical New School style.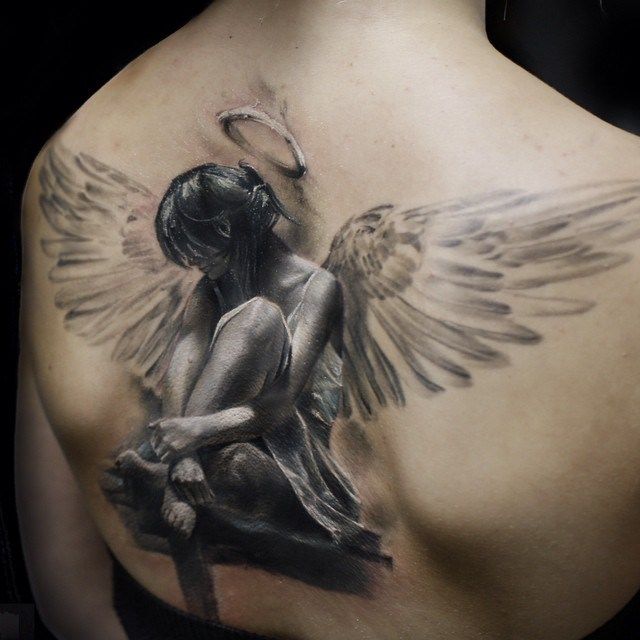 An angel sits cross legged, her arms wrapped around her knees, in this Surrealism style tattoo. Her body and dress are etched in Water Color meets Realism style, giving her a very Surrealist look. Her wings are inked in light grey lines. Her halo is a embossed in pastel greys.
This tattoo for men features an angel as the center piece of a bicep sleeve. She is inked in New School style, her wings tucked around her body. She grips a scroll and peers over her wings as around her bursts red lines of light. A single dove flutters above her, completing the piece.
A heavily muscled angel wields a sword as he crushes an evil enemy beneath his foot in this deltoid tattoo idea. Beams of light radiate from the clouds above as the angel's medieval garb flutters in the wind. The tattoo is shaded and detailed in typical New School style.
An angel finds herself locked in an embrace of love with the devil on this bicep piece. Her wings form the right side of a heart; the devil's wings form the left side of a heart. His face is lined with evil detail; hers is lined with bliss. This tattoo depicts the balance of good and evil.
This full back tattoo for men features a sombre looking angel. He wears a cloak over his face and carries a detailed skull in his hands. His wings are lined with shadow, and his robes are tattered and torn. He is shrouded by ominously shaded darkness.
This calf tattoo depicts an Illustrative style angel who holds a chain in one hand, and a spear in the other. His wings stretch out before him. He is shaded and shadowed in order to appear to be etched from stone. Blackwork lines of wind complete the piece.
This epic full back piece is an awesome tattoo idea for guys looking to go big or go home. At the top of the back, the sky cracks open and spills rays of heavenly light. A male angel floats beneath, lightening radiating from his fists. He soars out of a black hole that is destroying the San Francisco Golden Gate bridge beneath him. The entire piece is heavily detailed and shaded.
[the_ad id="18525″]