Who said that a biblical illustration cannot be expressed on a tattoo? This tattoo is deeply pierced and your favorite bible verse curved in it. Though scary on the first look, the tattoo can be a great way of passing that message. It is not be the best choice nut it still is worth giving a try.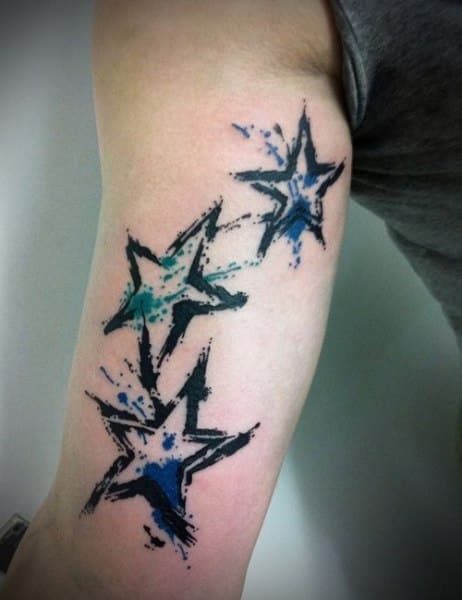 It consists of Simple alignment of stars with a design that looks like they have border shading. The stars are arranged in a line on the hand and show the experimentation of artistic ideas at their best. There is some bit of color splashing that adds to the look.
Good color blending is a necessary tool in this field. This tattoo clearly shows that by the perfect combination of the colors. Two stars with a side design bring out a good first impression. It is not complicated but class and elegance are maintained. It is a simple and stunning tattoo.
This is a one star tattoo that is shaded in different colors. It is outstanding and conspicuous due to the shading. This is a good design for those who prefer simple style.
This tattoo is made of a single star with some form of design in it. This style is somewhat complex because of the inscribed patterns. It offers you with a stylish look despite its simple make.
This is a rare kind of tattoo. It is drawn around the stomach area and surpasses the navel slightly. The stars are bolded on the edge and some shading in form of lines added to complete the look. It does not look appealing as such but the artistic style displayed in it is great.
This is a perfect combination of tattoos. Having both arms tattooed with a star each and your name(s) included on it is just amazing. The color blend is also perfect and brings out a clear picture of the style. The stars are conspicuous and will draw the attention of anyone with no struggle.
This is a one bolded star tattoo. It is clearly visible and is not complex. It is not shaded in many colors but simply one shade is used. It is an awesome style as it is not screaming and will not draw much attention. If you love simple, then this is more like it.
This is more of the number 11 and 1 tattoos. The only difference is the wording inscribed in it. This design is more open to liberal ideas and virtue. If you want to speak of a moral uprightness kind of thing, then go for this tattoo.
Perfect shading of colors with a combination of a flower design is what this one is made of. The black augurs well with the red shading that has been used to make it conspicuous. Drawn on the arm from below the shoulder to the elbow, this piece speaks for it for it is just awesome.
[the_ad id="18525″]