Choosing the right font style for your script tattoo as a man can be quite an uphill task. Whether you want a flashy design or a simple minimalistic look, you will be spoilt for choice with the thousands of options available.
Popular Tattoo Font Ideas for Men
Below are ten of the best tattoo fonts ideas for men and what they represent.
Old English Font
This is without a doubt one of the most popular tattoo fonts of all times. But with the dramatic flare created by the lettering, it is not so hard to see why. It is a great font for men especially with single worded tattoo typography and is the ultimate sign of masculinity.
Barbed wire lettering
This style screams badass from a mile away and is another popular among men. Variations of this style include thorny stem font which is also very popular. It is ideal for single word tattoos especially when the piece is large.
Inverted shading fonts
In this case, the letters are spelt out by shading around a template with the letters being left as clear patches of skin. This is one very artistic style which although painful is worth every cringe. It is a great way for you to express your dark artistic style.
Traditional lettering, runes and symbols
When it comes to tattoo typography for men, you can never go wrong with ancient symbols and runes. This is a great way to capture true meaning of a quote or important phrase using artistic designs. It also creates an air mystery ensuring that only you and those you choose to explain it to know the meaning.
Tattoo shop sign fonts
You know the font on pretty much every tattoo shop welcome sign? That's the font. It is a great idea for men especially if you are a veteran in the trade or you simply want to pay homage and respect to artists in the industry.
Wild west style fonts
What better way to express your inner macho man than by choosing a font inspired by one of the most iconic periods in history. This font style allows you to channel your inner Wild West cowboy whether it is through one power word or a personal phrase.
Sailors script fonts
This is another classic as far as tattoo typography for men is concerned. As with most of the other fonts on this list, it is ideal for large single worded ink pieces. It is the perfect style for men who have or would have liked to live a sailor's life.
Typewriter fonts
This style is the perfect combination of minimalism and artistic beauty. Type writer fonts are ideal for longer phrases. The neat look pretty much makes it look like someone ripped a page off an old book and stuck it onto your body. It is simple without compromising on masculinity.
Gothic alphabet fonts
You may choose to channel your inner rocker with gothic alphabet fonts. These are usually very large, thick and dramatic and are perfect for large statement pieces.
Inked script cursive font
Finally, you can never go wrong with cursive fonts. Most people believe that cursive styles are too feminine. However, with styles like the traditional Inked Script font, masculinity will be literally oozing from every single letter left on you.
The Best Tattoo Font Idea is What Complements Your Tattoo Idea
Whether it is a long script excerpt or one major power word, it is important to ensure you choose a font that complements the tattoo.
One thing for sure is that you can never go wrong with the 10 tattoo fonts ideas above. All you need to do is to figure out the kind of message you want to pass and pretty much what you will be comfortable looking at for the rest of your life.
Artistic Use of Tattoo Fonts Ideas for Men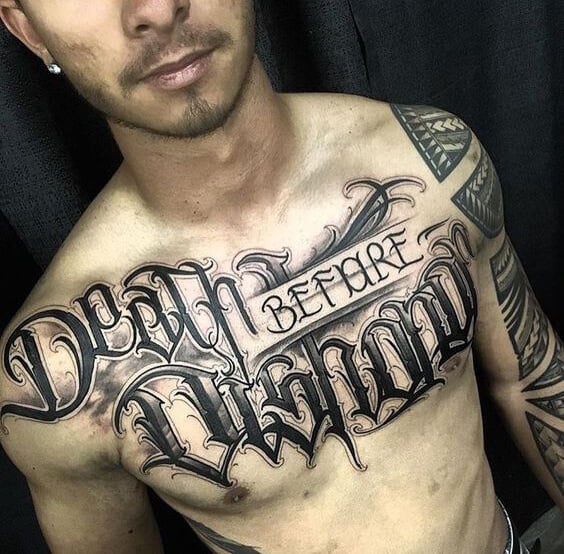 This 'Death before Dishonor' tattoo is a traditional American tattoo set in Gothic or Blackletter fonts. It is a great tattoo font idea for men and is especially favored by men in the American Military. The tattoo is a patriotic symbol and is often worn with a great sense of pride.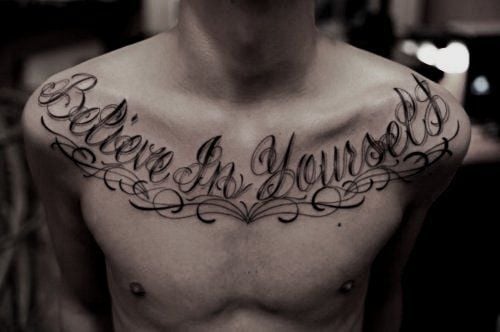 This cursive letterhead scrawl tattoo uses a script font which means it looks like really beautiful handwriting. It is a great option in tattoo fonts design and a common choice with tattoo artists. The words 'Believe in yourself' are decoratively written and set on a bed of flourishing, languid strokes.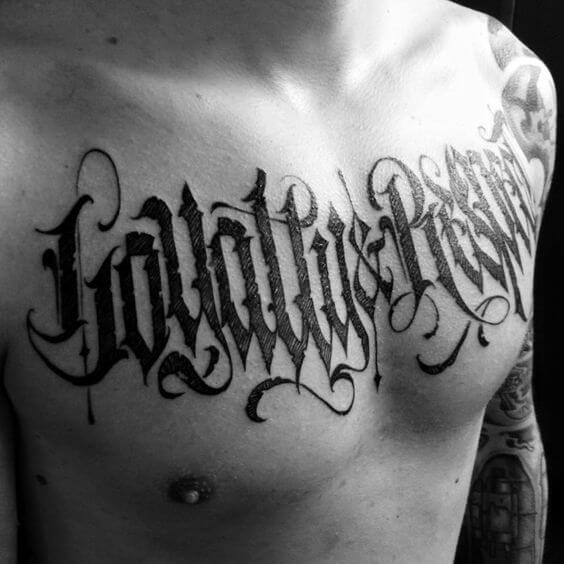 'Loyalty & Respect' are written in bold Blackletter or Gothic lettering on this chest tattoo, adding to our catalogue of popular tattoo fonts ideas for guys. The tattoo design also bears an uncanny resemblance to the Celtic typeface that is the rave today.
This is exceptional among tattoo font designs because it adopts two typefaces. 'RAIDER' is written boldly in Celtic Linotype Textur and 'Nation' is sprawled across it in a black cursive script. It is very fashionable among young people in uncommon social circles.
This tattoo idea works because it is original. The typeface is reminiscent of the Arriba font and is rather unusual but very legible. The words 'for those I love I will sacrifice' are impressively written. The font is a good choice among tattoo font ideas.
A very modern cursive script is used on this tattoo. This motivational quote is etched on the bearer – 'you never know how strong you are, till being strong is the only choice you have'. It is written in a font that looks like ITC Christoph's Quill.
"I can do all things through Christ who strengthens me", this tattoo says. Like the tattoo in the previous description, this tattoo is done in a cursive typeface. However, it is simple and a popular style among tattoo enthusiasts today.
This tattoo pattern is a most unusual and intricate design. The tattoo itself is practically unreadable but its standout layout makes it an impressive work of art. The tattoo was done in a type that looks like an original mix of conflicting patterns.
More tattoos ideas on the next page…